Boats are certainly status symbols that prove a man's health and wealth — but that doesn't mean you need to drain your bank accounts to buy one. Boats depreciate fast, making a brand-new yacht a terrible investment. Meanwhile, there are thousands of pre-owned vessels for sale online at prices that nearly any man can afford. Still, the risks of buying a used boat are akin to those of buying a used car, so before you start making bids on beautiful pre-owned watercraft, you should spend some time reviewing this guide to responsible used boat shopping.
Step 1: Know the Boat You Need
There are big boats and little boats; expensive boats and cheap boats; aluminum boats and fiberglass boats; boats of nearly every shape, size, color, material, style, and price. If you start shopping used boat listings without knowing exactly what you want, you are going to be overwhelmed, so you should do some research.
Your first limitation should be price. Most unfinished men don't have unlimited cash to spend on the boat of their dreams — and if you do, you shouldn't be looking at the pre-owned market. Before you even consider what kind of boat you want to own, you should dive into your bank accounts to determine how much you can devote to boat-related expenses each month.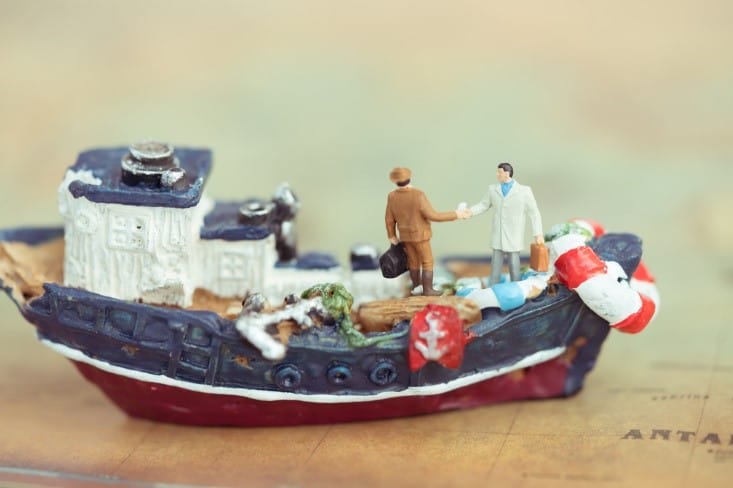 Once you have a ballpark number for your budget, you can then consider the make and model you want. Most gentlemen prefer yachts for their refinement and prestige, but yachts are dramatically more expensive and more difficult to maintain. For your first boat, it might be smarter to invest in a bowrider, cabin cruiser, cuddy cabin, or similar style.
Step 2: Compare Prices From Used Vendors
Once you know the type of boat you want — either the exact make and model or the general style — you can spend some time looking for eBay boats on used vendor websites. For at least a week, you should avoid committing yourself to a specific boat. Instead, you should be a passive observer, investigating the boats on offer and comparing them with one another. By doing this, you should get a feel for the boat you're likely to get: what's available in your community, what quality of vessel you want to get, and what your dollar is likely to get, in general. During this period, you might also look into boat storage options and additional expenses, like marina fees, insurance, and regular maintenance.
Step 3: Contact the Seller
Once you understand the market, you can start narrowing down your options and seriously considering your purchase. It is important to remember that web listings often don't include a thorough background of the boat — or its previous owners — so in addition to reviewing the information available online, you should perform some off-internet research. Typically, listings include contact information for owners or dealers, which you should utilize to learn as much as possible about your picks. Here are some sample questions you might ask over email or phone:
What is the year and make of the vessel's engine and hull?
How has the boat been stored?
When was the vessel last used?
How many hours does the engine have?
How often has the boat been serviced?
Have any major repairs been completed on the vessel?
Why is the boat being sold?
A phone call is ideal for such questions because you can learn nearly as much from the seller's tone of voice as from his or her answers.
Step 4: Visit the Boat in Person
This step isn't available to all boat buyers, but if you are within a reasonable distance from your potential purchase, you should strongly petition to see it in person. Dealers are almost always willing to schedule appointments for in-person visits, and owners are often amenable, as well. If possible, you should try to arrange a test drive to see how the vessel handles and whether you feel comfortable on board.
Up close, you should be able to notice more problems with the boat — if any exist. For example, you can inspect the hull for cracks that might not show in pictures. You might want to bring along a trusted watercraft mechanic to perform a more thorough assessment of the vessel's seaworthiness and value. While you examine the boat, you should continue asking the seller questions about the boat, paying close attention for inconsistencies with previous information.
Step 5: Bargain Like a Boss
If at any point you notice the seller acting shady — perhaps refusing an in-person visit or providing shifting answers — you should be willing to walk away from the deal. As with any other major purchase, the more in-love you appear to be with the vessel, the less likely the seller is to budge on the price. You should play it cool, practice strong negotiation tactics, and leave with the classy pre-owned boat that proves you are the man you always wanted to be.