We first brought you the Brammo Empulse electric motorcycle a couple of years ago when it was still in the development phases. More accurate details are now available on the specs and pricing of the electric motorcycle. You see, when I picture an 'electric bike or motorcycle', the image that comes to mind is an Italian female on a bright yellow scooter riding to the market to purchase some vegetables. There really aren't that many electric motorcycles that have the same look as a standard sports bike or one that can perform like one.
This is where the Brammo Empulse electric bike comes into play. The Empulse is not only a sexy beast, but it also rides like one. Electric vehicles have a very different feel to them when driving/riding since there are no traditional gears or a clutch. If you're an enthusiast, this can be pretty annoying as the anticipation of the gear change never occurs. Thankfully, the Brammo Empulse alleviates that issue.
The Empulse features Integrated Electric Transmission (IET) which is a mechatronic propulsion unit that imitates the feeling and performance of traditional internal combustion engines. This is achieved with a specially developed electric motor, clutch and gear shift, which allows the Brammo Empulse to accelerate hard from the line up to high speeds.
The electric motorcycle also features water cooling, which is a first. The battery on the Empulse takes eight hours to charge and will give you a riding range of 121 in the city, 56 miles on the highway, or a combined range of 77 miles. The motorcycle is capable of reaching speeds as high as 100mph and features two driving modes. Under normal mode, acceleration and top speed are limited to conserve the battery. And in Sport mode, the current flow is increased to reach higher speeds and allow for better acceleration.
The Brammo Empulse is priced at $16,995 while the Empulse R is priced at $18,995.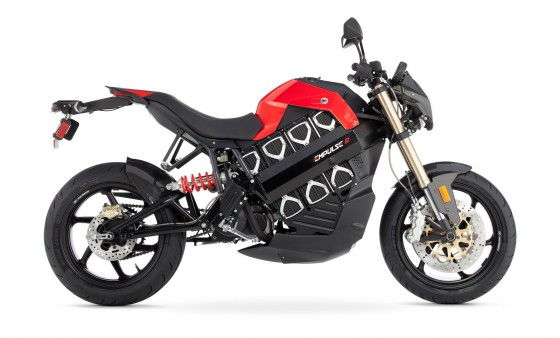 Specifications
Motor Type: Permanent Magnet AC (PMAC) – Water Cooled
Peak Motor Power: 40kW, @ 8,200 rpm (54 hp)
Peak Continuous Current: 270 amps
Final Drive: Direct Chain Drive (14/48) 520 O-ring chain
Transmission: IET 6 speed gearbox with multi-plate, hydraulic activated wet clutch
Emissions: None
Max Motor Torque:: 63Nm (46.5 foot pounds)
Instrumentation: LCD display; speed, tach, odometer, gear position, energy consumption, battery status, estimated range and system status
Battery Type Brammo Power™ BPM15/90 Lithium-Ion ( NCM Chemistry)
Battery Pack Capacity: 9.31 kWh (nominal), 10.2 kWh (max)
Battery Pack Voltage: 103.6 V (nominal)
Battery Life: 1,500 cycles to 80% capacity (100% DOD)
Empulse Performance: 100 + mph (160 + km/h)
Driving Range: City: 121 miles* (195 km)
Highway: 56 miles** (90 km)
Combined: 77 miles*** (124 km)
Weight: 470lbs. / 213kg
Colors: True Blood Red, Eclipsed Black, White Noise