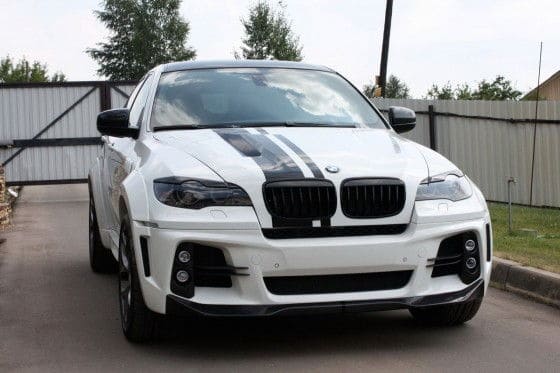 A couple of months ago we wrote a post on the pimped out Lumma Design BMW X6M.  That X6 had the whole package, new wheels, suspension, interior, upgraded engine, and a massive body kit.  If you just wanted the body kit, you were out of luck.  Now there is a body kit available for the X6 that looks somewhat similar to the Lumma Design kit and you don't have to upgrade the rest of the car.
I personally think the X6 is an ugly car that should never have been produced, and now it looks even uglier with this body kit.  The kit is produced by Met-R out of Russia and is called the X6 Interceptor, at least the name is cool.
The body kit consists of the usual big front air dam with vertically mounted fog lamps on each side, bigger fender flares, and a new rear bumper.  The interior includes carbon fiber pieces on the dashboard and center console in the front and back.  All this will cost you about $9,900 US.
[Source: Met-R]