I've been a fan of good music for as long as I can remember. Some of my earliest memories are of hanging out in my dad's office while he played his collection of old records. The Beatles, The Rolling Stones, The Grateful Dead, James Taylor, and Chuck Berry – I learned to love it all.
As I grew up, I continued to listen and I watched. I was mesmerized by videos of legends like Jimi Hendrix and Led Zeppelin tearing things up on stage. Certain aspects of the rock experience get into your psyche. There is perhaps nothing that invokes the feeling of rock-and-roll more than a Marshall amplifier, its unobtrusive, cursive logo witnessing the magic that is soon to play out on stage. From guitar god Slash to grunge icons Nirvana, all the greats have used Marshall equipment to wow audiences.
That's why I was psyched to realize that Marshall makes headphones. I still listen to all of my dad's amazing music, but I'm now the owner of my own extensive music collection. When my last pair of headphones petered out, I went on the hunt for a pair that would do my music justice.
The Sound
The Marshall Monitor Bluetooth headphones fit the bill in every way. Most importantly, I wanted an over-the-ear design that would maximize my listening experience. Monitor Bluetooth does that and then some. The hi-fi sound I get through this set is mind-blowing and perfectly-balanced no matter what music I'm listening to. The headphones also isolate the music, putting outside noise squarely in the background.
The Style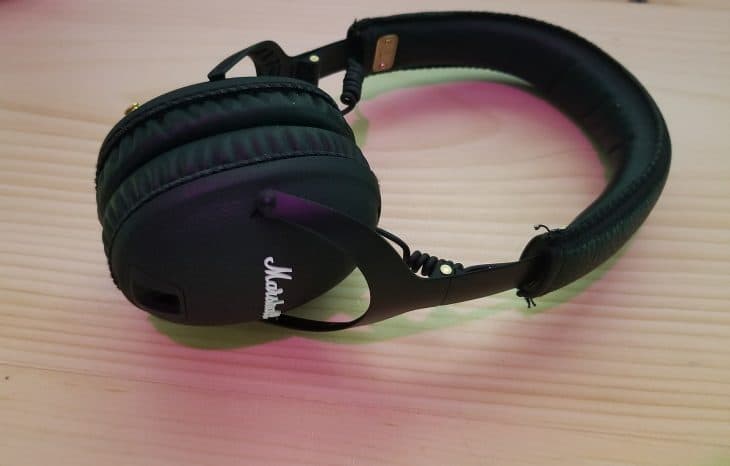 Look and comfort were incredibly important in my choice of headphones. As I mentioned above, the Marshall design is legendary, and they managed to incorporate it into their Monitor Bluetooth headphones. The iconic Marshall logo is embossed on the side of the black vinyl cans and the brass accents look absolutely awesome. These are headphones that I'm happy to wear anywhere.
The Design
Speaking of wearing them anywhere, Marshall makes it easy to do so. The incorporated Bluetooth technology make it easy to go wireless with more than 30 hours of playtime. They have a comfortable, ergonomic fit that make them a pleasure to wear over long periods of time. The brass control knob make it easy to turn the volume down or rock out loud without fumbling for my phone. In addition to listening to music, the knob and built-in microphones allow me to answer or reject calls with ease.
The Extras
When it comes to music, sharing is caring, and Marshall makes it a snap to let others in on your listening experience. An included 3.5mm socket allows you to let a friend plug in and jam along with you (with the included 3.5mm cord). Charging is easy via the micro USB charging cable, and when it's time to shut things down and get moving, the headphones fold up for storage in their canvas carrying bag.
Final Thoughts
A great pair of headphones is a huge plus, in my book. A pair of headphones that sound and function wonderfully and look like a piece of iconic rock-and-roll stage equipment? Double plus. Two huge thumbs up to my Marshall Monitor Bluetooth headphones.