The Bentley Mulsanne is one hell of a car that most of us mere mortals would love to own one someday.  However the regular Mulsanne isn't enough for some of Bentley's customers and the German-owned British manufacturer is producing a special version of the car for customers looking for "a sportier look, feel, and character".  I don't understand how one could look for "more" when they have a Bentley Mulsanne, I guess once I'm a billionaire; I might be able to shed some light on this problem.
The new Mulsanne is called the "Mulliner Driving Specification" and there isn't much of a difference between the regular and this "special" model.  On the exterior, the Mulliner gets newly designed 21" wheels that can be had in polished or painted trim and the vents on the front fender come with the word "Mulliner" on them and that's about it.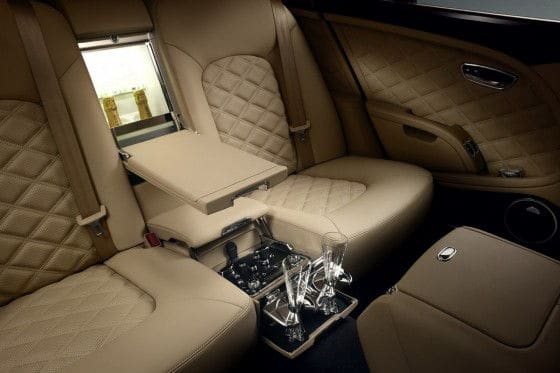 The interior sees minor upgrades in the form of new diamond-quilted upholstery and customers can choose from 22 different leather colors.  There is also now a "sport" mode for the suspensions setting that makes the ride firmer without compromising ride comfort.
The Bentley Mulsanne Mulliner Driving Specification is powered by the same twin-turbo 6.75 liter V8 engine found in the regular Mulsanne; it produces 505 horsepower and a truck-like 752 pound-feet of torque.  This yacht on wheels accelerates to 60 mph in a sports car-like 5.1 seconds and has a top speed of 184 mph.
The Mulliner Driving Specification will be unveiled at the Geneva Auto Show in early March.
Bentley Mulsanne Mulliner Driving Specification Pictures