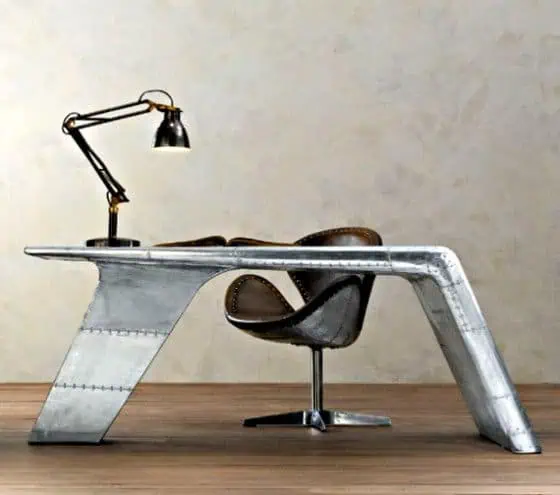 Restoration Hardware has been in business since 1979 and they are well known for creating pieces of furniture that remind us of the early 20th century. Their latest offering is the Aviator Wing Desk which is inspired by fighter planes from World War II and those elements can be clearly seen as the desk imitates the bent wing of an aircraft. To me, the Aviator Wing Desk reminds me of the legendary F-86 Sabre. The polished aluminum and steel screws on this desk brings images of the F-86 I have seen in a number of history books I have read in the past.
The Aviator Wing Desk is built over solid hardwood frame while the polished aluminum is used as the cover. The desk also features three storage compartments which are cotton canvas-lined providing plenty of storage space for books and paperwork. With its solid hardwood frame and aluminum patchwork, the Aviator Wing Desk weighs in at a 184 pounds.
Don't expect a desk that is in perfect condition as it features aluminum that has a matte finish to give it a vintage look and there are also intentional dings, nicks, and small imperfections for added character. This beautiful desk can be yours for $2,195 but it would be nice if it came with a pilots seat.
The Devon Spitfire leather chair will perfectly complement the Aviator Wing Desk for an additional $849. The chair features a die-cast aluminum pedestal base and is upholstered in antiqued whiskey leather giving it a soft and supple look. The Devon Spitfire leather chair weighs 30 pounds and will definitely be a conversation piece along with the Aviator Wing Desk. For more details and rustic pieces of furniture, check out Restoration Hardware.