When I was a kid, I spent most of my time in the woods shooting slingshots, making bows, and working on my favorite pastime of all, building treehouses. I look back on this period of my life fondly and wonder how I would have turned out if I hadn't spent all that time learning to make wicked rad forts and treehouses, and instead used that extra time to focus on my school work. I'm guessing I wouldn't have turned out very well. I think there's something valuable to be said for working with your hands, and creating treehouses, however useless, went a long way towards helping me think in a creative way. 
In the spirit of building awesome things, I present you with a series of incredibly cool treehouses that I've found trolling the internet. I've posted some of these because the treehouses themselves are impressive, and others because the photographs are simply beautiful. I don't think that kids should have all the fun, and I hope that these feats of engineering insanity inspire you to build your own creepy adult treehouses.
Photos of Super Awesome Treehouses
This first treehouse looks like a crazy clown's murder hideout, but the height of the structure is pretty impressive. It's like the builder lifted a few run down houses on top of each other using a crane and then called it a day. I also like how the top floor resembles an angry squirrel. Notice the two windows and the vertical slats just below them in the center? Yeah, that's a squirrel's face – the face of a squirrel who died during the construction of this treehouse. (Source: CubcakeGosh)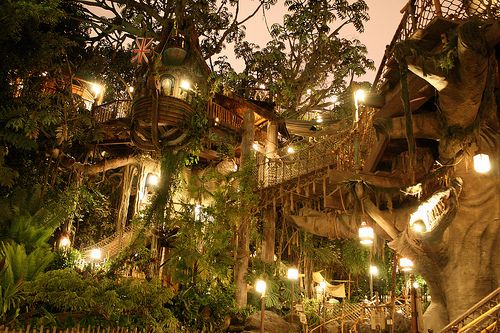 Remember the Ewoks on Endor in Return of the Jedi? Yeah, this reminds me of that a bit. It's kind of like a Jamaican or tropical-themed Ewok village, but with more alcoholic Brits roaming around from platform to platform. (Source: Blissful-Serenity)
I bet the view from this treehouse is stunning, and to experience it from way up high while enjoying a nice cold alcoholic beverage would be even better. This particular treehouse looks very log cabin inspired to me, and to great effect.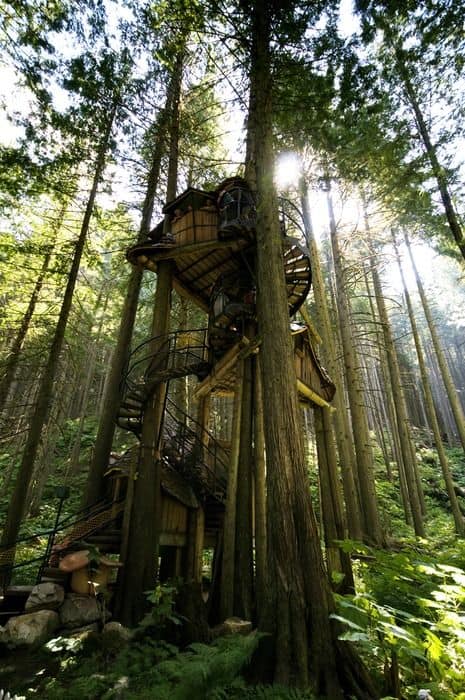 This is one of my favorite photos of the lot. The design of the structure is really interesting, and the sun beams shining through the trees make for an excellent photo. I imagine a hermit living here deep in the woods. (Source: Dreamhouse1)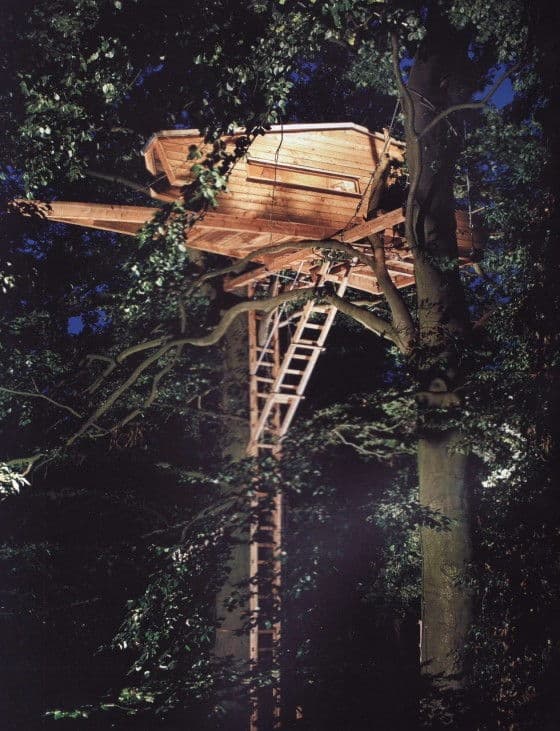 I can't decide whether this is a coffin or a spaceship. Either way it's quite high up, so perhaps if you fly away in it, you could use it as a spaceship, and if you fall out of said spaceship, you could use it as a coffin. The possibilities are endless. My favorite part is the comically dangerous ladder leading up the platform. No guards, no railings, no nothing. Whoever made this has balls.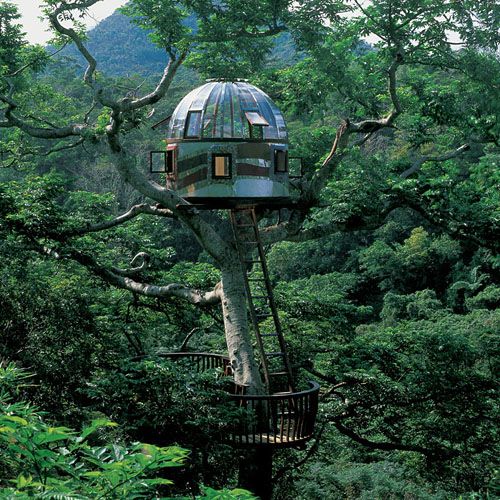 This final treehouse reminds me of an observatory or greenhouse. Why a person would build either thing at the top of a tree I can't imagine, but the structure does look pretty interesting. Given the large glass roof, this would be a perfect place for star-gazing, even without a telescope. (Source: AwesomeSpaces)
These are my favorite treehouses of the bunch, but you can find these and many more on fuck yeah treehouses!