When it comes to diamond grading most people have heard 'The Four Cs' mentioned. Diamond grading consists of checking the quality of the diamond against a number of different factors that we'll cover below. Improvements in each factor lead to a better diamond and but also a higher price. By considering each factor independently you can find the perfect diamond for your engagement ring that is within your budget.
When purchasing your diamond ring it's very important to consider the jewellers reputation, for example Ingle & Rhode engagement rings feature only ethically sourced diamonds and they also offer appointments to discuss your requirements.
Most diamonds that are above 0.3 carats should be supplied with a certificate from an authorised laboratory to confirm its quality. The certificate will give you a grading of the diamond and is provided by an expert gemologist who looks at 'The Four C's' to grade your diamond – these are carat, colour, clarity and cut. Below we discuss each of these factors and what impacts the quality.
Diamond Clarity
The scoring for clarity ranges from none to a lot using 10 grades – IF (internally flawless) to I 1-3 (included). An internally flawless diamond (IF) has no marks or inclusions showing when viewing at 10x magnification. Very Very Slightly included (1 – 2), Very Slightly included (1 – 2), Slightly included (1 – 2) and Included (1 – 3). When it comes to purchasing a diamond engagement ring you can consider any diamond graded VS2 or higher if you wish to have no visible imperfections. If you choose a diamond below SI1 you may not see any obvious markings however over time as it becomes dirtier the inclusions may show more visibly. Regular cleaning can help address this issue.

It is very likely to see diamonds with imperfections either inside the diamond itself or light marks on the surfaces, these are naturally occurring but depending on how many your diamond has will affect it clarity scoring. The grading received considers how much of an impact the marks make when viewing the diamond under magnification. Experts would describe these differences in the diamond using names like clouds or needles however essentially they form during the early days of the diamonds developing as small crystals naturally grow inside.
Diamond Colour

Diamond colour is highly variable ranging from no colour (clear) through to strongly tinted. The colour grading is alphabetical from D to P (clear to strongly tinted). In most cases any grading between D-H has a limited visible difference unless looked at by an expert, grades below H however will start to show a visible colour that increases and appears more yellow. You can also view Z graded diamonds which are specific colours, these include blue, yellow and pink diamonds.
For a normal diamond engagement ring you will want to choose a diamond that shows no visible colour particularly if the metal ring used is white gold or platinum, in this case it's advisable to consider a diamond of G grading or higher. Costs for the higher gradings quickly increase so this can often be a place where a lower grading that doesn't show a visible colour can help you make savings.
What is a diamond carat?
The term used for the weight, and therefore size, of diamonds is 'carat'. Approximately 1 carat equates to 0.2 grams. The price of a diamond will increase exponentially with weight as they become rarer, therefore buying a 1ct diamond of equal quality is going to cost more than an equivalent diamond at 0.5ct. There are also more common sizes such as 0.7ct or 1ct so you may be able to find a better priced diamond at weights just below this. Don't be confused by the word carat to describe diamonds vs gold purity. These have different meanings for each, such as 24ct also meaning pure gold.
Diamond Cuts
There are two types of cuts when it comes to talking about diamonds. The first type of cut refers to the shape of the diamond, there are many common diamond cuts such as oval, marquise, princess and pear. However the most common is a round brilliant cut, other common cuts include emerald (not to be confused with the gemstone and sometimes referred to as the Asscher cut) and cushion. You can see a selection of popular round brilliant cut diamond rings and princess cut diamond rings at Ingle & Rhode.

The other type of cut refers to the faceting in the diamond such as step, brilliant or rose cuts. Where the diamond is a square shape, parallel straight cuts (steps) are made such as seen with an emerald cut. This style will often feature light being reflected so the diamond is considered to have more flashes of light instead of sparkle.
Where brilliant cuts are found in the diamond they take the form of triangular facets and create more refraction of light resulting in more sparkle. However the downside of this is less light is reflected and the diamond will have a lower weight.
A princess cut diamond uses elements of both step and brilliant cuts so there are some reflections and refractions of light seen within the diamond.
The final cut, rose, is not so common today and often found in antique rings. These diamonds have a flat base.
When considering the grade of the cut a gemologist will review the diamond based of the proportions of round brilliant cut. For example the diameter vs the depth determines what the angles between the facets are and therefore how the diamond with appear in sparkle in light, which is of course perceived as highly important in an engagement ring. For different cuts of diamond there is no agreement on the perfect proportion so they are not graded the same, but still receive a polish and symmetry score.
Depending on the gemological laboratory that grades the cut different terminology will be used however the top two grades are generally recommend for diamonds in engagement rings as the price differences are limited but the appearance is visible.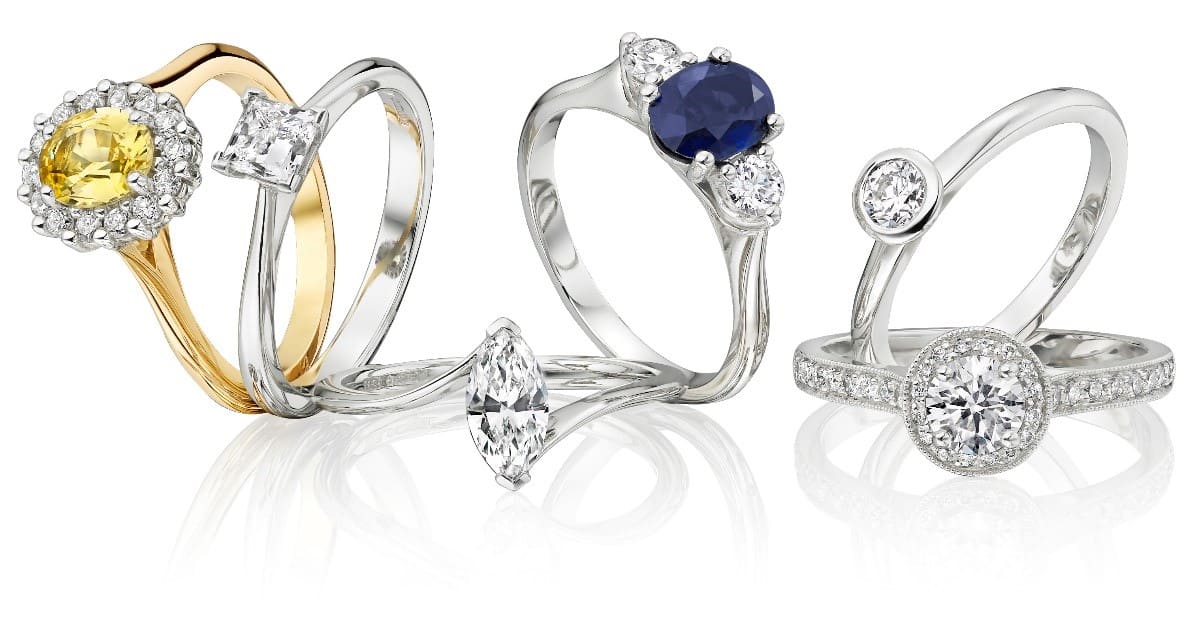 The 5th C – Conflict-Free
The 4 C's of diamond grading are well known, however in recent years a 5th C has been introduced – conflict-free ethical diamonds.
Many people are now aware of the environmental impact of diamond mining and also the conflicts that have been fuelled in African regions through use of money made from selling diamonds. Some processes have been introduced to reduce these impacts, such as the Kimberley Certification however this doesn't guarantee a conflict-free diamond. There are a number of mines around the world however that provide traceable diamonds, mined with consideration for the environment, such as some of the diamond mines in Canada. You can find out more about conflict-free diamonds and Canadian diamonds here.