Go back 10 years and mention the word "tablet" and your friends/family will most likely think you have a headache and offer you a Tylenol or an Advil. Mention the word now and you're bombarded with the other type of tablet, a digital device that lets you play games, listen to music, watch videos, "surf the web", and so much more. Nowadays tablets are ubiquitous and they come in all sizes ranging form small(ish), to medium and large.
The modern day table has been around for a while, but Apple's iPad brought it to the mainstream; now pretty much any respectable electronic device maker offers at least one of these gadgets. The newest offering of such devices in Canada is ALCATEL, with their OneTouch smarphones (which we'll review next week) and tablets.
The ALCATEL OneTouch Pop 8 tablet is designed to have a small overall footprint, yet maximizes its screen size. It features an 8" display screen with small borders, the tablet measures 209mm (8.23") tall x 7.9mm (0.31") thick, and 122.8mm (4.83") wide and weighs only 325 grams. The 8″ screen has a 1280 x 800 pixels 16M color display with multi-touch 5-points touchscreen.
The benefits of this size is that you can carry the Pop 8 tablet with you relatively easily; it fits in a coat pocket and you don't have to carry it in your hands or buy a carrying case/bag for it. The viewing area is still large enough that it's much more useful than a smartphone, yet the entire package is small enough to not be a burden.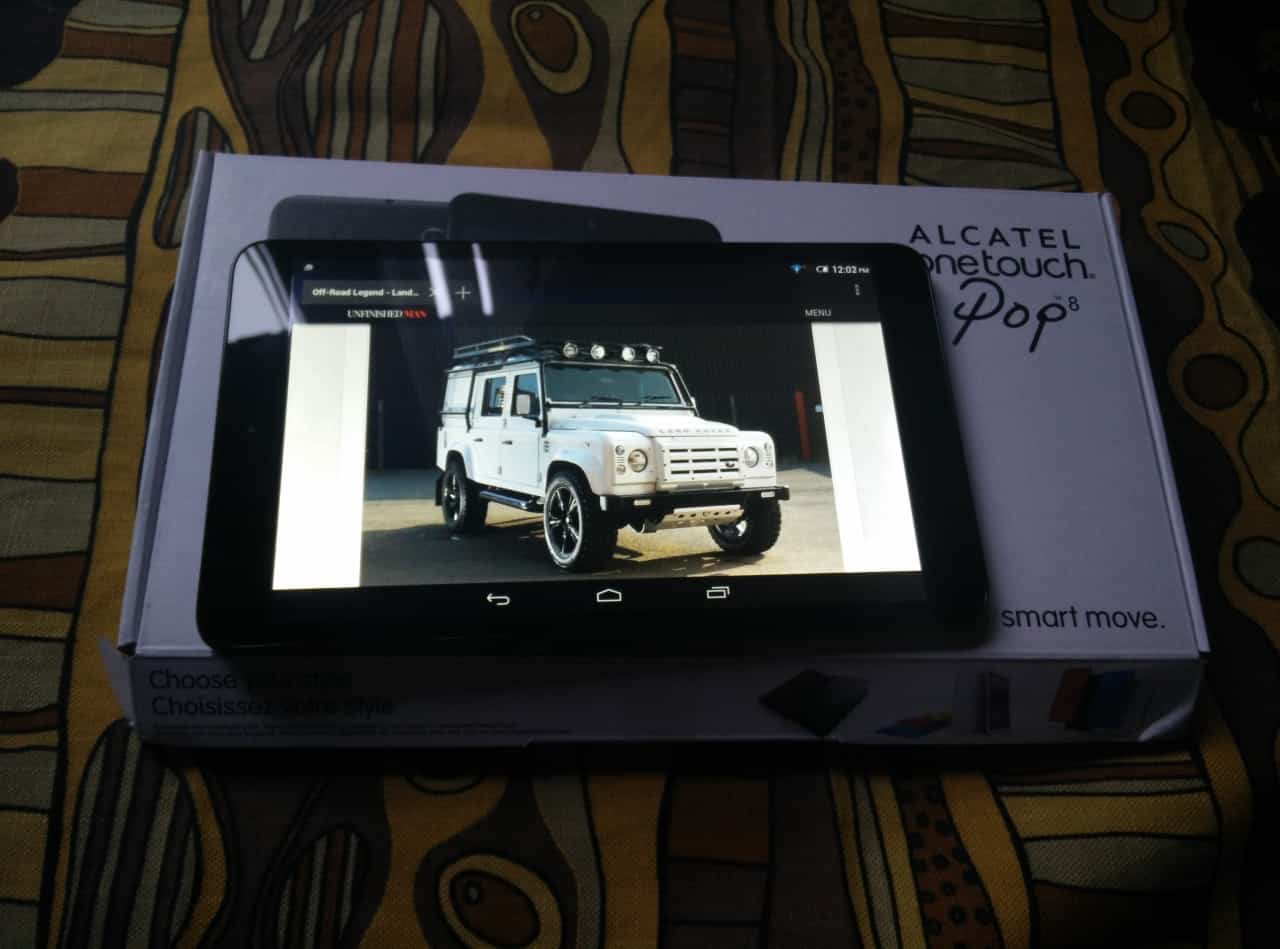 The ALCATEL OneTouch Pop 8 tablet is powered by Android Jelly Bean 4.2 operating system and has a Quad Core 1.3 GHz CPU. The device comes with 4GB of RAM and 1GB of ROM, this may not seem like much, which it isn't for today's large apps, but there is a slot for a MicroSD card of up to 64GB. This is a great feature because unlike some tablet makers, ahem… Apple, you don't have to pay upfront for bigger storage, you can add more if/when you need it and SD cards are not that expensive. The Pop 8 also comes with a built-in slot for a Micro SIM card, again you don't have to pay extra for a 3G ready device.
The Pop 8 tablet is equipped with a pair of cameras, the back camera is 2.0 megapixels and the front one is 0.3 megapixel. The back camera isn't too bad in natural light, however, the front camera is weak and will be a disappointment for those that love to take selfies. The Pop 8 also has a pretty good battery life. It's equipped with 4100 mAh battery pack that lets you browse up to 8 hours.
One of the best parts of the ALCATEL OneTouch Pop 8 tablet is its price. You get all of the above features for $240 or as low as $5/month financing added to an existing Telus account.
I think the ALCATEL OneTouch Pop 8 tablet is a pretty cool little device. I personally have been using the iPad 2 for the last few years and I find the Android powered Pop 8 tablet just as good when it comes to easy of use and functionality. I do appreciate the smaller size of the Pop 8 tablet, it's really light and much easier to bring along with you on an outing. I find watching videos much easier on this device, especially when I'm in bed and holding the tablet above me. The Pop 8 performs well in the areas I normally use a tablet for, such as watching YouTube videos, playing games, and checking my email.
ALCATEL also offers larger and smaller tablets, with more powerful cameras and larger memories. The company also offers colorful accessories for their tablets and phones, head on over to their website and check out what they have to offer: alcatelonetouch.com