Hyundai and Kia have been on a roll recently, they've introduced quite a few new products to the market place and it seems to be paying off, I'm seeing a lot of their new offerings everywhere. Both of these companies are redefining the industry once again, they did that about a decade ago by offering equipment in lower priced cars which used to be only available on luxury cars.
The latest addition to Kia's fleet of cars is the Telluride SUV, which shares its underpinnings with the Hyundai Palisade (we'll be reviewing that vehicle in early November).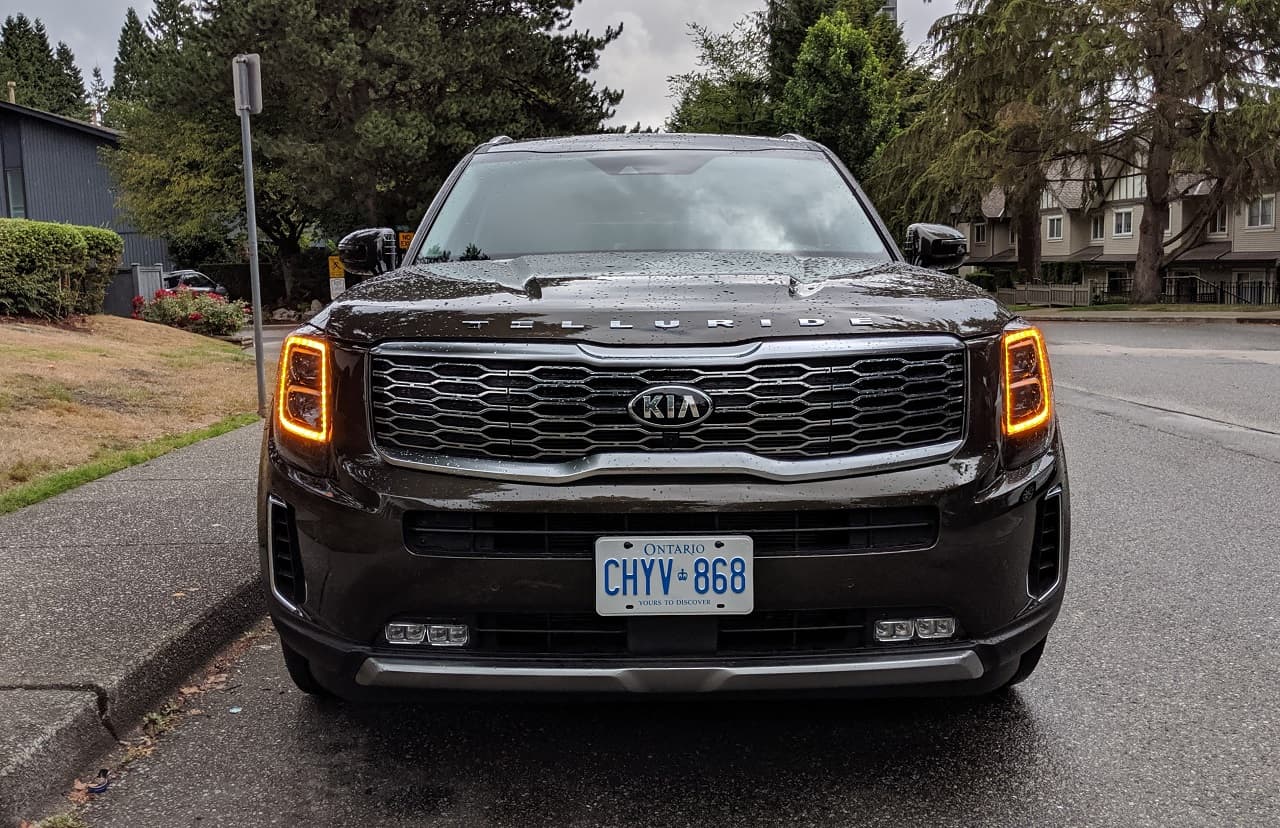 Prices
In Canada, the 2020 Kia Telluride is offered in three trims, however, the top trim is split into Limited and Limited with Nappa leather, so technically 4 trims but who's counting. The base Telluride EX has a starting price of $44,995, the SX starts at $49,995, the SX Limited starts at $52,995, and the SX Limited with Nappa starts at $53,995.
Our review car for the week was the 2020 Telluride SX, which is quite nicely equipped. The higher SX Limited trims add self-leveling rear suspension, Heads-Up Display, 7-passenger captain seats, and heated/cooled second row seats, the cooling is something I've never seen in a second-row seats.
Engine
The Kia Telluride is a big vehicle, thankfully it's offered with a V6 engine, which is the only engine available on all trims. The naturally aspirated 3.8-liter V6 engine produces 291 horsepower at 6,000 rpm and 262 pound-feet of torque at 5,200 rpm. Power is sent to all-four wheels via an 8-speed automatic transmission. The Kia Telluride is rated at a towing capacity of up to 5,000 pounds.
According to Kia, the Telluride should consume 12.5/9.6 liters/100 kilometers in city/highway driving, for our weeklong review, the onboard computer showed 13.5 L/100 km in 90/10 city/highway driving. The fuel consumption wasn't too bad, considering this is a big SUV and my driving was in a traffic congested city.
Driving
Driving the Telluride is a pretty comfortable experience, this is a big vehicle but the size didn't feel overwhelming in city streets. The V6 engine provides more than enough power for city and highway driving, the V6 engine is smooth and works well with the 8-speed automatic transmission. The Telluride comes with various "Drive/Terrain" modes, for driving on paved roads, the "Drive" modes include Smart, Sport, Eco, and Comfort and driving off-road, the "Terrain" modes Snow, Mud, and Sand.
I mostly drove in the Eco and Comfort modes, although I didn't really notice a big difference between the two modes. In Sport mode, the engine feels a little peppier and gears are held a little longer. I didn't bother with driving off-road, as 99% of these vehicles will never see any off-roading other than the odd detour around a construction site.
Parking the Kia Telluride in small parking spots was pretty easy, thanks to the cameras all around, providing you with 360-degree views around the vehicle.
Styling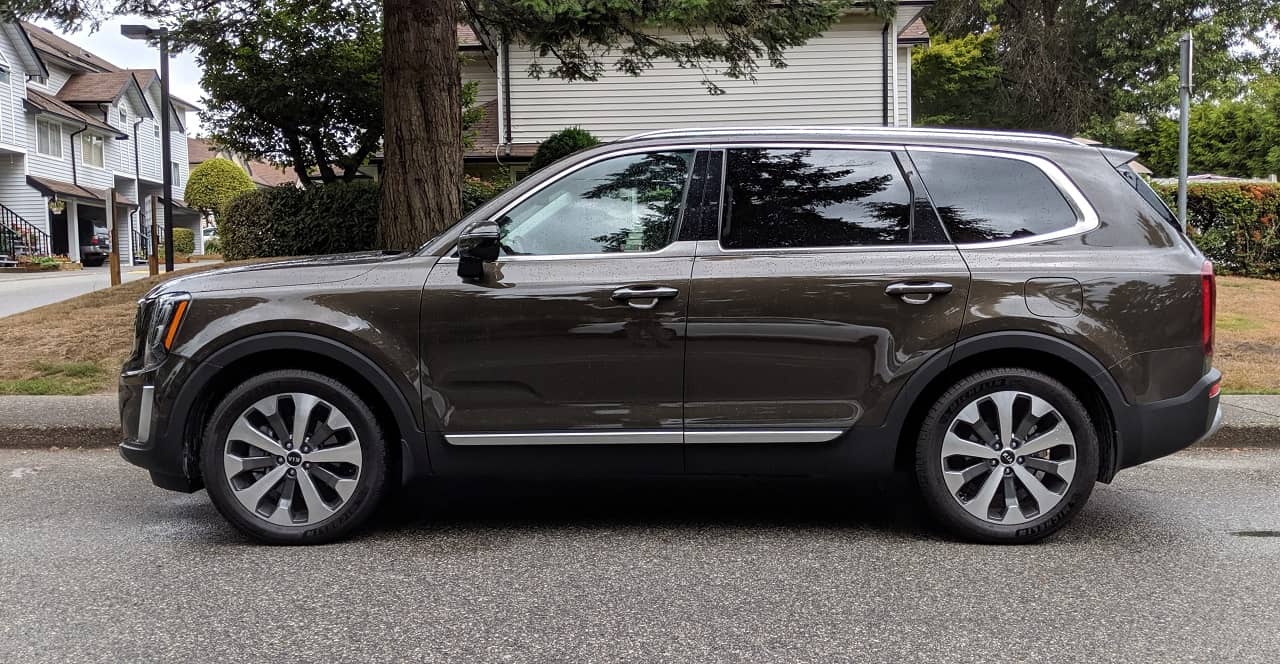 The Kia Telluride may share its underpinnings with the Hyundai Palisade, the styling on the two vehicles doesn't share any elements. I'm not sure which one I like more personally; I'd need to look at the two side by side. However, I do like the look of both of these vehicles; I think the Telluride looks more mature and the Palisade looks sportier.
Some of design elements of the Kia Telluride remind me a couple of other vehicles, the front with its daytime running lights reminds me a bit of a GMC Yukon (just the headlights though) and rear end looks to me like it would belong to a Roll-Royce or Bentley, although it doesn't look like anything produced by those two manufacturers, it just looks that way to me. Kind of giving it an upscale look.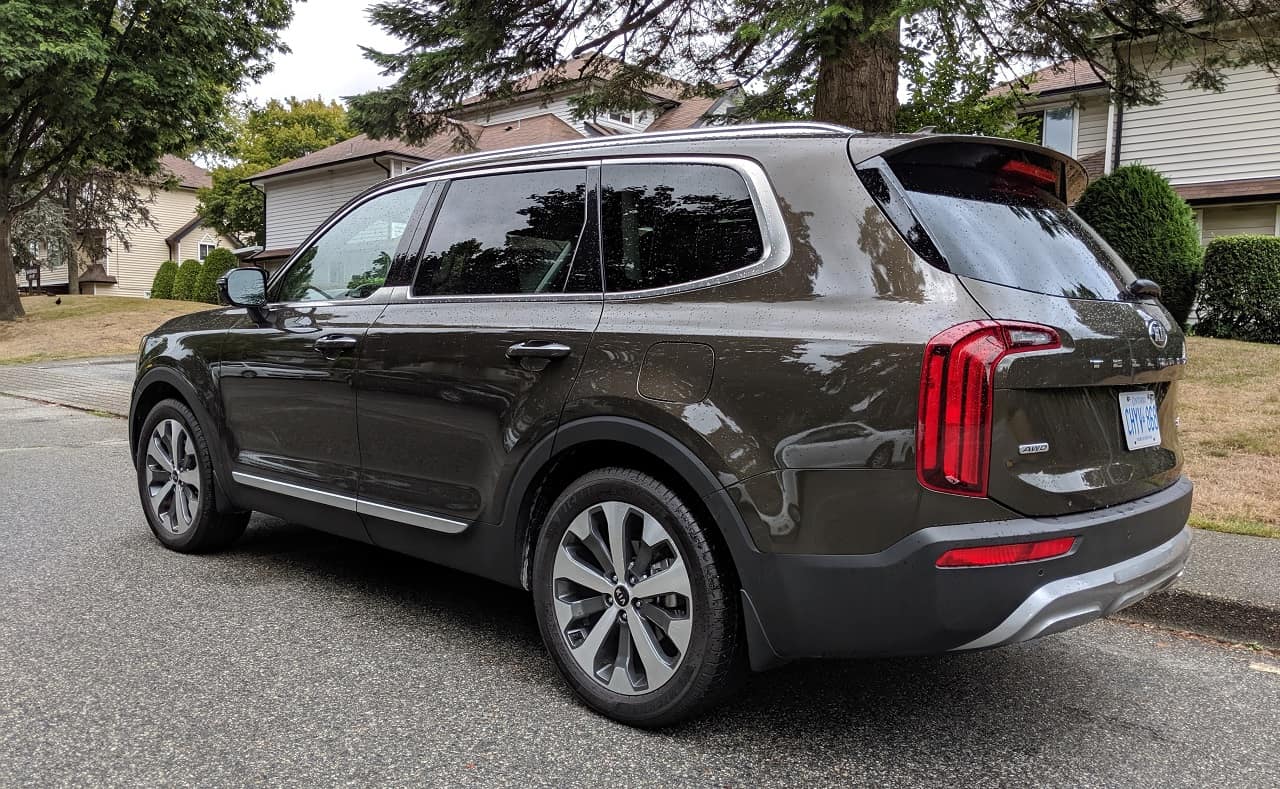 The overall look of the Telluride is very upscale and it has a lot of road presence. For me personally, the Kia Telluride looked small from the front, I think the smaller headlights played tricks on my eyes, tricking them to think it's smaller than it is.
Interior
The interior on the 2020 Kia Telluride is a very luxurious place to be, with a simple and elegant layout that's easy to understand and takes no time to master. It is a familiar looking interior, you can see some of switchgear taken from other Kia/Hyundai vehicles.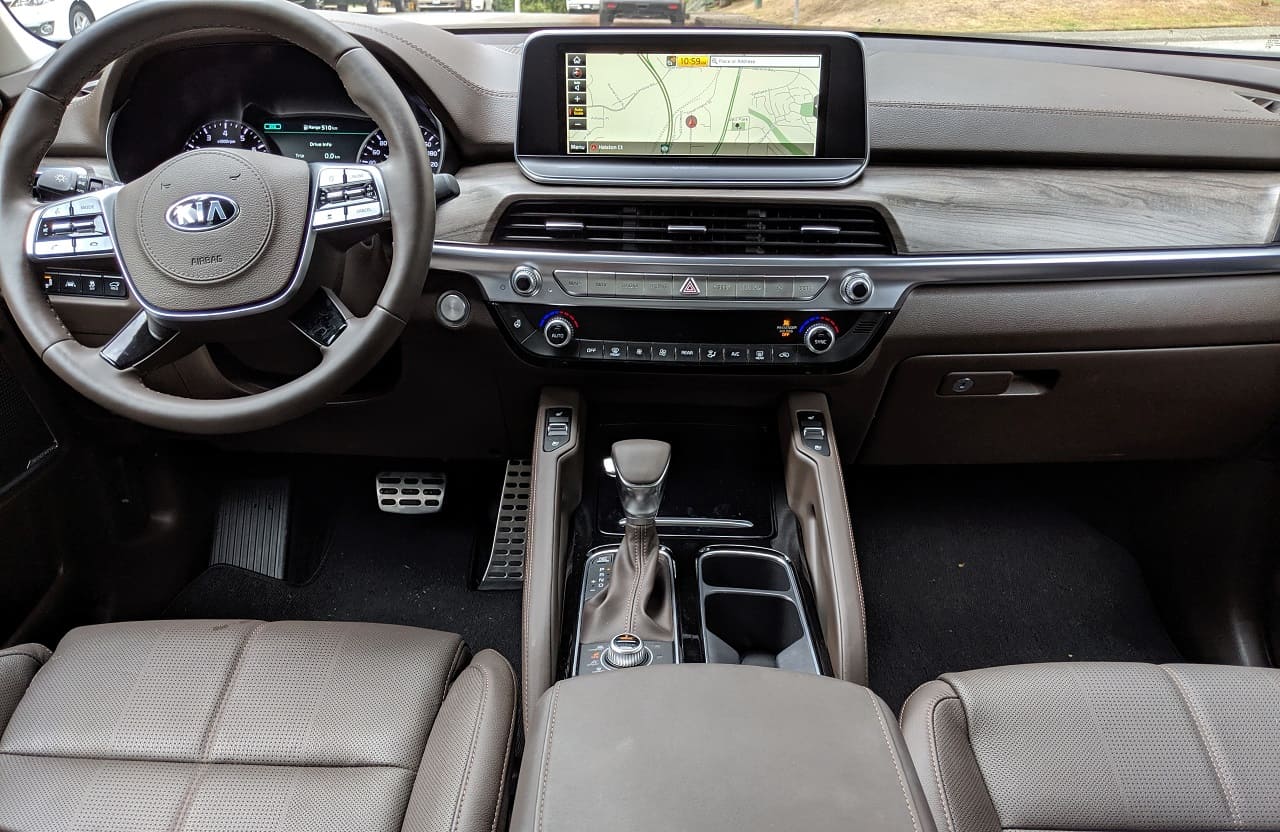 The Kia Telluride features a 10.5" widescreen touchscreen, which is standard on all trims, displaying information from the navigation, cameras, entertainment system etc. The screen has crisp graphics and is very responsive to the touch. The screen also provides a high-quality video from the rear, front, and side cameras, making rear visibility much better for pulling out of parking spots even at night.
The gauge cluster features two analog gauges for the speedometer and tachometer, with a TFT screen in the middle that provides information on fuel consumption, navigation direction, and few other parameters. This screen also shows video output from the cameras mounted under the side mirrors, when the left signal is on, it'll show you the blind spot area on the left side and when the right signal is on, it shows the right side. We first saw this on the Hyundai Nexo FCEV.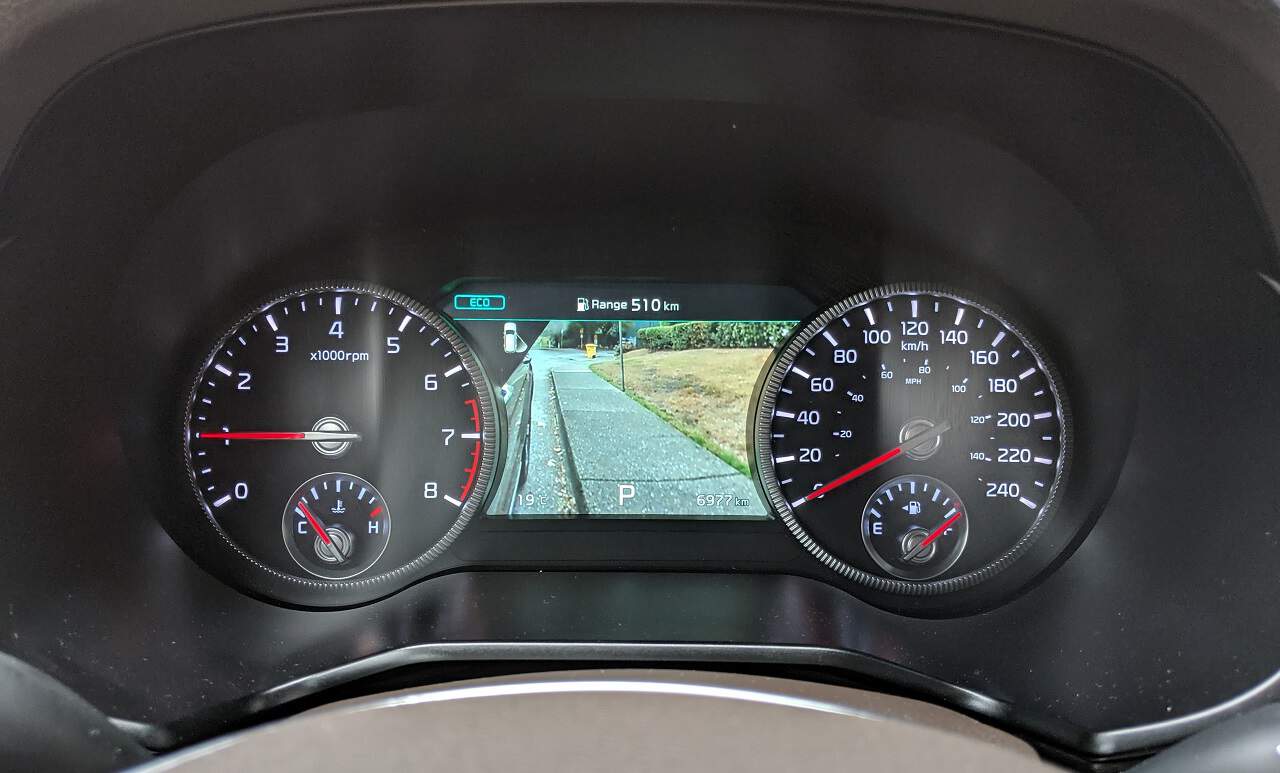 This feature is great addition to the already available blind spot monitoring system. A lot of automakers offer blind spot monitoring and a lot less offer blind spot monitoring that beeps when you turn your signal on while there's someone in your blind spot. Kia goes one step further, in addition to the two above features of the blind spot monitoring, the steering wheel gives you a little vibration when you turn your left/right signal on while someone's in your blind spot. With a combination of all these features, I don't think anyone who drives a Kia Telluride has an excuse of side swiping someone.
The interior is a really comfortable place to be in, the seats are very comfortable and come with heating/cooling for the front occupants. I found the headrests to be soft like a pillow and comfortable, they reminded me of the headrests from Range Rover Autobiography. On the SX trim, the seats are leather, which is soft and comfortable; the driver's seat comes with 8-way power adjustability with 2-way lumbar support, power thigh extension, and memory function. The passenger seat is 6-way power adjustable.
The second-row seats are also comfortable and have a good amount of leg room, these seats can slide forward and backward. In the EX and SX trims, the second-row seat is bench seat for three passengers, I found sitting in the middle seat to be uncomfortable with two other adults in the second row. The SX Limited trim features captain's seats in the second row, making it a 7-passenger vehicle. The third-row seats are surprisingly roomy, I set all three rows of seats to my seating position and I found plenty of room in the third row. Again, the middle seat in the third-row is not meant for adults on longer drives. Getting in and out of the third-row seats was pretty easy, the second-row seats fold down at the touch of a button, and the seat slides forward, making room to comfortably enter the third-row of seats.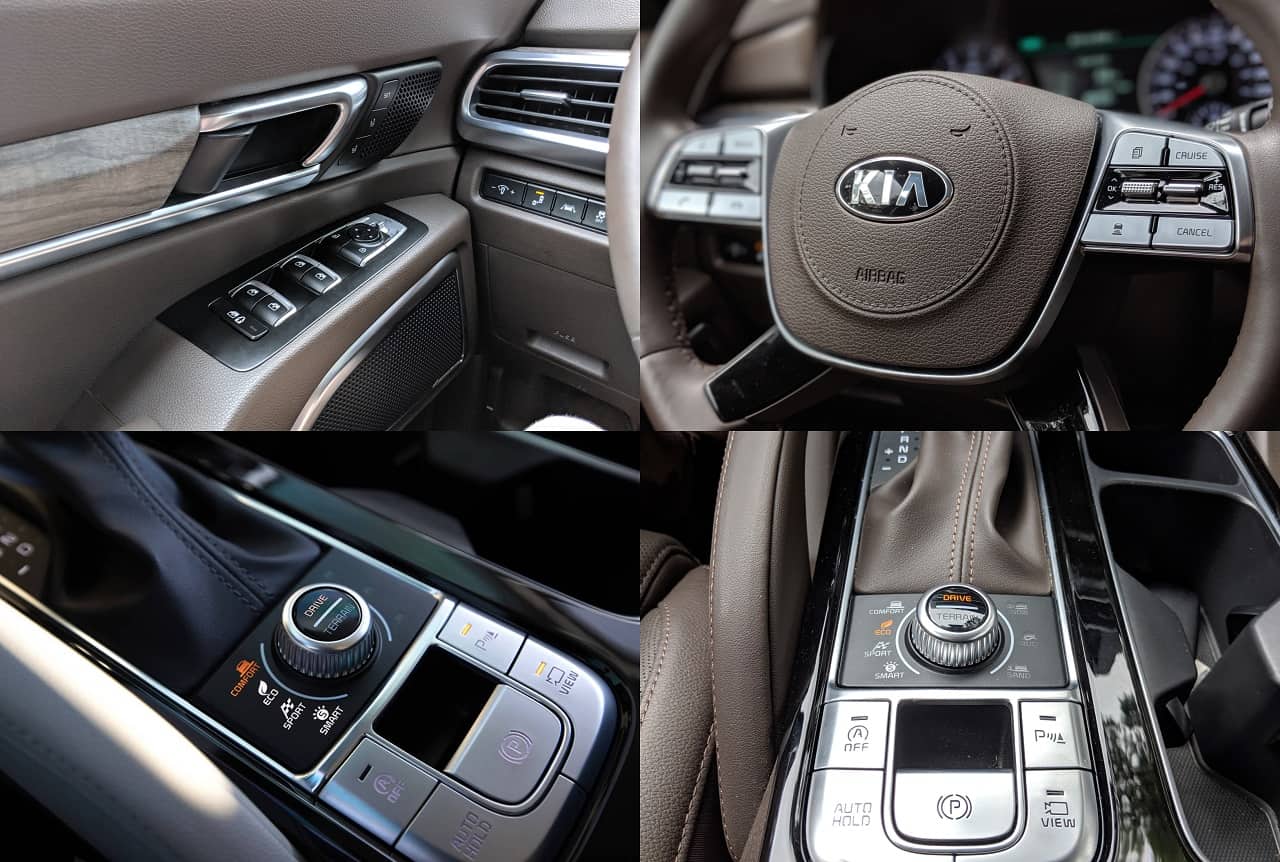 Tech/Convenience/Safety Features
The 2020 Kia Telluride SUV comes with an impressive amount of technology, convenience, and safety features, even the base trim is equipped quite well. Below is a list of all the available features, some of these features are only available on the top trims, but it should give you an idea what the Telluride can be equipped with.
Self-leveling rear suspension
Automatic headlights
LED daytime running lights
LED headlights
LED positioning lights
LED fog lights
LED taillights (SX Limited)
Automatic headlights
Rain sensing wipers (SX Limited)
Dual-panel power sunroof (SX and higher trims)
Automatic power folding side mirrors
8-way power adjustable driver's seat w/2-way power lumbar
Power driver's seat cushion extension (SX and higher trims )
Driver's seat memory function (SX and higher trims )
6-way power adjustable passenger seat (SX and higher trims )
Heated front seats
Heated & Cooled 2nd row seats (SX Limited)
Leather wrapped heated steering wheel
Integrated manual rear door sunshades (SX and higher trims )
Tri-zone automatic climate control
Harman Kardon premium audio system (SX and higher trims )
USB charging ports for 1st, 2nd, and 3rd row seats
Bluetooth hands-free cell phone connectivity
Apple CarPlay and Android Auto smartphone integration
Wireless phone charger
110V power inverter (household outlet)
12V cabin power outlet
Advanced smart cruise control (ASCC)
Highway Drive Assist (HDA)
Drive Mode Select (Eco/Comfort/Smart/Sport)
Electronic parking brake
Smart key with push-button
Smart power liftgate
UVO Intelligence connected car services
7″ LCD/TFT instrument cluster (SX and higher trims )
Heads Up Display (SX Limited)
Auto up/down all-four windows
Safe exist system
Tire Pressure Monitoring System (TPMS)
Blind view monitor (SX and higher trims )
Blind-spot Collision Avoidance Assist (BCA)
Lane Follow Assist (LFA)
Driver attention warning (DAW)
Advanced forward collision-avoidance assist (FCA)
Front parking sensors (SX and higher trims )
Rear parking sensors
Rear Cross-Traffic Collision Avoidance Assist (RCTCAA)
Rear view camera
As you can see, the list is very long and there's a lot of equipment the Telluride comes with even on the base trim, but if you must have all the bells and whistles, Kia has you covered.
Overall Impressions
I was very impressed with the 2020 Kia Telluride SX, it's a large vehicle that's comfortable for city or long drives. It can seat 6 adults comfortably, the ride quality is very soft, and the interior is quiet and feels luxurious.
Our review car was the middle SX trim, however, it felt like it was a fully loaded vehicle, for a great price. It isn't too bad with fuel consumption either, it's a big vehicle, but gets pretty good mileage in the city and great mileage on the highway.
If you're looking at an entry-level luxury 6 to 8 seat SUV/CUV without the big price tag of some of the "luxury" brands, I highly recommend checking out the Kia Telluride.
2020 Kia Telluride Review Photo Gallery