One of the most difficult parts about being a teenager was my acne. Sure, I was incredibly shy, a little lanky, and had braces, but the acne was by far the biggest blow to my self-esteem. I can't really emphasize this one enough…
I had acne on my face, which was frustrating, and cystic acne on my back, which was painful. The acne on my back was so bad that I decided to started using a knife to cut open the pimples and relieve the pressure. I'm sure you're thinking, whoa, that's crazy! You're right, but I was desperate. So trust me when I say that I understand how frustrating acne, and the subsequent scarring – to which I have plenty – can really be. People that haven't had it just don't understand. It's not just a matter of washing your skin better or avoiding chocolate bars, and for a lot of guys, makeup isn't a go-to cover up option like it is for women.
People that haven't had acne are also, sadly, in the minority. Acne is the most common skin disorder in the United States. It affects up to 40 million people, and up to 95% of them may suffer from some kind of scarring. It's no wonder that many people feel acne scars negatively impact their self-confidence.
People like to joke that "chicks dig scars," but acne scars? Not so much.
But here's the thing: there finally is a solution to help effectively treat facial acne scars. It's called Bellafill®, and it's the only dermal filler on the market that has been approved by the FDA to treat acne scars on the cheek. Unlike laser resurfacing, dermabrasion, and the plethora of other treatments you may have tried, Bellafill doesn't require the massive amounts of re-treatments like other solutions.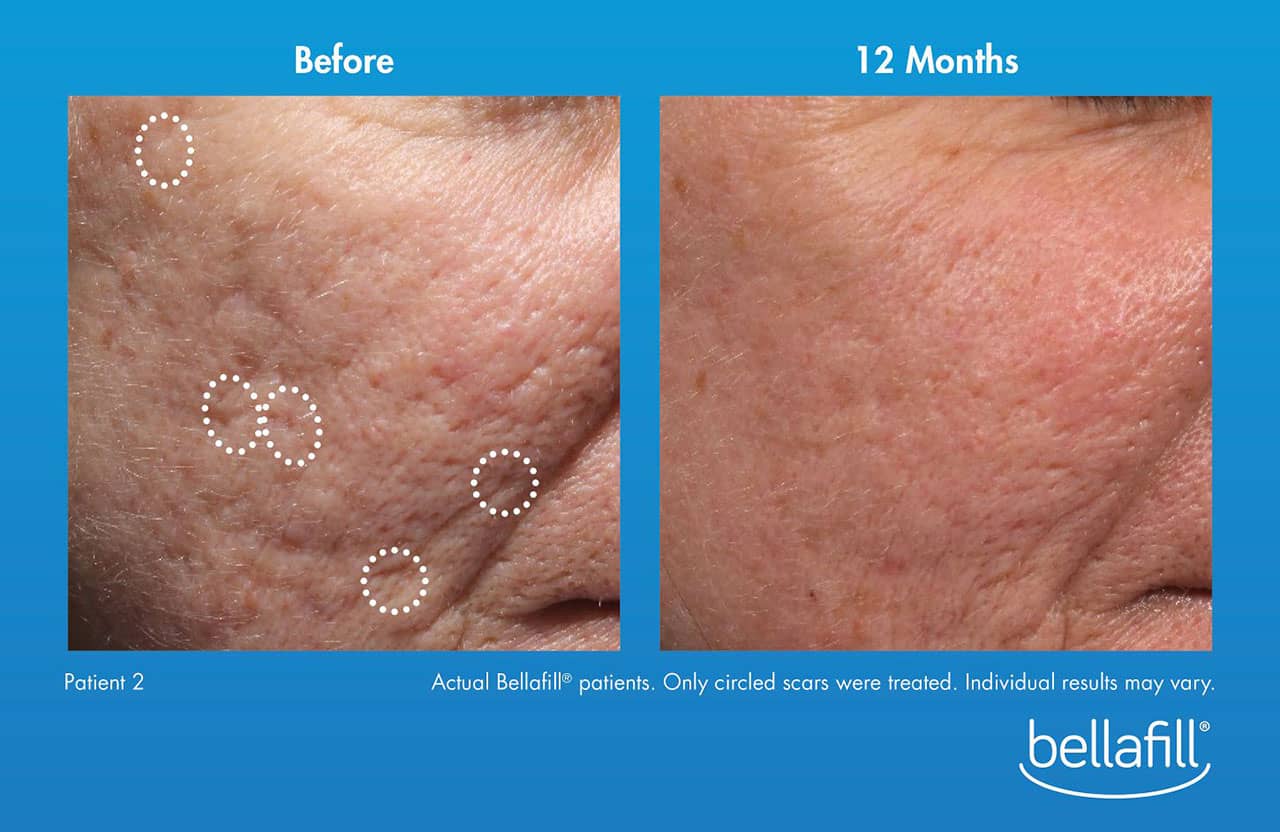 The procedure is simple and requires very little to no downtime. A 15 minute in-office procedure is enough to get you started on the path to erasing some of those enduring acne scars. The above photo is a typical example.
Your physician will use a very fine needle to inject Bellafill below the acne scar depressions. The injected collagen gel will provide a sort of scaffolding to "lift" the acne scar depressions, making them level with your surrounding skin. The result? Smoother looking skin.
Whatever your skin type, there's a good chance that Bellafill will be an effective means of treating your acne scars. Bellafill has been extensively studied, and patients – both male and female – have walked away with smoother skin and, the scars from teenage or adult acne visibly diminished. It may not be a panacea, but it can make a huge difference.
Acne is never fun, and the affects can last a lifetime. Thankfully, there's actually something you can do about it now. Find a Bellafill provider at http://www.bellafill.com/patient/acne/find-provider.