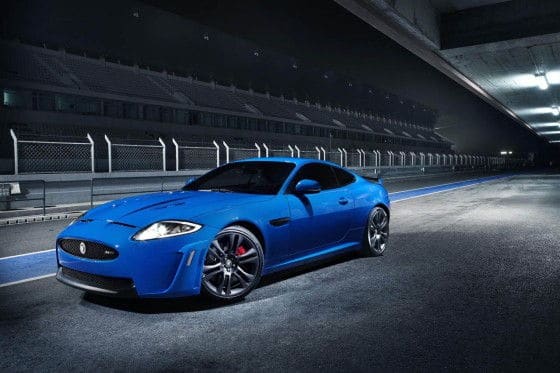 It has been a year since the updated Jaguar XKR has been in production and now Jaguar has decided to spice things up even more by leaking a few details about the all-new 2012 XKR-S which is to debut at the Geneva Auto Show in March, 2011.
The new XKR-S will be fitted with an upgraded version of the supercharged 5.0 liter V8 capable of putting down 550 horsepower and 501 pound-feet of torque. That's an extra 40 horsepower over the standard XKR and enough power to give the XKR-S a top speed of 186 mph while being able to complete the 0 – 60 mph dash in only 4.2 seconds. Other upgrades include aggressive aerodynamic changes to the bumper, side skirts, air vents on the hood, quad tail pipes, and a rear wing giving it a bold "in your face" appearance.
Jaguar's engineers have also implemented improvements in the suspension department making an already great handling car that much better. The Adaptive Dynamics system was also reprogrammed.
The Geneva Auto Show also happens to be a bit special this year for Jaguar as they will also be celebrating the 50th anniversary of the E-Type which was launched in 1961. The influence of the E-Type can still be seen in the modern Jaguar cars.
Further details about the 2012 Jaguar XKR-S will be released at the Geneva Auto Show.