In a world that's going electric, we have the mighty Miata (now known as MX-5), still fighting the good fight for all things mechanical. The MX-5 is also fighting the good battle against practicality and everything going digital. The Mazda MX-5 is one of a handful of cars that still takes you back to the simpler times when everything was mechanical and you had to have driving skills to manhandle a car.
But that doesn't mean the 2023 Mazda MX-5 is any less of a car or lacks modern creature comforts, on the contrary. The Mazda MX-5 RF is a hardtop convertible with modern technologies like navigation, a backup camera, traction control, blind spot monitoring, heated seats, and more. It doesn't go too crazy with tech; you still have to change gears manually (an automatic transmission is available).
Last week I had the opportunity to review the 2023 Mazda MX-5 RF GT (codenamed ND), which is the 4th generation of this popular little car, with over 1 million units sold worldwide since its introduction in 1989. There are rumors of an update coming for this generation of the MX-5 later this year, so this might be the last time I get to drive the MX-5 RF in its current form.
View this post on Instagram
The 2023 Mazda MX-5 comes in two forms, the standard roadster and the RF hardtop convertible. We'll focus on the RF in this post since that's the car we had for our review; we will review the roadster later in the summer.
Table of Contents
2023 Mazda MX-5 Canadian Prices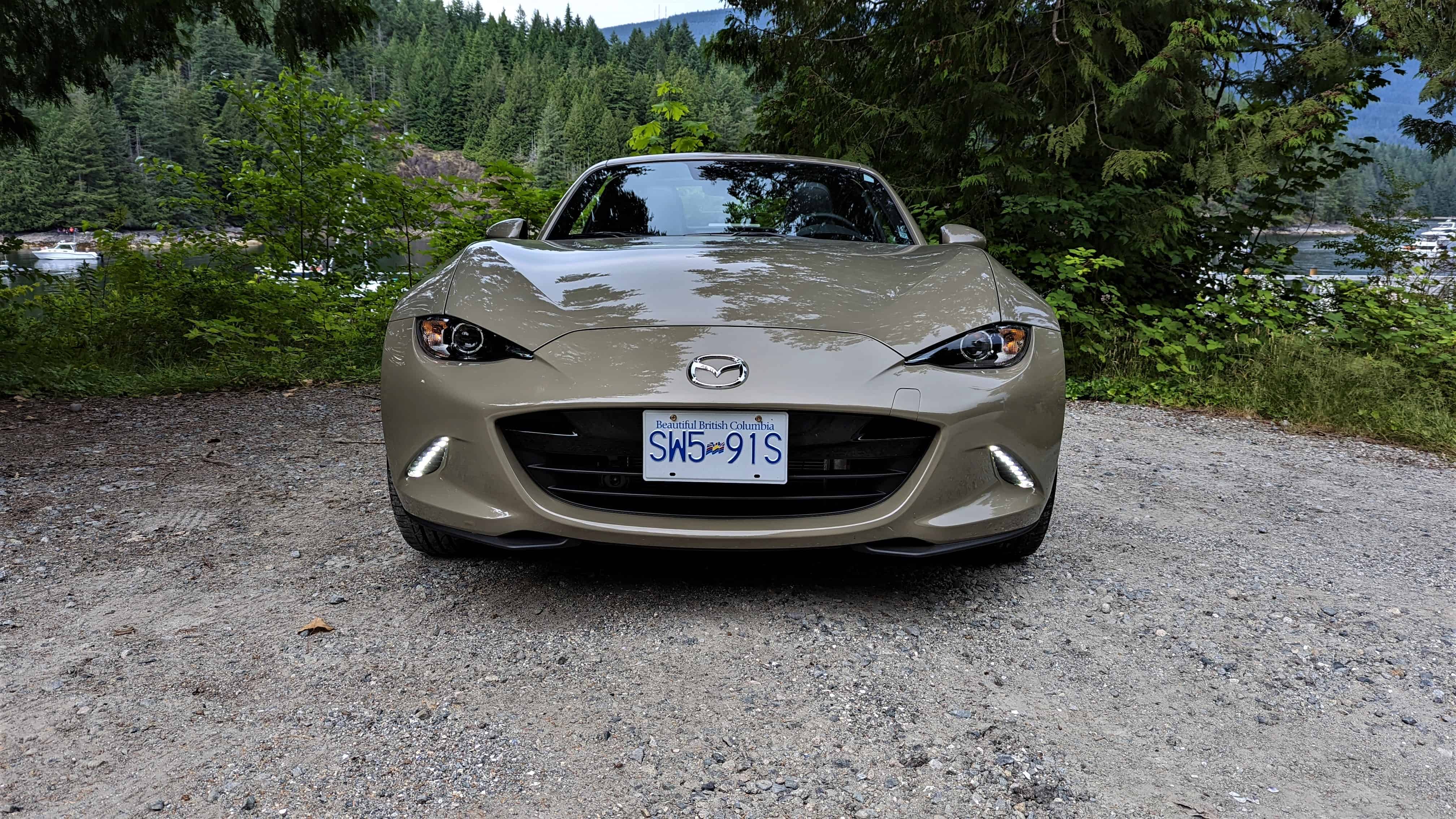 The 2023 Mazda MX-5 RF comes in only two trims in Canada, the GS-P and the GT. The MX-5 RF GS-P starts at $40,900, and the MX-5 RF GT starts at $44,000. Our review car was the 2023 Mazda MX-5 RF GT, with an as-tested price of $45,145. The price included $250 for Zircon Sand Metallic paint and $895 for Freight & PDE.
There are a few options you can add, including a no-charge automatic transmission and the Grand Sport Package ($3,600). The GSP package includes the following items:
Contrasting top in piano black
Terracotta Nappa leather-trimmed upholstery with grey stitching
Brembo front brakes
Red-painted front and rear calipers
17″ BBS forged alloy wheels with a dark finish
Power exterior mirror in piano black
2023 Mazda MX-5 Engine/Driving
All trims of the 2023 Mazda MX-5 are powered by a 2.0-liter Skyactiv-G naturally aspirated 4-cylinder engine, producing 181 horsepower at 7,000 rpm and 151 pound-feet of torque at 4,000 rpm. A 6-speed manual or automatic transmission sends power to the rear wheels.
As always, driving the Mazda MX-5 is a fun experience. I know I've reviewed this car many times; I usually review it at least once a year, and I still can't get over how much fun I have with it. In a world filled with crazy high-powered electric family CUVs with hundreds of horsepower and torque figures, the MX-5's output numbers may not seem like much, but the MX-5 is not about all-out power. The feeling you get behind the wheel is something so pure only true car lovers would understand it. There is so much connection between the driver, the car, and the road, which is the basic philosophy of "Jinba-Ittai." What is Jinba Ittai? It's a Japanese term meaning "oneness of horse and rider," which is exactly what driving the MX-5 feels like.
The increased horsepower starting in 2019 made me love the MX-5 even more. Driving the MX-5, even at low speeds, makes you feel like you're going much faster than you are, and you have just as much fun as you would in a high-performance sports car. In this case, you don't need to worry about getting speeding tickets. Finding twisty roads on a nice summer day is what the MX-5 is meant for; manually shifting gears on the short-throw gear stick sent me back to my young days. I don't mean to sound cliché, but driving the MX-5 makes you forget about all the problems currently surrounding us as a society; it's a form of therapy.
Another beauty of the MX-5 is its fuel efficiency, rated at 9.0/7.0/8.1 liters/100 kilometers, according to Natural Resources Canada (NRCan) website (26 city, 34 highway, and 29 combined mpg according to the EPA.) After a week of a normal city, some highways, and some twisty roads, the onboard computer showed 7.0 L/100 km of fuel consumption, which is a great number. However, the MX-5 does require premium fuel.
2023 Mazda MX-5 Exterior & Interior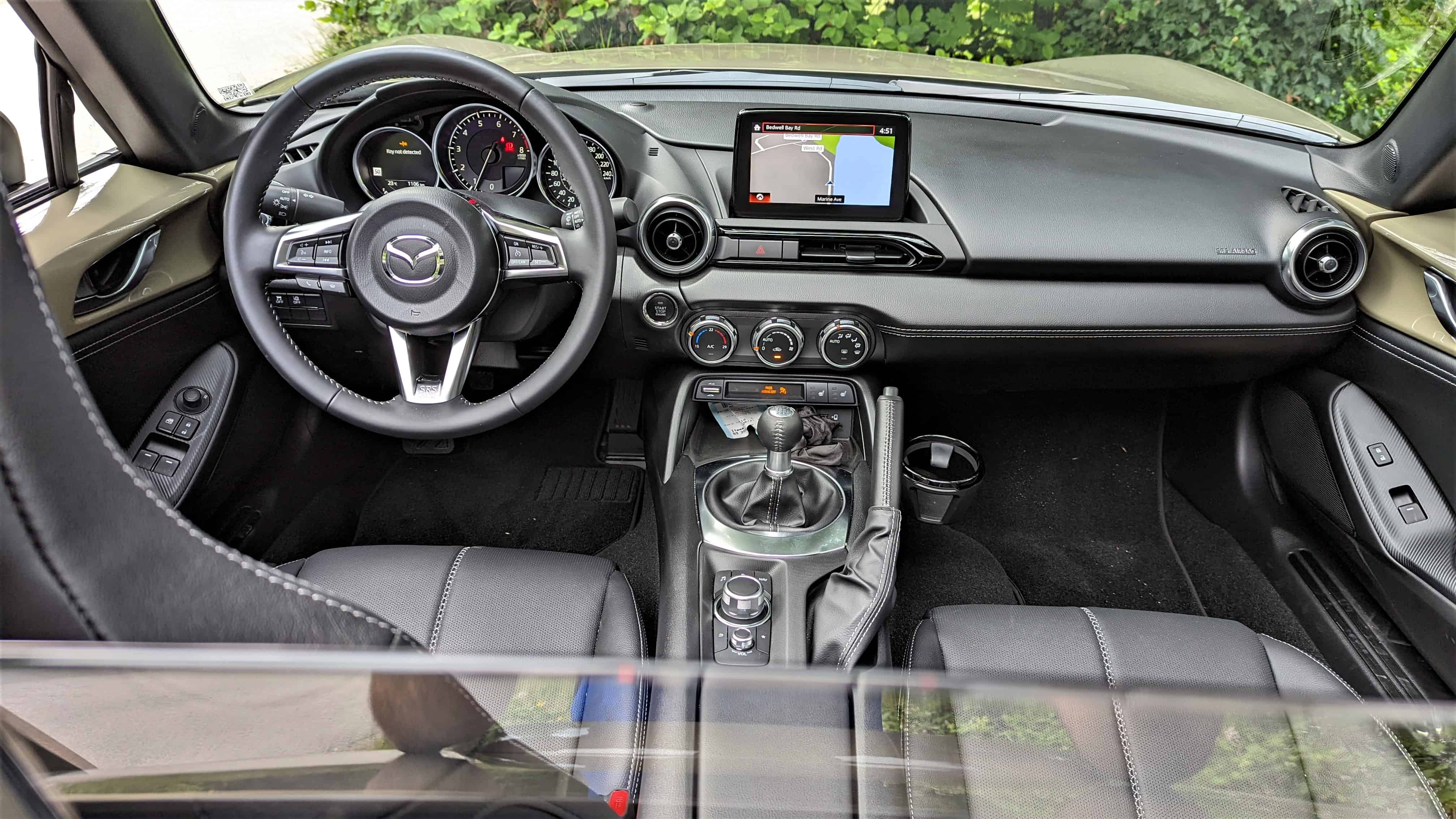 The styling has remained the same since this generation of the MX-5 was first introduced; there might be slight tweaks with the rumored updates I mentioned above. The MX-5 is a cute-looking vehicle with the classic British roadster (in this case, coupe-like) styling, with a long hood and front wheels pushed all the way to the front and out.
With the hardtop, it does look much different from the MX-5 roadster. I prefer the look of the MX-5 roadster with the roof down, but the RF looks better with the roof up.
The interior also remains the same. The interior has a classic sports car minimalist look. Everything is placed well within easy reach and is simple to understand. I really like the simplicity of this interior, which goes hand in hand with the philosophy of this car—minimalist, lightweight, no compromises, and lots of fun.
Final Thoughts
Overall, the 2023 Mazda MX-5 RF is a fun car that will bring you many smiles every time you drive it. With the hardtop, it's more practical for Canada's cold climate while you still get to experience open-top driving.
You can't buy many mechanical cars like this nowadays, and we should appreciate Mazda's dedication to these vehicles that appeal to enthusiasts looking for fun, lightweight, and simple cars.
2023 Mazda MX-5 RF GT Review Photo Gallery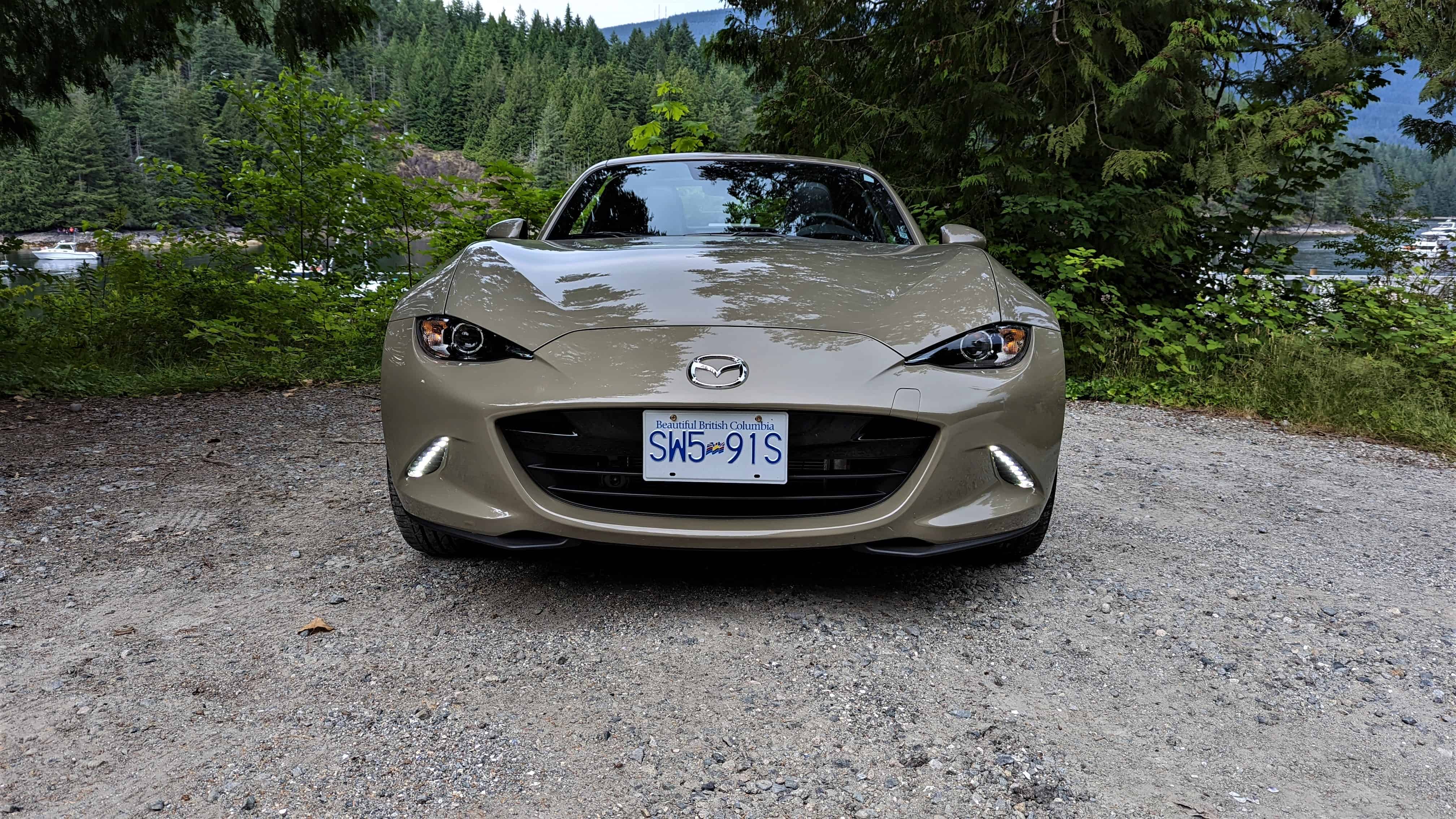 For more information on the 2023 Mazda MX-5, please visit the Mazda Canada and Mazda USA websites.