Over the last few decades, consumer products seem to be getting bigger and bigger. No, I'm not talking about some edible products that are actually getting smaller, also known as shrinkflation. That's a topic for another day. What I'm talking is things like bigger phones, bigger TVs, and one of the most apparent one, bigger cars.
If you compare cars from a few decades ago, you'll notice how much bigger they've become. Take the original Civic for example, it was a tiny car and now it's mid-sized car. A RAV4 from a 20 years ago was much smaller than the current generation RAV4, which is almost as big as mid-size SUV from back then. Have a look at the original Mazda MX-5 (Miata), and you'll notice… oh wait… it's almost identical in size and weight…
You see, not every car maker is obsessed with making their cars bigger, which makes them heavier and therefore less fun to drive. The fourth generation Mazda MX-5 (ND), the soft-top convertible version, takes the old-school philosophy of British roadsters, that were lightweight and all about fun. The exception to that philosophy is the MX-5 won't break down on you once a week. The 2020/2021 Mazda MX-5 also comes with modern features that will leave those old British cars in the dust.
I have written quite a few posts on the 4th generation Mazda MX-5 roadster, it has been a popular car among the car enthusiast, thanks to its lightweight, fun personality, and sporty design. With the increase in power a couple of years ago, it has made the MX-5 an enticing option for those looking for a fun car that's relatively affordable, reliable, and good looking. Over one million Mazda MX-5 (Miata) roadsters have been sold worldwide, setting a Guinness World Record.
A couple of weeks ago I had another opportunity to review the 2020 Mazda MX-5 RF. It was the perfect weather to try out a hardtop convertible in fall/winter weather. Although, our falls and winters are much milder than the rest of Canada, they are much wetter.
Winters and convertibles don't go together too well, but thankfully the MX-5 RF has a hardtop. It does make a huge difference because with the roof up, it almost feels like you're driving a coupe. The interior gets nice and toasty pretty fast when you start up the car, much faster than a soft-top convertible. And it stays warmer far easier than a soft-top. Although, modern soft-top convertibles are pretty good at insulating the interior, the added metal on the RF version is perfect for cold weather driving.
The MX-5 is a rear-wheel drive car, as all sports cars should be, it still has loads of grip in our wet weather. Driving at decently fast speeds in corners wasn't much of a challenge, I'm sure when it's snowing (with winter tires on), you wouldn't want to be going too fast, but I was happy with the MX-5's wet weather performance.
Speaking of performance, the 2020 Mazda MX-5 is powered by a 2.0-liter SKYACTIV-G 4-cylinder engine, producing 181 horsepower at 7,000 rpm and 151 pound-feet of torque at 4,000 rpm. Power is sent to the rear wheels via a 6-speed manual or 6-speed automatic transmission. I've only ever driven the manual transmission, which really squeezes out the power from the engine.
The power figures from the 2-liter engine might not seem impressive on paper, with the crazy amounts of power cars are making nowadays, but the MX-5 is a lightweight roadster. It doesn't feel like it lacks power, and it isn't meant for drag racing. The whole point of a lightweight car like this is to take it to twisty roads and have fun without the need to break speed limits.
Would I be sad if they put in the turbocharged 2.5-liter engine that has been making its way into other Mazda vehicles? Of course not, with that engine's 250 HP the MX-5 would turn into a little rocket ship. But that's probably just a wish or a dream, the 2.5-liter turbocharged engine might not even fit in the MX-5.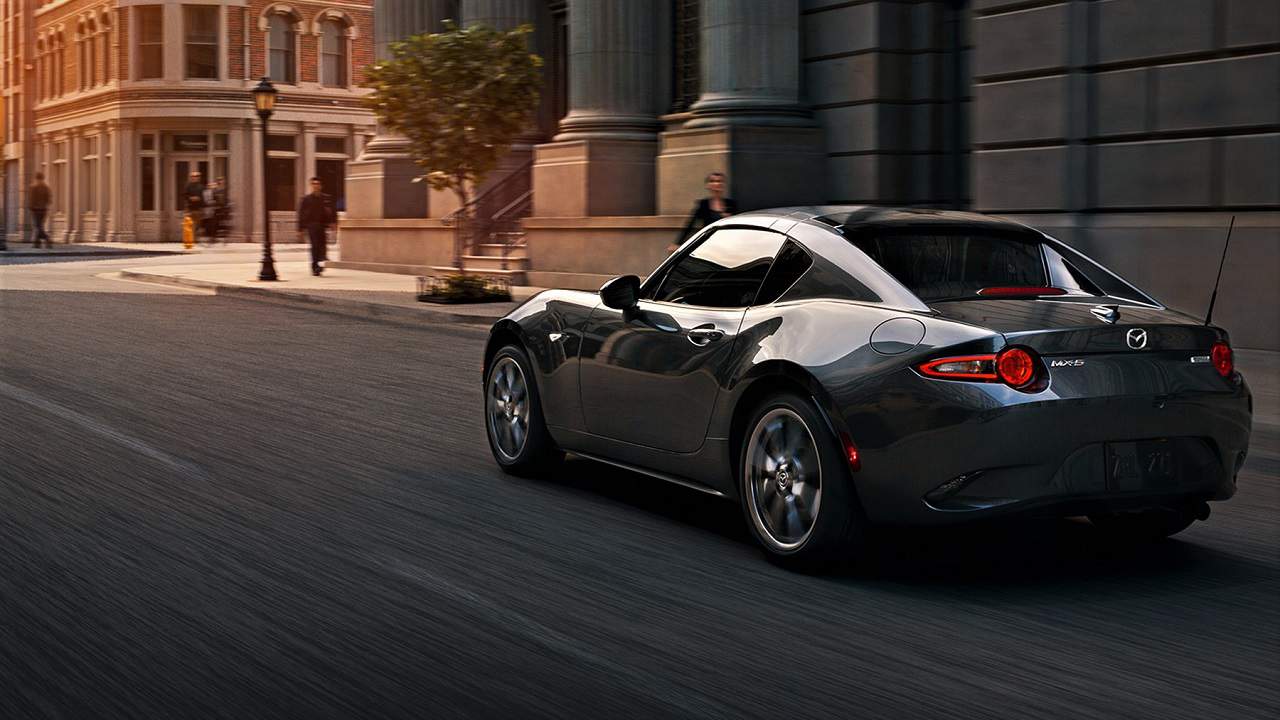 The exterior styling on the 4th generation Mazda MX-5 hasn't changed since it was introduced (at least I don't notice any changes), it's still a good looking car. I'm still not used to the rear lights, which look too squished to me. But other than that, I really like the looks of this car. Even after being available for many years, it's still a head turner.
The interior also remains the same. The interior has a classic sports car minimalist look. Everything is placed well within easy reach and is simple to understand. I really like the simplicity of this interior, which goes hand in hand with the philosophy of this car. Minimalist, lightweight, no compromises, and lots of fun.
The 2020 Mazda MX-5 RF has a starting price of $40,100 for the base GS-P trim and the GT starts at $43,150. A similar spec soft-top convertible is $3,000 cheaper and with the soft-top, you can opt for the base GS trim, which starts at $33,100.
Our review 2020 Mazda MX-5 RF GT had an as tested price of $48,800. This price included $3,600 for the "Grand Sport Package" and $200 for the Polymetal Grey Metallic paint. The price also includes $1,850 for Freight & PDE.
Overall, I had a great time driving the 2020 Mazda MX-5 for a week even in cold fall/winter wet weather. Thanks to the hardtop, you're better insulated from the elements and it gives you the opportunity to drive this car all year long.