I didn't know Mercedes was working on a new design/refresh of the E-Class and was pretty surprised to see pictures of the new car.  I'm not sure if I should call the 2014 Mercedes-Benz E-Class a refresh or a new model.  Normally when a carmaker shows a refreshed model, there are minor tweaks to the design but the new E-Class has a completely new face and new sheet metal on the sides, but the overall shape and dimensions are the same, so I can't really call it an all-new car.
Whatever the case may be, here is the 2014 Mercedes-Benz E-Class in all its glory.  Gone are the four headlights that have been gracing the front ends of the E-Class cars since 1995.  Instead, you'll find a pair of smooth looking headlights, each with LED bars inserted between the main lights, giving the front the 4-light look.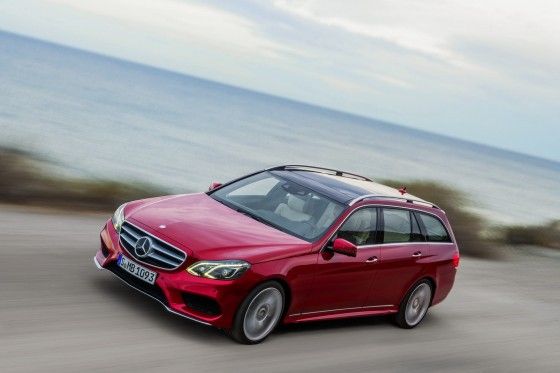 Like the C-Class, the front grill on the 2014 E-Class will be available in two varieties; the top of the line Avantgarde model will get a sporty grill with two horizontal bars and an integrated three-pointed star (pictured above) while the base and Elegance models will feature three vertical bars in the grill with the three-pointed star on the hood (pictured at the top).
The interior looks similar to the 2013 model, I don't remember what type of materials were used in that year's car but I do remember hard plastics on the E-Class from 2010 or 2011, which I really hated.  Thankfully, it looks like the 2014 E-Class will come with soft-touch materials on the dashboard and door panels (I'm coming to this conclusion solely based on looking at the pictures).
The 2014 Mercedes-Benz E-Class comes with lots of technologies which I won't bother you with.  There are also a lot of engine choices offered with this car, at least in Europe; 18 engine choices to be exact.  6 of them will be diesels, 2 hybrid diesels, and 10 gasoline engines.  The gasoline engines will range from small 2.0 liter 4-cylinders to big 4.6 liter V8 engines with over 400 horsepower.  All engines will be available with 6-speed manuals or 7-speed automatic transmissions.
The 2014 Mercedes-Benz E-Class cars will be available with the new front in the sedan and wagon formats early next year and the coupe will see the same treatment later on in the year.
2014 Mercedes-Benz E-Class Wagon & Sedan Pictures