To the average guy/girl, most of the models of the Porsche 911 look like the same cars that were first introduced 48 years ago, but true car fans know that while the main lines of the car keep true to the original design, it's the fine details in the designs that make each of the 911 models different while looking the same.  At first glance, the 9th generation 2012 Porsche 911 (code named 991) looks like the previous generation (997), looking closely at the car reveals it's a totally different animal.
The main difference is, the new for 2012 911 is a lot bigger than its predecessor; the wheelbase is 4 inches longer and the roof height has been reduced.  Combine that with a wider body and you get a sporty new design while still retaining the classic Porsche 911 lines.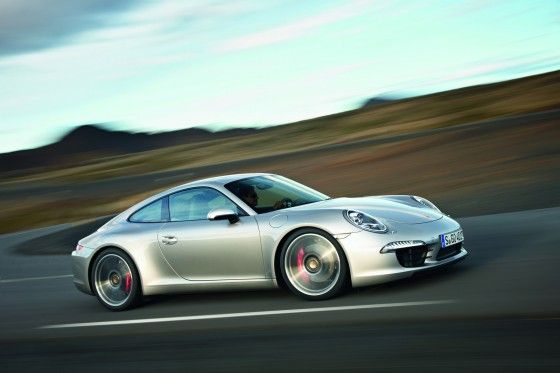 The 2012 Porsche 911 Carrera and Carrera S models will initially be offered with other models following soon after launch.  The body is made out of aluminum-steel which provides increased rigidity while decreasing weight by 99 pounds (45 kilograms).  The body is even more aerodynamic now and the car has reduced lift without increasing the drag coefficient.
The 2012 911 Carrera will be powered by a new version of the flat-six engine with 3.4 liters (down from 3.6 liters) displacement and will produce 350 horsepower.  There are two transmissions available: a 7-speed manual transmission and a dual-clutch PDK automatic transmission.  0 – 62 mph is achieved in 4.6 seconds with the PDK transmission and 4.4 seconds with the Sport Chrono Package equipped cars.  The Carrera S will be powered by a 3.8 liter engine producing 400 horsepower and will be able to get to 62 mph in 4.3 seconds with PDK transmission and 4.1 seconds with the Sport Chrono Package.
The interior of car sees a lot of improvements over the past models (although the 997's interior wasn't too bad) and is said to be inspired by the Carrera GT.  The interior reminds me a bit of the Panamera's interior, specifically the raised center console, which is quite luxurious and I really like it.  I think Porsche could make the interior a bit more sporty to compete the Ferraris and Lamborghinis.  Maybe the 911 Turbo will see a much sportier interior?
The 2012 Porsche 911 Carrera will be officially launched on September 13, 2011 at the Frankfurt Motor Show but Porsche will start taking orders on September 1st.  The car will be available in the United States in February 2012; the Carrera will have a starting price of $82,100 while the Carrera S will have a starting price of $96,400.  Via: Porsche
2012 Porsche 911 Carrera and Carrera S Photo Gallery