Ford's newly redesigned Focus has been a big success and to make the car even more successful, Ford is releasing an all-electric version of the sporty car.  The Ford Focus EV will compete directly with the Nissan Leaf; however, the Focus EV will cost a few grand more.  The Detroit car maker just released pricing for the Focus electric with an MSRP of $39,200 + $795 for deliver, for a grand total of $39,995, the Nissan leaf starts at $36,050.
The 2012 Ford Focus EV is powered by a permanent-magnet electric motor that produces 123 horsepower and 181 pound-feet of torque, the car has a top speed of 83 mph.  Power is sent to the front wheels via a single-speed transmission and the electric motor gets its juice from a 23 kWh lithium-ion battery pack.  Ford didn't provide the range for the Focus EV but did say the batteries can be fully charged in 18-20 hours using a standard 120V outlet and 3-4 hours using a special 240V charging system.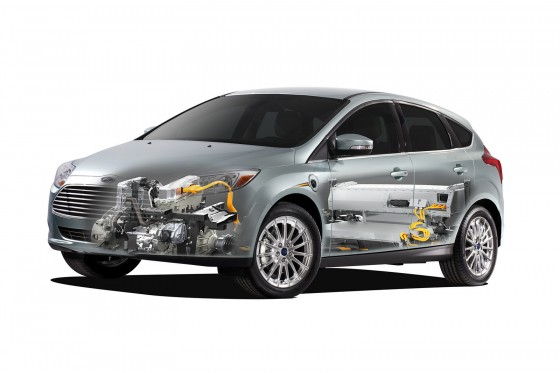 Initially Ford will sell the Focus electric in California, New York, and New Jersey; it will be launched in 19 other markets throughout the United States in spring 2012.  If you're interested in purchasing a Focus EV, Ford is currently taking orders online.
Ford Focus EV Pictures