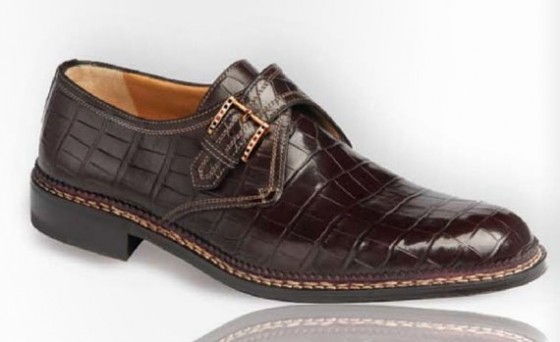 People that know me know I'm all about luxury – I like high quality, expensive stuff that's understated and doesn't scream "look at me, I'm a pimp!"  However, there are times when even I question some of these expensive things, and this just happens to be that time.  The expensive item in question is a pair of men's dress shoes made by A.Testoni that cost a whopping $38,000!  These shoes cost more than my car (two times over).
The shoes are made out of some poor alligator's skin using Norwegian construction (which is presumably better than Italian or American construction), for durability and water resistance.  The inside of the shoes is just as exotic, covered by glove-soft goatskin.  To top it off, the shoes come with a gold and diamond buckle.
The process used to make these shoes takes 200 operations to complete; I bet the Chinese can do the same thing in 20 operations.  The shoes are made, then deconstructed and then put back together for lightweight and guaranteed protections from humid, cold and hot weather.
I'm thinking of sending an email to Testoni to send me a sample pair these shoes for a review 😉