I went on a camping trip this past weekend and something was different this time around. As I looked around the campfire, everybody was slowly moving their heads to the beat. Usually, it would be some poor quality sound system that should have been put out of its misery years ago, but not this camping trip! This time, I brought along the Eton Rukus Solar Powered Bluetooth sound system.
As the name would suggest, the portable sound system features Bluetooth technology allowing it to pair up with smart phones, tablets, and PC. And of course, the solar feature is extremely useful when not near modern amenities. Thanks to this sound system, I was not only able to keep the campsite entertained but I was also able to keep my phone charged at all times.
The Eton Rukus Solar is a well designed sound system that is durable and compact, weighing in at less than five pounds. The hard plastic and buttons on the device feel very solid and it appears that it can take a beating. Lucky for it, the sound system was easy to use and there was no need for me to use a baseball bat on it.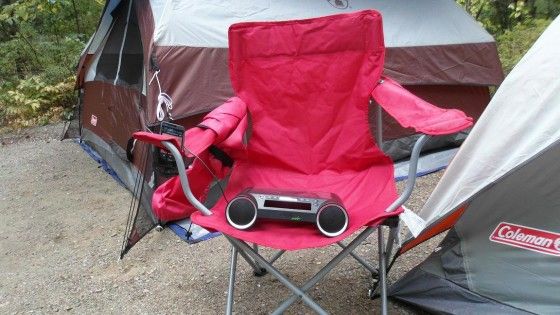 The Design
As you can see, the Eton Rukus is pretty easy to carry around with its built in handle between the two speakers. On the front, there are buttons for Power, Bluetooth, USB, Auxiliary, Bass, and Volume functions. On the backside, there is a USB port for charging mobile devices. The sound system also has a 3.5mm AUX input for media devices which may not have Bluetooth, which is great for older mp3 players. The speakers can also be charged via AC Power when the clouds roll in or perhaps when you need a quicker charge. The backside also has an elastic pocket which can be used to store your mp3 player or phone which is useful when charging a mobile device via the USB port.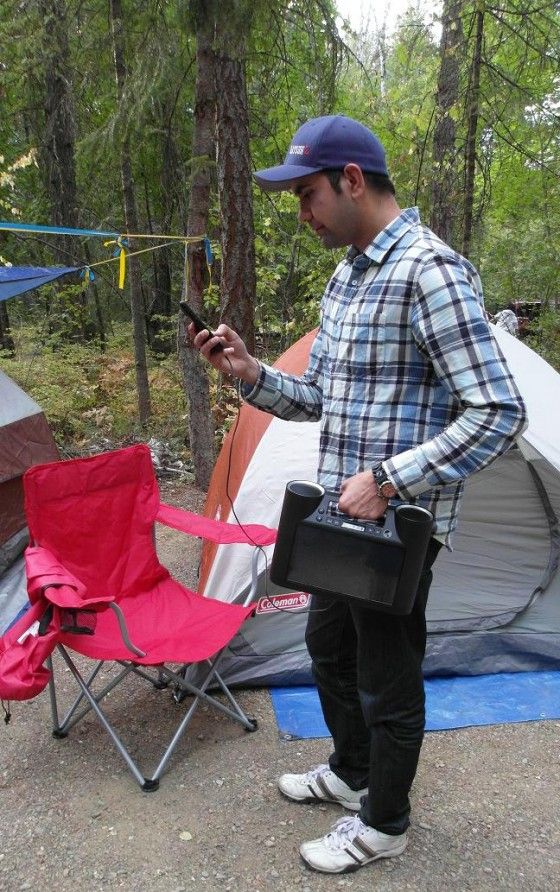 With the monocrystal solar panel, you can charge the sound system in six hours which allows for over eight hours of music play time. Unfortunately for me, I didn't experience those types of numbers because I was also constantly charging my phone. I have a friend who has the same sound system and he has been able to achieve 12 hours of music play time on a lower volume setting. I can't confirm but it's something I will have to investigate.
The sound that the Eton Rukus sound system produces is not bad at all for this price point. If I was at a beach, I think I would need the system to be a bit louder,  but it was definitely sufficient enough for a campsite. The sound quality is great with no distortion. I realize this is a pretty compact sound system but I wish the Bass function was more…functional. There wasn't a huge difference between the Bass turned on and turned off, and the digital display also didn't show whether it was enabled.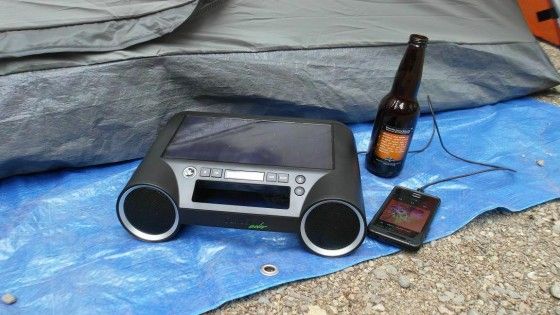 The E Ink display shows battery life, USB connectivity, Bluetooth connection, charging status, and AUX. The display is easy to read in direct sunlight and it also uses minimal energy which is great for the battery life.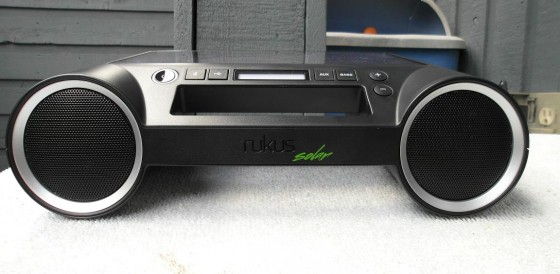 The Eton Rukus Solar sound system can be picked up for a very reasonable $150 or about $120 on Amazon. The sound system is available in black, white, and bright green. If would be pretty cool if future models also featured an AM/FM radio. Other than that, I would definitely recommend this sound system to my family and friends.