With all the gadgets we own nowadays, you'd think wearing a watch would go out of style because pretty much every gadget/device has a time display.  But that's not the case, wristwatches are more popular than ever (thankfully), and thanks to blogs like ours and many others, we bring you the latest watches from around the world.  Most of the watches we post here are of the "high-end" variety – which most of us can only dream of owning – so I thought I'd dedicate a post to some affordable but classy looking watches.
Affordable has different meaning to different people, so we'll keep the "budget" for this post to around $500.  I know there are thousands of affordable watches to choose from, but I've narrowed it down to the list below of what I would buy with my $500. Now, I can't guarantee that these are the lowest prices available, but they're a good starting point. If you can find them cheaper, feel free to share in the comments!
Orient Bambino (price: $182 – $196 with 30% coupon)
Orient is one of our favorite affordable automatic watchmaker, between the members of Unfinished Man team, we probably own more than 10 Orient watches.  These watches have history, they're well made, and some of their watches have amazing designs.
The Orient Bambino, a questionable name IMO, is a throw-back to the classic watches of the 1960's.  In fact, it's a more affordable version of their limited edition 60th Anniversary watch (which I own).  The Orient Bambino (FER24005W0 or ER24004B) comes with a clean dial that's covered with a domed mineral crystal, the case measures 40.5 mm and comes in silver, gold, and rose-gold finishes.  The dials are either black or white, depending on the case finish.  The watch is powered by 48743 caliber Japanese automatic movement with 40 hours of power reserve. Buy It
Movado Bold Chronograph (pries: $300)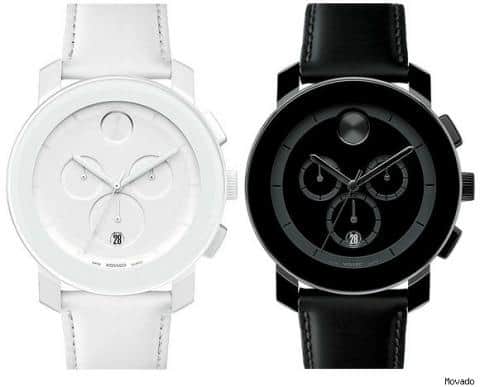 Movado makes some very high quality watches; they have quite a few affordable watches, while also producing some very expensive high-end stuff.
The Bold Chronograph is a little different from what Movado is famous for, the clean looking "museum" dials.  The Movado Bold watches have a bit of sportiness to them with the grey and black dials and the three chronograph sub-dials.  These watches are powered by Swiss quartz movements and come in 44 mm cases with anti-reflective coated sapphire crystal.  These watches are water resistant to 100 meters and come with black leather straps, metal bracelet and other styles are also available but at a higher price. Buy It
Bulova 96A111 (price: $200)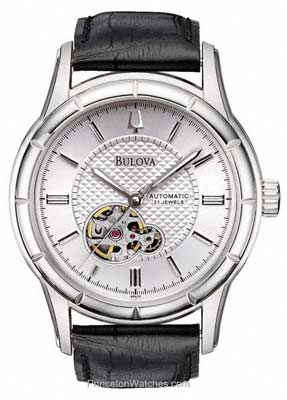 The Bulova Men's 96A111, it definitely needs a better name, is another great looking watch with quite a bit of personality.  The watch looks more expensive than the price tag would suggest.  It comes with a small window on the dial to show a bit of the movement, and there's a large opening on the back to show you a lot of the movement.
The watch is powered by a 21 jewel Japanese automatic movement, in a 43 mm stainless steel case.  The dial is covered with mineral crystal and the watch is water resistant to 99 feet. Buy It
Hamilton Jazzmaster Chronograph (price $600)
I know this is a bit over our "budget", but I just had to add it.  The Hamilton Jazzmaster line of watches consists of quite a few different styles with higher prices and different finishes.
The Jazzmaster Black Chronograph watch (H32612735) comes in a 42 mm stainless steel case with AR coated sapphire crystal.  The watch is powered by a Swiss quartz movement, water resistant to 100 meters, and comes with black alligator leather straps.  This is a pretty sporty looking watch while still dressy enough to be worn on a formal occasion. Buy It
Citizen Eco-Drive Watches (price: varies)
The Eco-Drive is not just one watch, but a full line of watches by Citizen.  I found it hard to just pick one because of the great selection offered in this line of watches; any list of affordable watches is incomplete without these well-made, stylish, and tough watches.
The Eco-Drive watches are powered by quartz movements, the batteries that run the movements are charged by solar energy.  These watches come in many different sizes, shapes, and are priced from under $100 to $1,000+.
This was a list of affordable watches, around $500, that I would pick.  I'm sure there are many great watches that I didn't include and you may not agree with some of my choices.  I have provided suggested prices with links but I'm sure you can find them even cheaper online from other great retailers.