I recently wrote about the car that will be replacing the Aston Martin DBS, at the time the car didn't have a name and was referred to as the AM 310 Concept.  Well, now we have the official name, pictures, specs, and a nice little promotional video of the car that will be known as the Aston Martin Vanquish.
The Vanquish name has been revived; the car that preceded the DBS used this name and was produced between 2001 and 2007.  In my previous post, I had mentioned that the new car will make use of lots of carbon fiber and according to Aston Martin, most of the body panels will be made out of carbon fiber and the front chassis structure is 13% lighter than that of the DBS.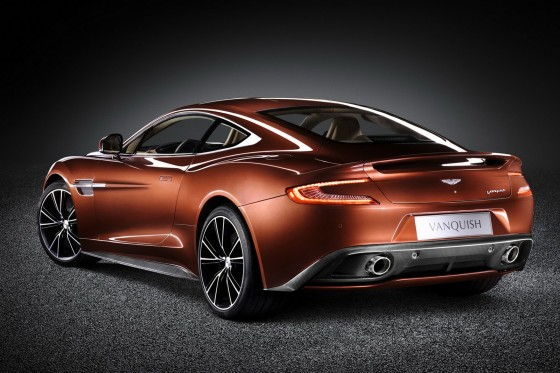 The all-new Aston Martin Vanquish Mk2 is about 120 pounds lighter than the car it replaces, with a 50/50 weight distribution, and weighs 3,834 pounds (1,739 kg).  The car is powered by a revised 5.9 liter V12 engine that produces 565 horsepower (up 55 HP over the DBS) and 457 pound-feet of torque.  Power is sent to the rear wheels via a 6-speed Touchtronic 2 automatic transmission with paddle shifters.
With lighter weight and increased power the Vanquish has pretty impressive performance figures; the car accelerates from 0 to 62 mph (100 km/h) in 4.1 seconds with a top speed of 190 mph (305 km/h).  To stop this powerful sports car, Brembo Carbon Ceramic Matrix (CCM) brakes with 6-piston calipers in the front and 4-piston calipers in the rear have been called to duty.  The brakes sit behind 20" lightweight alloy wheels that are covered with sticky Pirelli P-Zero tires.
The exterior design of the Vanquish is an evolution of the DBS and it takes some queues from the limited edition One-77 supercar.  I've always liked Aston Martin cars and the DBS was one of my favorite cars but the styling on the new Vanquish makes the DBS look dated.  I really like the styling on this car, especially the rear half with the swooping c-pillar area and the wide rear fenders.
The interior is very luxurious with leather covering the seats, dashboard, center console, and door panels.  Customers can choose a variety of colors for the interior with contrasting stitching.  The controls for the Bang & Olufsen sound system, heating/cooling etc. are all placed in a futuristic looking vertical center console, they're touch sensitive and almost look like a product of Apple.  The car is available in 2+2 configuration but if you need extra luggage space, it can be ordered in a 2+0 format.
The 2013 Aston Martin Vanquish will be available in the United Kingdom in late 2012 with a starting price of £189,995.  In the United States, it'll be available in early 2013 with a starting price of $279,995 before taxes etc.
2013 Aston Martin Vanquish Mk2 Pictures