Technology, the great enable of all that is awesome… the path out of the darkness… the, well… you get the idea.
I'm guessing you've realized by now that I'm a big proponent of science and technology, especially when it related to 3D Printing. Being able to create something with the push of a button from seemingly nothing? That's almost magical. As Arthur C. Clarke once said, Any sufficiently advanced technology is indistinguishable from magic. I don't disagree with this notion, however, I believe there are different levels of magic. There's the magic of technology, and there's the magic of a beautiful woman like Dita Von Teese wearing said technology.
Dita's Gown
Dita Von Teese is a woman who needs no introduction. At 40 years of age, the American burlesque dancer is as beautiful as ever showing off what I believe is the world's first fully articulated 3D printed dress. I rarely make a habit of posting women's clothing here on Unfinished Man, but Dita Von Teese herself was more than enough reason.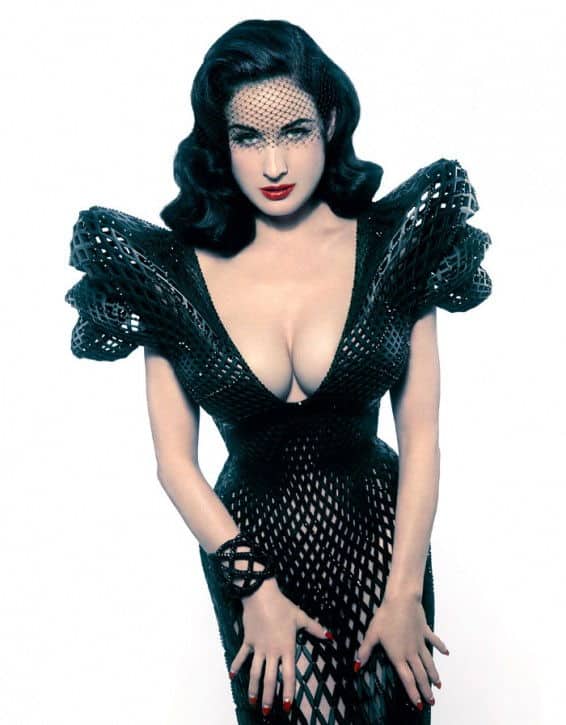 Created by Michael Schmidt and Francis Bitonti, this 3D printed dress is articulated enough to move just as fluidly as Dita herself. As you can see, it has pretty good air circulation as well, which is important for those long, hot summer days lounging on the beach in a black dress.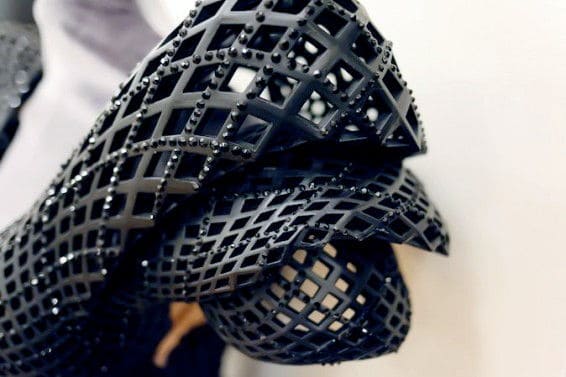 The entire dress is studded with tiny crystals, which while interesting, I didn't find particularly noticeable. Not that Dita needs any more sparkle…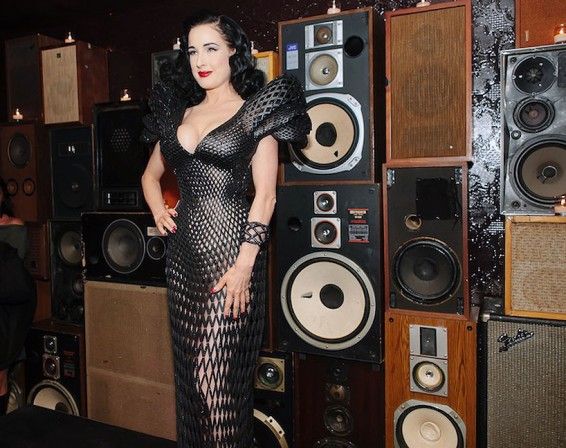 I… I don't get it. Has Dita taken up a new job as a DJ, or are those a giant pile of scrap speakers that the organizers dragged out of a landfill?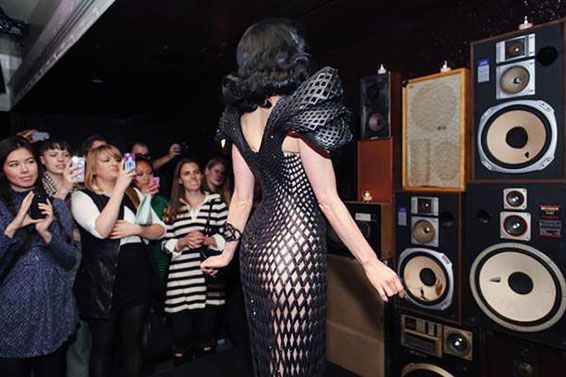 Not such a bad way to finish up the article, eh? Actually, there's a bit more. Here's a short video clip taken by Francis Bitoni showing off the dress' articulation. Apparently it comes out of the 3D printer already fully articulated.
Imagine all the things you could do with a material like this…
The Future of Clothing and 3D Printing
Time to speculate, my favorite part! I've written about 3D printed shoes before, and they were pretty neat in their own right, but this dress is on a whole other level. It's a large scale print that is actually vaguely functional as a dress, and though I can't imagine anyone will be wearing this out any time soon, well… it's a good start.
Imagine a day when we can simply press a few buttons on our 3D printer and a few hours (or minutes) later it would spit out a piece of clothing, perfectly matched to our size and shape. Now that… is magical. If you're a man with arms as long as mine, you know how frustrating it can be to find a damn shirt. So 3D printing… you had better hurry up and keep improving, my wardrobe depends on it.
(Photos by Albert Sanchez Photography)