Many guys I know moan and groan when winter comes along, to them it means staying indoors and not playing as much sport, having to wait a lot longer for the car to warm up in the morning, not hanging out at the beach, and most importantly not having girls walk around in short skirts and low tops. I, on the other hand, love what winter brings, starting with the winter sports like skiing and snowboarding, beautiful ice covered mountains, great winter meals, a blazing fireplace every night, and my most recent obsession, winter fashion.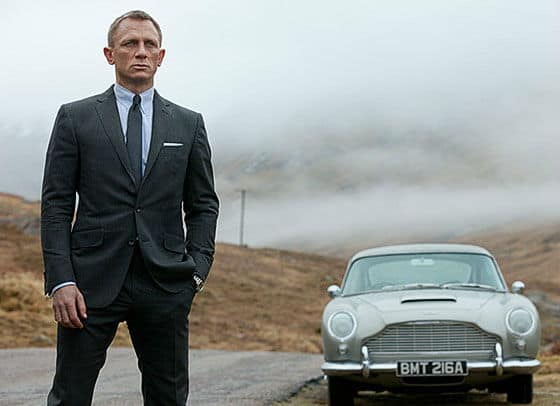 I was actually watching the latest James Bond movie, Skyfall, when I realized just how versatile winter fashion really is. A couple of things hit me while I was watching the movie. The first thing that struck me (after the babes, of course) was how much good quality clothes made a difference with how Bond looked.  In the first scene he is wearing a suit looking very GQ as he chased after the bad guy, to looking like an average Joe in the next scene at the bar. Throughout the flick we see Bond in turtlenecks, jackets and tuxedos and I couldn't help but wonder, did Bond make the clothes look good or was it really the other way around.
Whichever way you see it, I came to the conclusion that winter fashion and shopping for menswear is something to be taken seriously. Now I'm not saying that a good outfit could make me look as good as Bond (or would it?), but a killer outfit definitely helps. Over the next few days I decided to do an interesting experiment. I went online and downloaded pictures of random guys wearing the current fashions and trends.  One set of pics was men in summer clothing including shorts singlets, t-shirts, open shoes and clothing that you would generally see people wear in summer. The second set was of winter type clothing mostly in dark colors with a lot less skin showing. Interestingly enough, 89 out of the 100 random people I asked (which included young and old, male and female) said that they thought the dudes in the winter gear looked better. The general feeling were that the winter clothing made the men look richer, more confident, had better physique, more intelligent, and generally held more appeal.
The summer clothing made the guys look less serious, average in terms of status, poorer, and just basically made them look like they hadn't tried. I was a little surprised by these results, but definitely agree with the logic behind it. Don't agree? Do your own survey, the results could surprise you. So there you have it, another reason why we should all be looking forward to the colder season! I know I am.
[Photo Sony Pictures Entertainment]