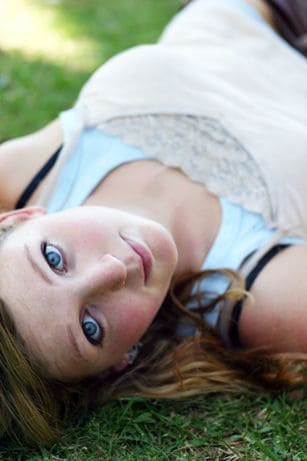 Every man dreads that moment when uncomfortable silence falls across the table during a date- how do you avoid the terrifyingly awkward pauses that can destroy the good time vibes? Unfortunately, just making the effort to fill the silence is not going to be enough…unless you enjoy watching your date squirm while trying to fashion a noose out of her napkin, in which case, go right ahead and tell her all about that weird, painful stuff that's growing between your toes. I've put together a handy guide of no-go topics to avoid when trying to get to know the object of your affection… keep these in mind, and you'll never find yourself wondering how it is that every girl you take for coffee mysteriously has a relative die right before you ask to take her home.
Women are like wild animals- and before you think I'm being derogatory, consider this: We can smell your fear. We can instantly tell if you're having a panic attack. You may think you're putting up a mysterious manly face, but the truth of the matter is, you're sweating, you're looking everywhere but at me, and you kind of look like you need to use the washroom. This is not exactly stud material, but it doesn't mean it's time to panic because now I know all about your nervous pooping habit. Good conversation does wonders to alleviate nerves in the case of both parties, and it's completely natural to initially be a little worried about how things are going to go. In fact, if you aren't nervous, you aren't attracted to the lady in question- why else would you care if you screw it up? So let's begin:
Exes. Seriously, we've mentioned this in articles before, and we'll mention it until you finally understand it. Do not talk about your exes. I don't care if you're trying to make a comparison about how crazy she was, and how awesomely sane I am- I don't want to hear it. There is a very fine line to walk between appearing like a man slut and like you've never been out out of your original packaging. Both are equally unattractive, but stick to not talking about past sexual partners and letting your confidence speak for your experience. You can fake it until you make it, and you don't need to mention other women in a situation where the girl you are with is most likely trying to flirt with you.
Other guys. I recently saw an article talking to men about how they can use other guys as fodder when running out of conversation topics. It suggested pointing out other men in the room and making fun of something they're wearing or doing. Are you serious? This is a terrible idea; if someone ever mentions this as a sure fire, girl winning tip, punch them right in the mouth. Some reasons why this doesn't work: You look petty and jealous of other men, and appear to have to cut them down to feel good about yourself. You are essentially telling the woman you're with, "I am paying more attention to other men in the room, rather than you." You also will be that guy– that guy that no one wants to be friends with because he talks shit about other people. Don't be that guy. There are some exceptions to this rule, however. Is there a man who is wearing a fur suit? Is he behaving so hilariously that you just have to point him out for a laugh? Is he a guido?
Stereotyping. I've heard a lot of advice from guys to guys about sticking to stuff "women know about," like fashion, celebrity gossip, soap operas, reality tv, romance novels, and magazines. Did you just cringe while reading that? I hope so, because I nearly vomited while writing it. Do you want to spend copious amounts of time around a woman who is only interested in that sort of crap? If not, why on earth would you make the assumption that the girl you want to date will be interested in any of it? Instead of putting words in your date's mouth, try asking her, "So what are you into?" If she answers, "long distance running" or "political studies," bringing up the latest drug addled starlet is going to make you look like a douchebag. The exception here? Maybe that's what you're into. Pro-tip: don't be into any of this stuff.
Nasty Guy Stuff. Let's be clear- there are women in the world who think fart jokes and their ilk are funny, but you don't know that this girl is one of them, yet. Don't start getting too raunchy or impolite right off the bat. I realize that this is pretty simple advice, but there are a lot of men who really don't see a problem with it, so pat yourself on the back for being more civilized and keep on keeping on. When you get into a relationship or better friendship, then it's open season on burping the alphabet. Just realize that crude humor, while it does have a place in attracting friendships, tends to put you out of the running when it comes to sexual relationships.
These are some of the biggest faux pas a man can make in casual date conversation, and the good news is it's not a lot of stuff to remember. What's really important is how you say things; be confident, talk and listen, and enjoy yourself. If you're worried about balance, try thinking of your conversations as a tennis match. Rally ideas and topics back and forth between each other with occasional breaks for new discussions, and it's more than likely both of you will fall into a natural, comfortable rhythm. If you're lucky, and you keep away from topics above, the next time you ask to take her home will be a service ace.