While randomly browsing the internet in what I can only describe as a head-cold induced zombie state, I stumbled onto a movement I had never heard of before. That's rare… finding something I hadn't heard of before. It's not that I have a huge ego (though I do), but simply that I've had the internet for a long time now. You see a lot of weird shit after browsing the internet for a decade, and this definitely fit the bill. What I stumbled onto is a phenomenon called… cuddle parties.
After hearing about cuddle parties, I started doing a bit of research. I started sifting through the massive collection of cuddle party related websites, and I quickly discovered a great many things, and a mountain of photos – many of which will haunt my nightmares. If I haven't been clear enough, or if you simply lack imagination, picture a room full of absolute strangers touching each other all over with their hands, toes, tongues, and all sorts of wacky shit. It's like a swingers party, but without the payoff. The cuddlers claim that cuddle parties are good for one's health, and a way to explore compassion, affection, and touch in a non-sexual manner. This may be true, but they also appear to be an excellent means of creepily touching strangers' bums, or grinding raging erections against old people's legs.
Why I Find Cuddle Parties Creepy
People's boners. I'm fairly opened minded, but I can say with all sincerity that I would jump out of my skin the moment someone's swollen 3rd leg brushed up against me.
Old people are already creepy, paper skinned and smelly to begin with. Would you really want to cuddle with your grandpa?
People with murder-like smiles. Based on the numerous photographs and video clips I've suffered through, I've decided that almost everyone has a scary manequin-esque smile on their face. I wouldn't like that during the best of times, let alone when a grandma is licking between my toes at a cuddle party.
What if someone is ugly, or smells? In the dating world, men and women can choose their partners as they see fit. At a cuddle party, though, I imagine it being much more difficult to turn a person down. You're in a confined space, and everyone is already all weird-like to begin with. I can't see it going over well.
Lots of desperate people. An entire room full of affection starved adults, looking for comfort. Better they do it as a group, though this still depresses me. It's a sad state of affairs when people need to visit a monthly meetup to get affection by laying down with people on foam mats.
Cuddle Parties in Action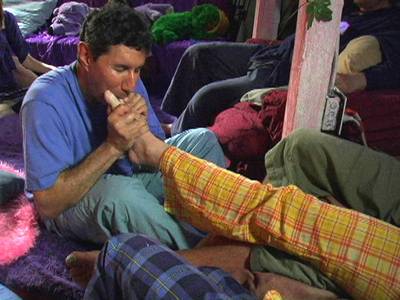 You know, I can't help but wonder if this is the norm at these parties. You're just laying down, minding your own business, and a person sucks your toes into their grimy pie-hole.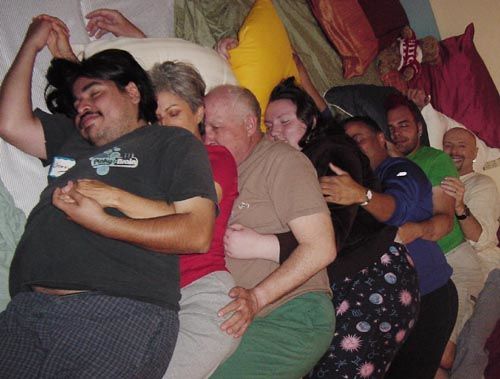 Well, at least the caboose looks happy; he doesn't have a long train of people grinding up behind him. You know what, the fellow in the green pants is probably quite happy as well. Notice the unique placement of his hand?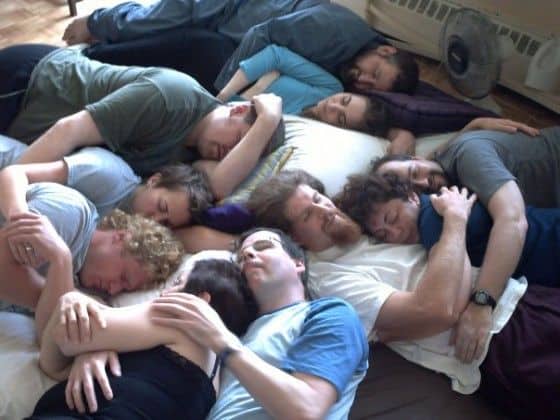 I'm actually starting to understand this! Cuddle parties are like nap time from Kindergarden, where you sleep on the mats for a half hour. The only difference is that with cuddle parties you pay a lot more money to do it, while having to reject countless people's creepy advances.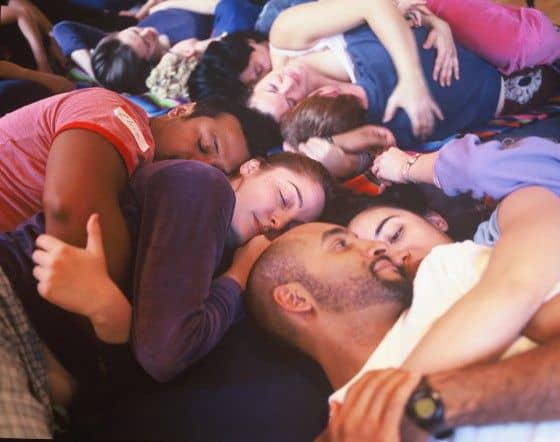 There's nothing more wholesome than people hugging, and relaxing, and… oh my, is that fellow looking down her top? No, never! It's a cuddle party, people just come here to enjoy each others bodies in a completely non-sexual fashion.
Cuddle Party – An Idiot Abroad
I've thought long and hard about how I would conclude this article in a manner not completely insulting to everyone attending these parties. After all, I can certainly appreciate what they're going for; everyone wants affection and to be touched. Where I take issue (though I don't really, I just find this whole thing comical), is when people don't call a spade a spade. Cuddle parties have existed for thousands of years… people simply used to call them something else: orgies. The only difference now is that people pay more money for the experience, and don't actually get what they truly want.
Reid Mihalko and Marcia Baczynski are the founders of Cuddle Party, and you'll find more information on their official website.
(Images: Current, The Heather Chronicles, Cuddle Party)