The funny thing about the world of Watch Dogs is just how closely it mirrors reality.
Governments and large corporations really are listening to our phone calls, reading our emails and text messages, and collecting data on all of our internet browsing habits. We're arguably the most surveilled people in history, and through luck or brilliant foresight, Ubisoft has spun this ever evolving story into a game, and a damn good looking one at that.
Hacking it in Watch Dogs
Cinematic trailers are entertaining, but they really don't give us a good sense of how a game will actually handle. Starting with part one of this Watch Dogs Gameplay Series, Ubisoft (and the soothing voice in all their new trailers) are going to give us a closer look at not only the world of Watch Dogs, but also how the game actually plays from mission to mission.
This first video finally explains how the hacking works, and why Aiden has a seemingly magical ability to hack into absolutely everything using nothing more than a simple smart phone.
It's a minor point, and I find the explanation rather silly (more on that in a moment), but I'm glad that Ubisoft explained the whole hacking-into-CtOS-nodes-in-each-area-of-the-city thing. Until now we've simply seen Aiden whip out his big black phone, and magically hack into electrical outlets, car alarms, and all manner of electronics. Now we know that he actually has to break into and plant a virus at each hub first, which – while still a bit silly given that the people running these things would probably find the intrusion after Aiden's constant hacking – is still a lot more believable than the aforementioned option.
Aiden's Magical Hacking Phone
I mentioned how closely Watch Dogs appears to mirror reality, and I'm going to give you a pretty clear example right now: you can actually use an Android phone to do some pretty invasive "hacking", like stealing passwords and monitoring what websites people are viewing. Yes, using an app called dSploit, you can perform Man in the Middle (MITM) attacks with ease through open Wifi connections, and it won't cost you a penny.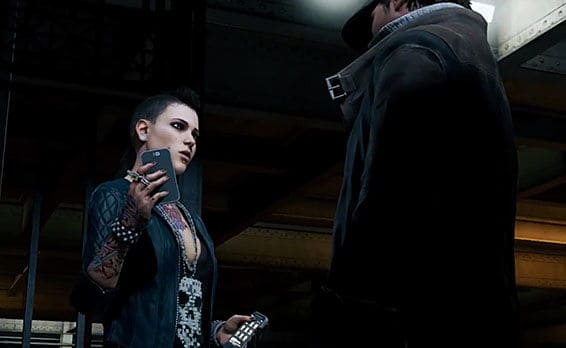 I don't recommend this for obvious reasons, but it's useful to know that these things exist so we can be aware of them, and hopefully avoid being hacked ourselves.
Buy Watch Dogs
If you've been thinking about ordering a copy of Watch Dogs, then there's no better time than the present. Why? Because it means that you'll get some extra crappy content, and perhaps a completely pointless trinket as well. How's that  for good value?
You can pre-order Watch Dogs here for a measely $59.99 USD. It arrives some time in the future for PC, Xbox 360, Xbox One, PS3, and PS4… so yeah, basically every platform in existence, because Ubisoft really likes making money.