Whether you love heading out for a weekend ride on a neon motorcycle, or you prefer a classic Harley Davidson hog, you probably have a few movies and television shows that you watch over and over again because of the bikes featured on those films. These bikes look cooler and maybe even a little more dangerous than those you see on your own rides.
After checking out my list of the ultimate motorcycle TV shows and movies, you might want to spend the weekend watching Netflix on your couch and reliving all those great moments again.
Motorcycle TV Shows and Movies – Which ones are best?
Easy Rider
When most people think of motorcycle movies, they instantly think of Easy Rider. Starring Peter Fonda, this movie was a hit from the moment it landed in theaters. It featured two best friends on a road trip to Mardi Gras who encountered a number of problems along the way. While you may know that the movie featured Harley Davidson motorcycles, you may not know that those motorcycles were actually police bikes used by real life cops. The studio hired professionals to transform those bikes into the angry choppers that you see on screen.
Thunderball
Most fans associate cars like Aston Martin with the James Bond series of films, but those movies also featured some great motorcycles too. One of the best was the one featured in Thunderball. Luciana Paluzzi played Fiona Volpe, an assassin tasked with finally bringing down James Bond. Though she didn't achieve her goal, she did turn heads when she hopped on the BSA Lighting A65-L that she rode in the film. Some credit Thunderball with bringing awareness of the BSA brand to America and for the slew of orders that fans placed to bring home a similar bike.
The Walking Dead
The Walking Dead is a popular television show that surrounds a group of people trying to survive a zombie plague. One of the standout stars of the show is Norman Reedus. Reedus portrays Darryl Dixon, a hard nosed good old southern boy who often rides his motorcycle.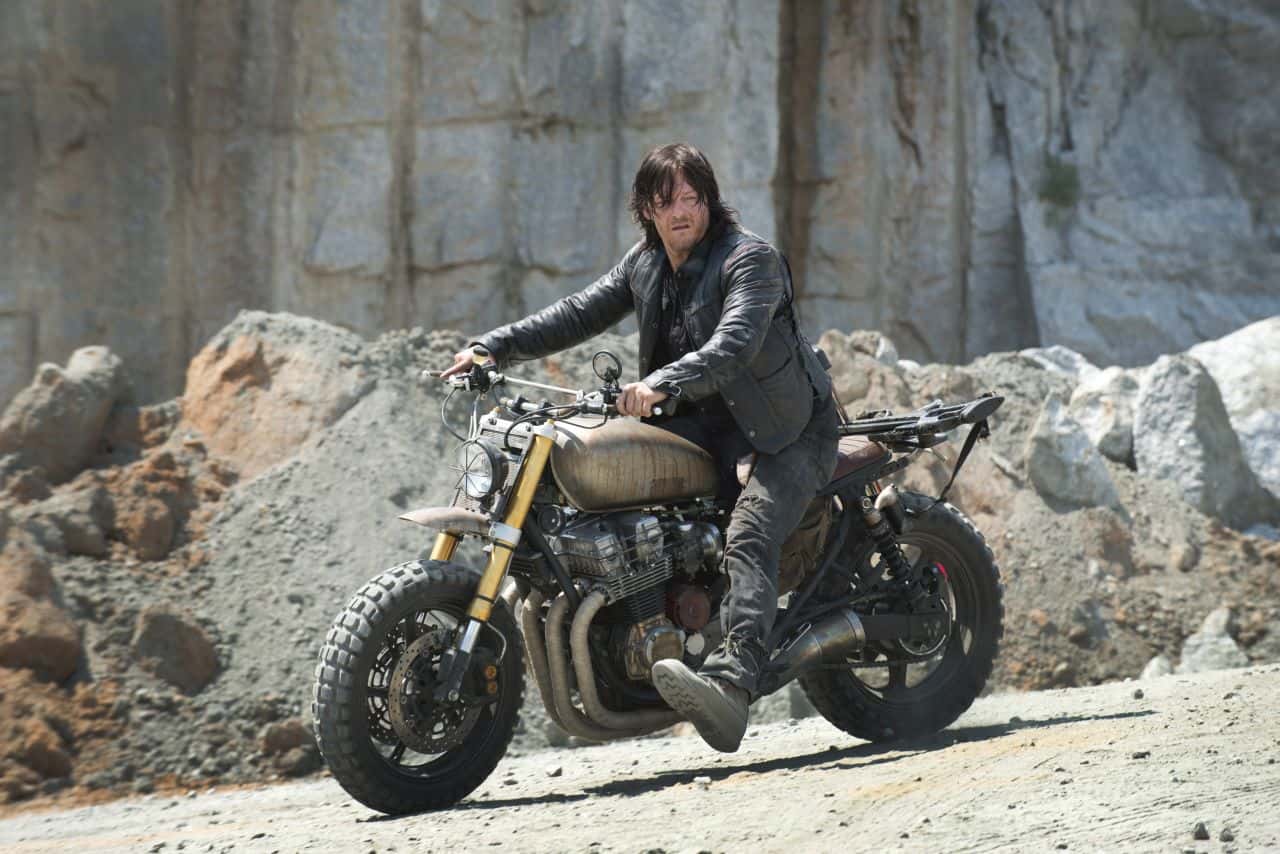 Though the show never publicly named the bike he rides, motorcycle guys confirmed that it's a British Triumph. Many believe that it's a 1971 model that producers modified with some older parts to give it that gritty and rough look that fans love.
The Wild One
Marlon Brando cemented his reputation as a rebel with a starring role in The Wild Ones. When Brando straddled his motorcycle and looked at the camera, everyone watching knew that he was the type of guy who would defy authority. The Brando film inspired a series of other bad boy films that Hollywood released in the 1960s and 1970s, but few of those films could compare to the original. Though there were a handful of bikes used in the film, the one Brando himself rode was a Triumph Thunderbird. Brando allegedly drove a similar bike in his personal life.
Top Gun
Tom Cruise was already a big star in the 1980s, but Top Gun made him an even bigger star. As Maverick, Cruise was the type of guy who never listened to those in charge and always struck out on his own. While some remember the film for the love scene he shared with his on screen teacher or for the infamous volleyball scene between him and Ice Man, others remember the great bike he rode throughout the movie. This 1985 Kawasaki GPZ 900 R helped bring attention to the Kawasaki brand and cemented it as a major competitor to Harley Davidson.
Terminator 2: Judgment Day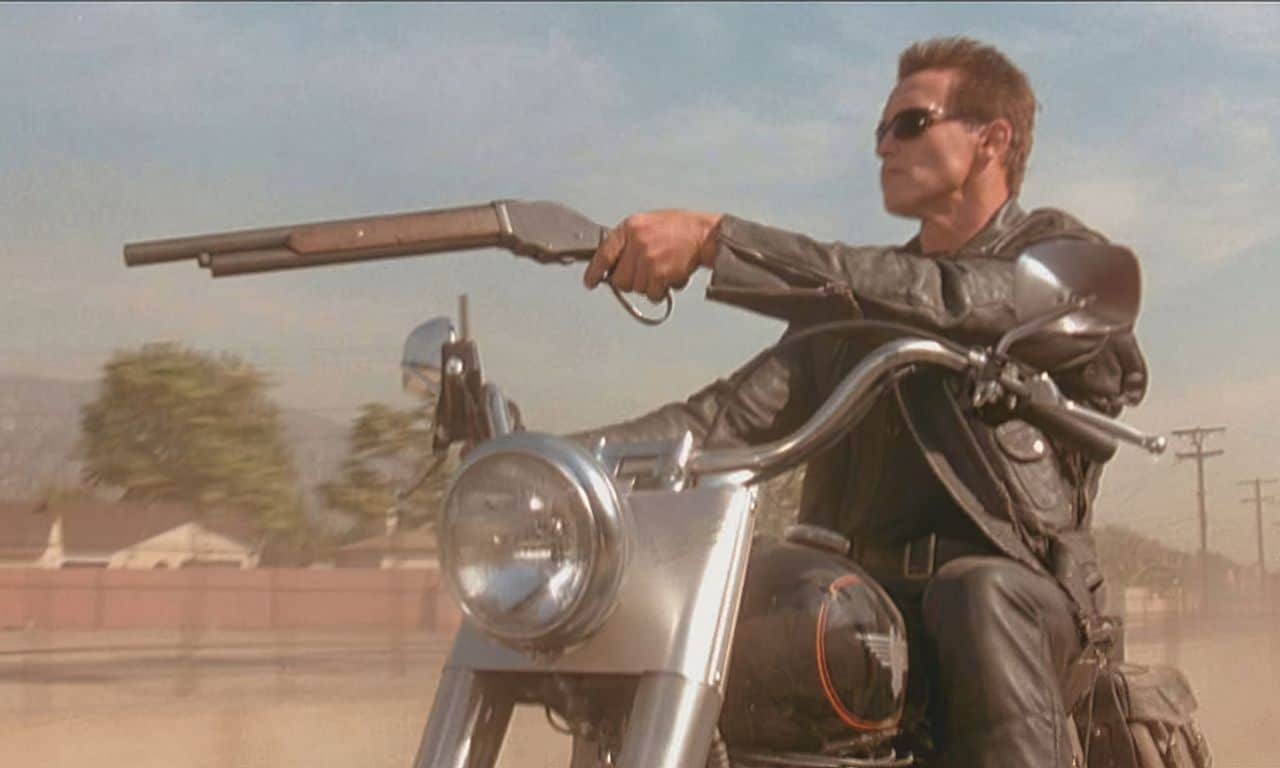 If you find yourself walking into a Bob Parsons dealership or another motorcycle lot to buy a Harley Davidson, you might be a fan of Terminator 2: Judgment Day. Also known as T2, this film starred Arnold Schwarzenegger as the title character. Though he started out as a villain in the first film, he came back as a hero tasked with saving John Connor and potentially saving the whole world. The 1990 Harley Davidson Fat Boy he rode in the film became a pop culture icon and later sold for more than $100,000 at a Hollywood memorabilia auction.
The Matrix Reloaded
The Matrix film franchise grossed millions of dollars and changed the way directors shot films. Though The Matrix Reloaded didn't get as many good reviews as the first film did, it did have one scene that people couldn't stop talking about. Trinity, played by Carrie-Anne Moss, donned a black leather outfit and matching sunglasses before hopping on her bike and saving a man from certain death. The scene took days to shoot and made jaws drop in theaters. Moss performed many of her own stunts and drove a 2001 Ducati 996 in that scene and others.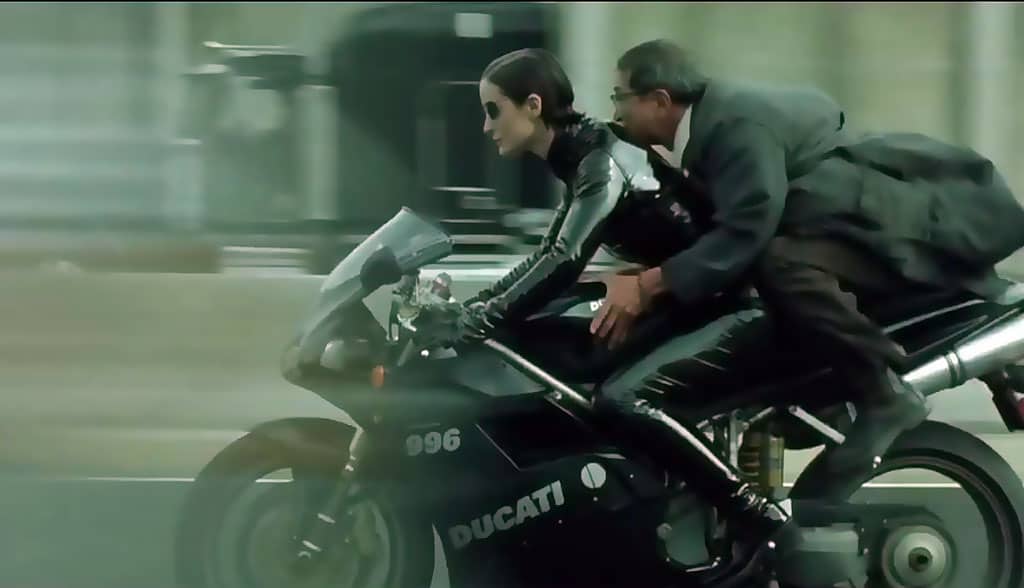 Some of the top motorcycles spotted on screen appeared in older films like The Wild Ones and Easy Rider, but there are some newer films and shows that feature hot bikes too. The ultimate motorcycles from film and TV shows include bikes from top brands like Ducati, Triump, Kawasaki and Harley Davidson.