It's that time of the decade again, and Microsoft and Sony are pimping their new consoles – the Xbox One and Playstation 4 – to great effect.
Since the Xbox One is a powerhouse of unparalleled computing power, and the clear winner of this round of console races, I've decided to share the Microsoft Xbox One presentation, or rather… the presentation highlights. If you were wondering what exactly sets the Xbox One apart from that dumpy excuse for a console known as the Playstation 4 (more like Lamestation 4, am I rite?), then let me tell you…
TELEVISION!
DOGS!
TV!
CALL OF DUTY!
TELEVISION AGAIN, EVEN BETTER THIS TIME!!
Xbox One – You Can Watch Television
You've been waiting for it, and Microsoft is delivering. Finally, consumers have an opportunity to watch TV… on their TV, just like on a TV. You can watch shows, pet models of high resolution active service navy combat dogs, and talk to yourself, all while playing sports and Call of Duty at the same time, right on your TV.
What we can really take away from this presentation, and this is key… is that you can watch television. I can't begin to express how excited I am to tell you about this. The possibilities are truly endless, and if Microsoft is smart, they'll make the most of this revolutionary, never before seen technology. You'll finally be able to combine those sweet sky package deals that allow you to watch television, with the Xbox One's ability to… watch television.
Also worth mentioning…
SPORTS
TV EXPERIENCE
XBOX… WATCH TV
TV
TV REMOTE
TV EXPERIENCE
SPORTS TV
DOGS.
Given how incredible this first round of announced features are, boy… I just can't wait to see what other aces they've got jammed deep up their sleeves. With such a feature rich console, you almost don't need to have your own employees do all the cheering during your presentations.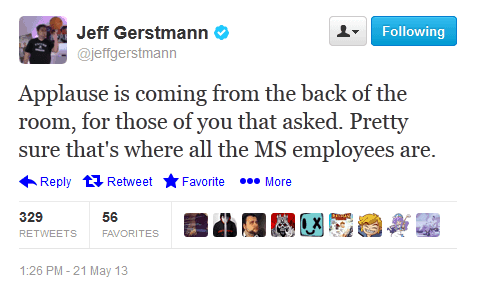 Keep an eye out for more updates here on Unfinished Man. We plan to cover every aspect of this amazing, completely different… revolutionary console. PC gamers, eat your hearts out.