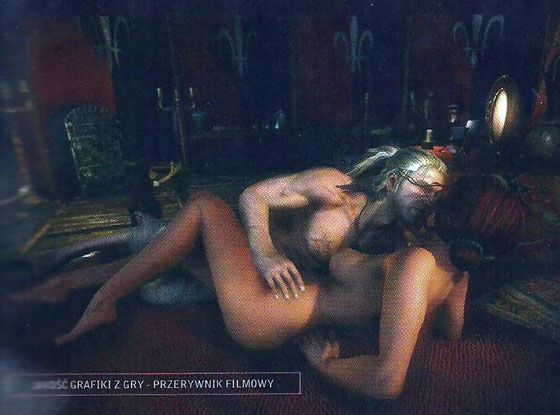 If you've never had the pleasure of playing through CD Projekt's The Witcher, you're doing yourself a major disservice. The original game featured a deep and branching story arc, beautiful scenery, and incredibly fun game-play. The Witcher also had something that most games don't; boobs… lots and lots of boobs.
Now CD Projekt is working on The Witcher 2, and if this scan from a Polish gaming magazine is any indication, it seems the team has ditched the "sex cards" in favor of something a bit more… visceral. I'm fine with that decision. The sex cards were well done and amusing to collect, and I think these in-game cinematics will be just as entertaining, if not more so. Perhaps there will even be controls for various sexual positions, or a thrust speed, etc. People in North America seem to get really bent out of shape when it comes to sex, and I'm glad to see a company that's willing to create a game the way they want to do, without worrying about delicate North American sensibilities.
The Witcher 2: Assassins Of Kings arrived on PC on Tuesday, May 17th.