Gambling has been around for centuries, or even millenia. We have remains from the Ancient Chinese and Ancient Roman ages that show us that gambling was existent for a very long time. It's like it's hard-wired into our brains to enjoy gambling, due to the satisfying rush of adrenaline we get when we put something that belongs to us on the line, to get the chance to win something out of it. It's almost like a specially unique type of feeling in itself!
To this day, gambling has evolved into one of the largest business industries on the planet, generating billions upon billions of revenue per annum. Everyone looks forward to reaching the age of 18 (or in some countries, 21) in order to start living their independent lives as an adult. They also look forward to being able to start drinking alcohol and be able to gamble, legally.
There's so many people who are new to the gambling world out there, who are unsure on whether or not they can try it out, due to not having any knowledge around the subject of casino games, however this article is made to show you a simple summary on how to play the most popular casino games!
One can even try out these games at any online casino Canada has to offer.
Roulette;
Roulette is one of the most exciting casino games out there. It's also one of the easiest. It's kind of like a guessing game, where you have a rotating wheel, and a ball that is spun around it, which gradually falls into one of 37 pockets around the wheel, each marked with a number from 0 to 36. The numbers are dispersed around the circumference of the wheel as follows; 0, 32, 15, 19, 4, 21, 2, 25, 17, 34, 6, 27, 13, 36, 11, 30, 8, 23, 10, 5, 24, 16, 33, 1, 20, 14, 31, 9, 22, 18, 29, 7, 28, 12, 35, 3, 26, and back to 0. Each number has a colour, 0 is the only number which is coloured green, the rest of the numbers are coloured red or black in an evenly spread pattern, (32 red, 15 black, 19 red, 4 black, 21 red, 2 black etc…) The ball is spun towards one side while the wheel towards another, at different speeds. This makes the game more unpredictable as to where the ball will land.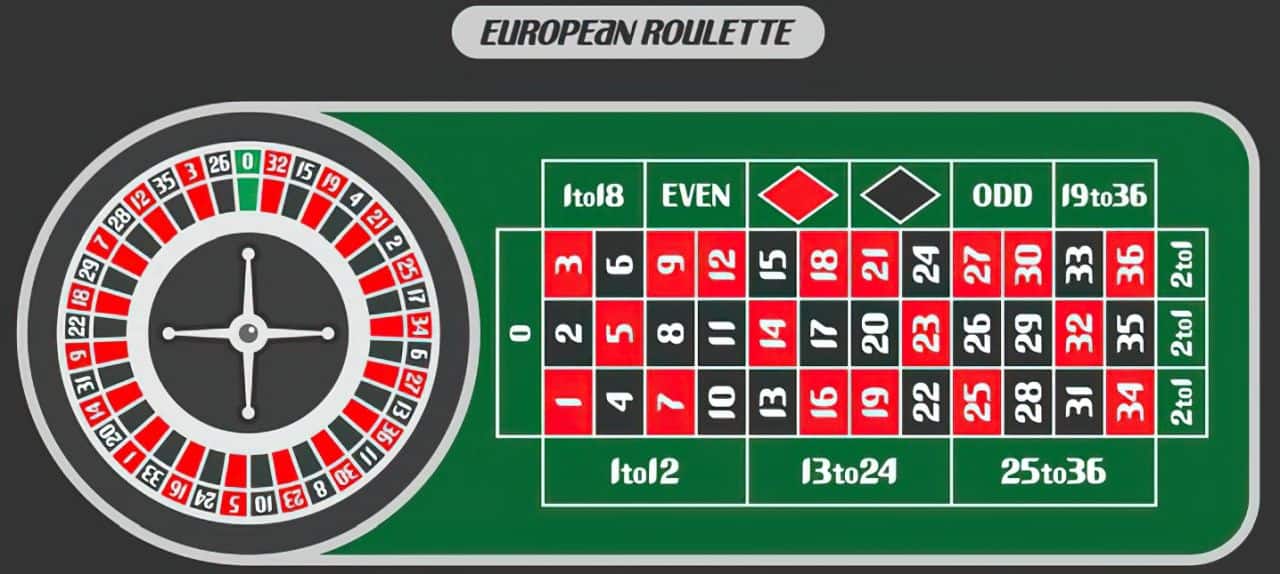 The player has a table on which to bet on, where he can choose to either bet on a number, or a group of numbers. The lower the odds are of them winning, the more they will get out of their bet. Let's say you bet on a number, the chances of the ball landing on that particular number are 1 out of 37, and if this kind of bet is won, you get a 1 : 36 payout. On the other hand, another example of a bet is betting on even or odd. In this case, since the chances are 50/50, you get a payout equivalent to the same amount you put in, so let's say if you bet 5 dollars on even and win, you will come out with your 5 dollars back and an extra 5 dollars to spare. This is the minimum profit one can make on a single bet. The best part is you can bet on numerous parts of the table in the same round, giving you an advantage to try and hit a jackpot, however, the more numbers you bet on, the lower your profit margin will be. There are other options one can bet on, and they are shown on the table below.
Blackjack
Blackjack is another massively popular and easy casino game, which is also known as 21. In this thrilling 50 year old game, the player or a group of individual players play against the dealer, and all that's needed is a deck of cards and some chips or money. The objective of the game is for the players to attempt to beat the dealer by adding their cards together and getting as close to a total value of 21 as they can, without going over.
Blackjack starts with the player choosing how much they want to bet for the round. Once everyone places their bets everyone including the dealer is dealt two cards. Each player then decides whether they want to add another card, stay with what they have, or split their hand if they have doubles. If the player reaches a total of 21 right away by being dealt an ace (worth 1 or 11) and a 10, or jack, queen, or king (each valued at 10). If a player wins right away they get double the amount they bet in profit. If the player goes over 21, they lose, and if the dealer comes closer to 21 than the player, the player loses too.