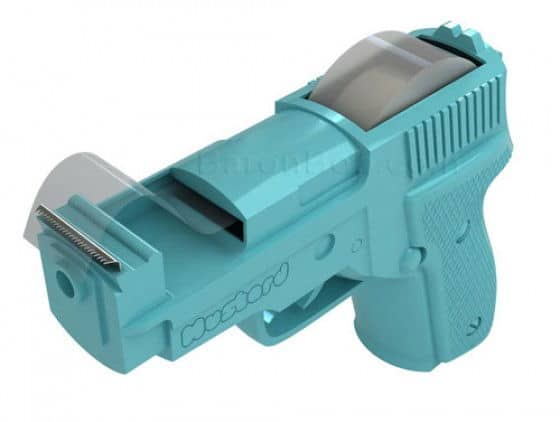 I worked in the shipping department for over six years in a company that sells …….. beads. Yes, a super lame industry.
If you work in the shipping department, you will soon learn that the tape gun is one of your best friends. After all, you practically spend the whole day together. And if you're going to be spending so many hours together, you better like the tape gun that you are using. The tape guns that I had to use were pretty ghetto and unreliable. In my glorious shipping days, I could only dream of a tape gun dispenser that actually resembled an actual gun.
But now, my dream is one step closer. Well, sort of. This Tape Gun Dispenser is replica of a .45 caliber pistol that dispenses scotch tape. It's not exactly heavy duty enough for shipping boxes but still a fun little gadget that's nice to have around the office or home. This tape gun allows you to apply the adhesive tape with just one hand and you can do all your sealing in just one shot.
I wouldn't mind seeing a gun replica that is capable of dispensing shipping tape.