You may have noticed that a lumberjack-inspired winter style has been popular for the last few years, and it isn't difficult to see why. From a woman's point of view there's nothing sexier than a woodsman wielding an axe! And from a man's point of view it's an excuse to look rugged and strong, without actually trying very hard. If you want to look as if you've just felled a forest in style, then take a look at my guide –
Think Wolverine
To pull off this look you'll need to embrace your facial hair. A woodsman probably doesn't care too much about his appearance, plus he'll need a good beard to keep his face warm whilst he's outdoors chopping down trees. You will not be pulling off this look if you opt to go clean-shaven. Stubble at the very least, and a beard is even better.
Secondly you should never look as if you've styled your hair. Did Wolverine style his hair in that picture? Well probably, but it doesn't look as if he did. Slightly untamed, messy hair is perfect for pulling off the lumberjack look.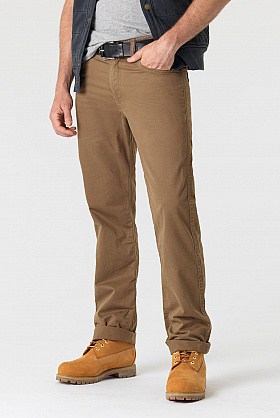 Check everything
Check shirts are always in fashion, and you'll need a checked item to really look like a woodsmen. A shirt works perfectly, but never ever button up to the top – showing a bit of chest hair is an added bonus. Wearing an unbuttoned check shirt loosely (a size too large works well) over a t-shirt is a good option, as this is a winter look, which means you'll need to layer up to stay warm. Finish with a warm checkered jacket.
Buy ethically
Sustainable fashion isn't just for middle-aged hippy women, it is gradually becoming cool to buy ethically. Would a woodsmen care about sustainability? Probably not. However, we do and the style of clothes created by ethical fashion brands often has that out-doorsey, lumberjack feel. Timberland, for example, is a brand that's embracing sustainable fashion and many of Timerland's pieces are perfect for this look!
Lumberjack boots and a Trapper Hat to finish
If you're working outdoors you'll need a sturdy pair of boots. Light, brown Timberland boots, such as those pictured, are an ideal way to finish off this look. Finally add a trapper hat, and you've done it!
So if you've been wondering how to dress like a lumberjack without breaking the bank, now you know.