East Germany, 1964… Steve McQueen is preparing to race in the International Six Days Trial, an event that many consider the Olympics of Motorcycling. It's an endurance race over six days of the most grueling terrain the ISDT can muster, and Mr. McQueen – avid motorcyclist and life-long badass – is ready to go. He had his trusty Triump Motorcycle, and – never a slouch in the fashion department – his Barbour 1964 ISDT Team Jacket. 
Fast forward to the glorious year of 2013, and little has changed for ISDT, save their name… which was changed to International Six Days Enduro (ISDE). Oh, and Barbour is still cranking out Motorcycle jackets like they're going out of style. In fact, Barbour recently released a modern interpretation of the aforementioned classic.
Barbour MacGrain Waxed Jacket
See what they did there? Yes yes, very clever. Based on the 1964 classic of a different (and better) name, this modern interpretation is actually rather similar, but with one major difference: it's covered in mud… fake mud. Yes, Barbour, with their 75+ years of experience creating stylish, iconic jackets, has decided at last that the ingredient they were really missing all along was fake mud, and lots of it.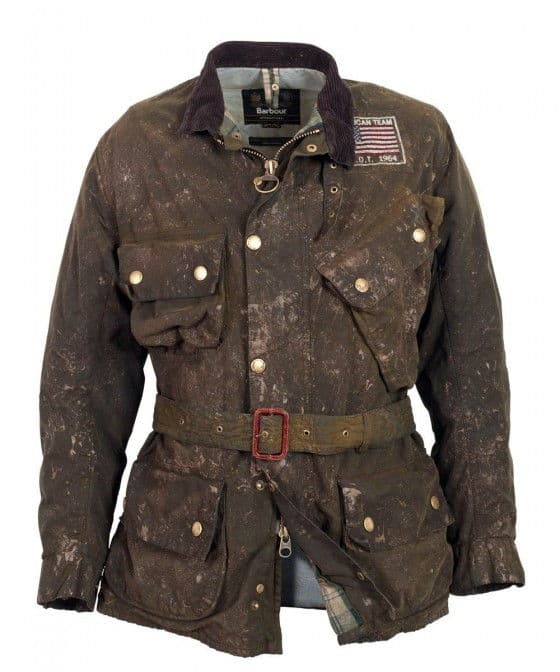 Now, let's step back a moment here and examine the jacket itself. Look past the rubber compounded mud and see the jacket for what it really is… one fine ass waxed cotton jacket. In fact, it's such a great jacket, that it really doesn't need to be covered in fake mud, any more than people need jeans that are pre-distressed. Let me explain…
Pre-Dirtied and Distressed Clothing – The Great Enabler of Posers Everywhere
We wear clothes as functional elements because we need to do so. They keep us warm, they protect us from the elements, and they help keep our man and lady bits from swinging all over the place. But they're also an expression of our personalities and the type of lives that we live. When my selvedge jeans start to fade and wear out after a few years of wear, it's because I've actually done "stuff" to warrant them wearing out! Just as Steve McQueen and everyone else who has worn Barbour's motorcycle jackets over the last 75 years could tell you, their jackets probably do get covered in mud… but it's mud from the road. It's mud from a hard ride, and perhaps a bit of adventure. Not the fake bullshit we see here, and that's the way it should be. That bad-ass wear, tear, and dirt has to be earned.
You can pick up the fake mud version right here (no longer available 🙁 ) for about £499.95, or you can browse their wide selection of other, mud-less jackets, and go wear them in yourself. You may not be a motorcyclist, but you can still live an interesting life and break the jacket in yourself.