My name is Olivier Wagner, and I am the man behind 1040 Abroad. I have prepared US tax returns for Americans who live overseas for 9 years now.
I specialize in such things as assisting people who renounce US citizenship; I of course assist clients with their timely annual tax filings. Many are also not compliant and I help them get up to date, typically using an amnesty program the IRS specifically created for people in that situation, it is called the Streamlined Foreign Offshore procedure.
Instead of boring you with such things, I am here to present more of a lifestyle article. I travelled extensively since 2015 (30 countries in 2016. 14 countries in 2021. I slowed down a bit in 2020 for some reason, still visit Turkey & Bulgaria for business in Jan & Feb, got married in California in Sept and then actively trying the digital nomad lifestyle with my amazing wife in Mexico & Haiti in Dec).
Virtual / Online Mailboxes
This is a tax topic actually. As you move overseas, you want to stop paying taxes to your former state. Many states have safe harbor rules, recognize the Foreign Earned Income Exclusion or the Foreign Tax Credit, but the safest way to stop paying state tax is to be a resident of a state which doesn't have income tax. While establishing ties with a new state doesn't automatically mean that you are a resident of that state (and no longer a resident of your former state), if you no longer have ties with that old state and you no longer live there, it would.
In 2011, I moved to Canada and I found that some institutions (banks, credit cards) would be easier to deal with if I have a US address. The good old UPS store has its time and place. But given that they don't scan mail and you would get it either showing up in person or having it forwarded (personally the time wasted is more an issue than the cost), its time is largely in the past.
Then I discovered these online services, which just like the UPS store give a ubiquitous street address, they would inform you by email and you can then login to their website and request to have it either scanned or forwarded. Usually, in the case of letters, I find that having a pdf is sufficient, and I would forward packages. Back then, there was 2 such services: Virtual Post Mail and Earth Class Mail.
A lot more services have started since, with more opportunities to have an address in a state which doesn't have an income tax system. I have also been using Travelling Mailbox (has many locations) more recently. One would need a notarized copy of their ID in order to open such a mailbox (PS Form 1583).
My RV Mail (Florida)
Escapee Texas, Florida & South Dakota)
My Dakota Address(South Dakota)
SBI Mail Service(Florida)
Earth Class Mail (Texas, Florida, Washington)
Scan Mailboxed (Texas)
Also, if you need a non-US address, you can have an address in Canada thru Canadian Address. Heavy usage can become prohibitively expensive ($3/letter scanned) but it is a good backup address, with a personalized service. For heavy usage, E-Snail would be recommended (Vancouver, Canada).
UK Post Box would be a similar service in the United Kingdom.
Pogo Post would be a similar service in Singapore.
Phone line
Let's talk about… Phone lines. I'll introduce various VoIP services and ways to maintain a phone number which isn't tied to a particular location through my personal story.
At the beginning of my journey, I bought a local SIM card for every country I went to. It was an inconvenience but usually not too much trouble. In the Thailand, Cambodia, Malaysia, Georgia, Haiti of the world, you would get a very good option of doing so right at the airport.
I had my phone numbers on callcentric, and I would
I was then introduced to Google Project Fi. This is a cell phone service which comes with roaming for the regular rate of $10/Gb (it might not be the cheapest – actually so called second and third world country would have it much cheaper – but it is so much more convenient, no setup required as you change countries). This comes with a permanent Google Fi number. The one downside is that it needs to be activated in the United States, so while you can be anywhere when using it, you would have to be in the United States when using it for the first time.
… and of course, you guessed it I could still forward my calls from Callcentric to Google Fi.
Google also has a Google Voice (no device, online based, pay per use).
As a side note, if you need a phone number specifically for a temporary purpose, you can also use an app such as Burner for that purpose.
Flying business class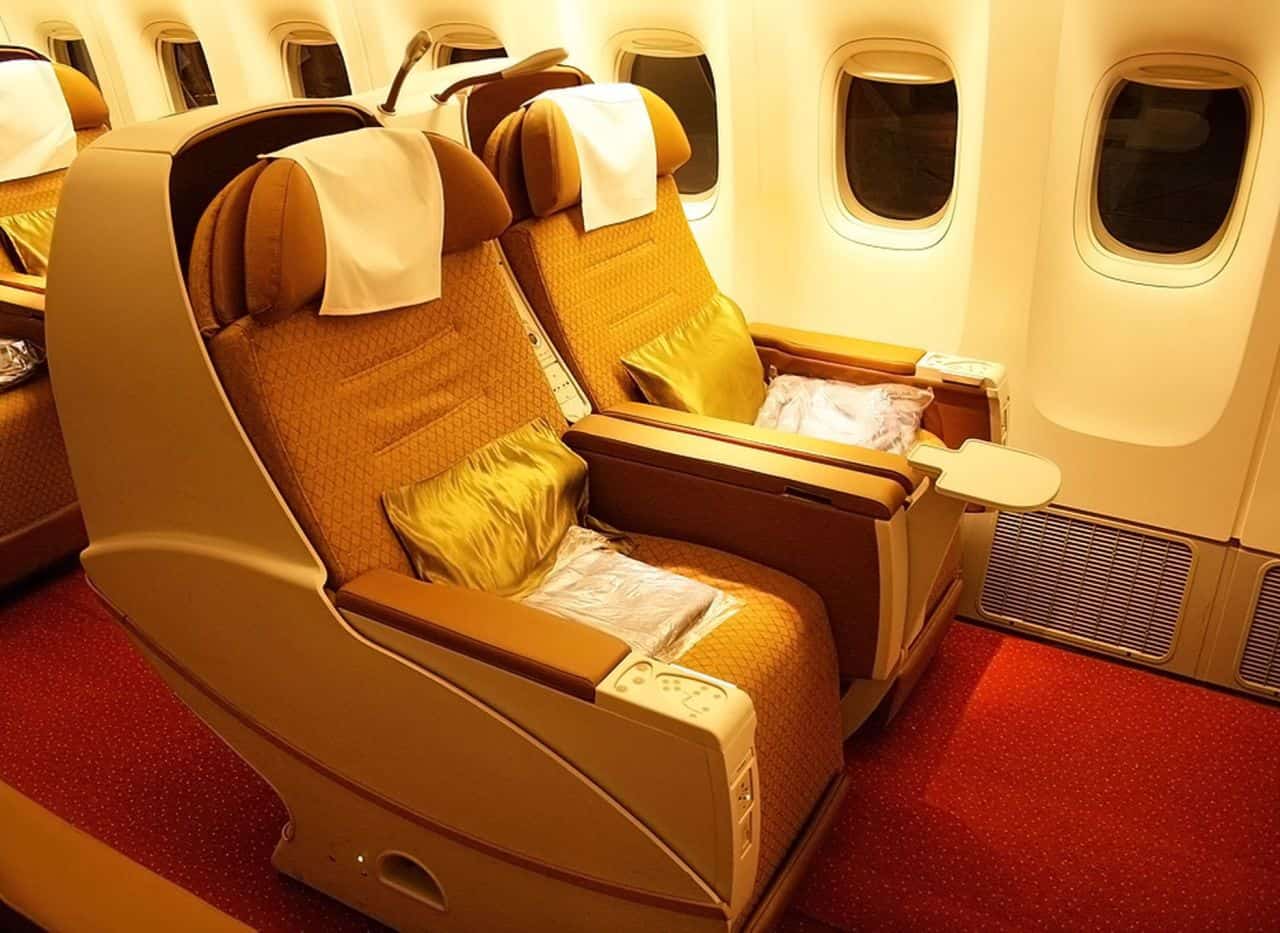 As you probably figured, most people in the front of the plane didn't pay cash for it (it's expensive shhh!)
I have flown a few times business class. On domestic or short flights, if you have status, the airline would upgrade you, based on availability and based on your status. I am currently United Gold and I had it a few times.
For transatlantic or transpacific flights, you would have to rely on something else, either an auction or the guaranteed way would be to book yourself directly in business class.
One way is to upgrade, many airlines including United, Iberia and Air Astana have an auction system offering the opportunity to upgrade, if there is space available. In the case of United, the cheapest upgrade occurs right at the beginning of check in (24 hours prior to takoff). Of course, as it is space dependent, you might not have that option.
The cheaper way to book oneself directly to business class is to book it using airline miles. You would definitely win if you use some tricks to get them for close to free.
But if you don't, you can still book yourself in business class for about half the cash price by purchasing miles at buyairlinemiles.com – while purchasing miles directly from the airlines at 3.5c/mile doesn't yield a good result, airlines do occasionally (once a year) have sales allowing you to buy miles at a rate close to the one found at Buy Airline Miles.
Upgrades at hotel chains
By way of background, it is so much easier to gain status with an hotel chain than with an airline. Airline status in more valuable. Both offer some nice perks (upgrade (room/seat), lounge access/breakfast) but airline status offers something that hotels don't: being treated well in case of chaos – typically hotel rooms are not delayed a few hours causing you to miss your connection for the next hotel room.
With that said, here it is:
Hilton family: Gaining HHonors Gold or Diamond is really easy, either with the right credit card (the Hilton Honors American Express Aspire Card gives you Diamond status regardless of $ spent – although it comes with a $450 annual fee, and a free night/year). There are also ways to get it on Ebay. Benefits include free breakfast across the Hilton family (personally I prefer hotels that don't offer it for free to all guests (such as the Hampton) in order to have a better quality breakfast. You would also enjoy room upgrades, space permitting, with priority to Diamond members and then Gold. The thing is that given that status is easy to reach (and therefore you will be competing with others for upgrades), upgrades are not a common occurrence.
Bonvoy: The quality of service has deteriorated since the Ritz Carlton and SPG were bought by Marriott (essentially, we now get the lower quality given in the former Marriott family). The individual hotels can still go above and beyond, especially the Ritz Carlton and Marriott Autograph collection properties (I stayed at those in Malaysia).
IHG: The Chase IHG card would give a free night per year and comes with Platinum status. My experience is that there is no guaranteed benefit, but a token of appreciation (free movies for instance).
Hyatt: Get Discoverist status and a free night with the Chase Hyatt card. I used it at an Hyatt Place – I found it nice, similar to a nice Hampton – but not the kind of breakfast offered in Hilton properties where regular guests don't have it for free.
As you stay away from the US and North America, you compete with fewer other people with status and you are more likely to have a personal service (I'm thinking about the Marriott Autograph collection properties in Malaysia where I was welcomed at breakfast on a first name basis or the Conrad Bangkok and the very fancy executive lounge there.)