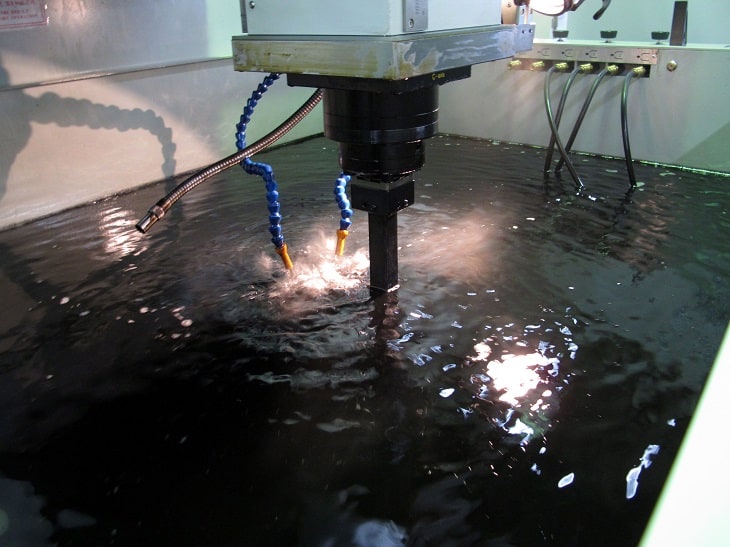 I'll bet you never think about how most jewelry comes to be. I know; it's not a very manly topic. Seriously, though: when you buy an angel pendant for your mom for Mother's Day or pick up a cute paw print bracelet for your pup-loving girlfriend, have you ever considered how that item gets made?
I never did until I went to work for a company that's behind some of the jewelry magic. No – my company doesn't make jewelry. What we do make are dies that stamp out designs on different jewelry pieces. Making those dies is an intricate process that uses something called an EDM machine.
What's an EDM Machine?
If you Google "EDM," the first results that pop up will tell you that it's "electronic dance music." These are not the kinds of machines I work with. Somewhat less exciting than a machine that lays down sick beats and incites dance-offs, my machines use electrical discharge machining (EDM).
This process is also known as spark machining, die sinking, or wire burning. I can use an EDM machine to form any shape I'd like by using sparks, or electrical discharges. The electrode on the EDM machine puts out a spark that creates intense heat – anywhere from 8,000 to 12,000 degrees Celsius. This kind of heat is capable of melting away most types of material. When it's controlled and used carefully, it can be used to remove as much material as desired. EDM can cut away large portions of material or create designs on the surface (as the heat only affects the immediate area).
EDM machines also use deionized water. This helps conduct the spark between the electrode and the work material. It also helps cool the surface and flush away particles once they've been removed.
The great thing about EDM machines is that they give you the ability to make very precise cuts and designs without leaving behind the burrs and imperfections that traditional saws and drills create. Another plus? Because the cut is being made with electricity, rather than a metal tool, you don't have to worry about saws and bits wearing down with extensive use.
Making Jewelry Dies
Now that I've filled in newbies on the basics of EDM, let's get to the stuff your girlfriend likes. Our company makes the dies that are used to create jewelry. I was amazed the very first Valentine's Day I went out shopping for my wife and realized that some of the things I was seeing were likely made with our dies.
We often make brand-new custom die designs for jewelry manufacturers. If one of their current dies breaks, we can use the existing part to design a new one and get them up and running again.
Take it from someone who works behind the scenes; there's more to jewelry-making than the manufacturer themselves. You'd be surprised at the entire industry that's working behind the scenes to make sure that your next Mother's Day or Valentine's holiday is a happy one.