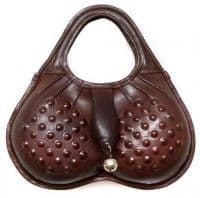 My initial impression of these handbags was one of childlike glee. I would like to say it was simply because of the craftsmanship that obviously went into them, but the truth is that I thought someone had finally designed purses that look like boobs. Sadly, the reality of the situation is far more grim. These aren't boobs, but instead a man's penis… made in leather… with a bell on the ding-dong.
The purses were designed by legendary Andy Bates of Hexam, England. He's designed such things as armor for larping, and assorted wooden shoes. The scrotal handbag was commissioned by Grayson Perry, a cross-dressing English artist with a passion for ceramic vases depicting child abuse and sado-masochism.
I think my favorite part is the apparent prolapsed anus protruding from the back of the purse. It really adds that little something that would be lacking otherwise.
(Photo: trenddelacreme)