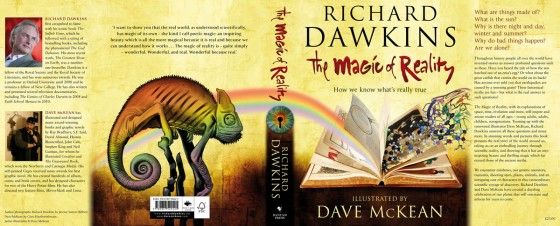 It's rare that I write about or make any mention of literature or media related to religion, but in the case of Richard Dawkins I'm more than willing to make an exception. For those of you who haven't heard of him, he's someone I would consider a brilliant evolutionary biologist, author, and of course an outspoken atheist as well. He's written many novels, including The God Delusion, and now he's teamed up with famed illustrator Dave Mckean (Coraline and a billion other book covers) to create a children's book that aims to teach children about critical thinking and the scientific method.
The book comes out on October 4th this year, and though I despise children with a burning passion, I'm considering picking up a few copies to give as gifts. I remember reading (or having books read to me) that were not only insulting to my then young mind, but also just bland and uninteresting as well. If the contents of The Magic Of Reality are half as awesome as the cover, perhaps the book will inspire a few children to enter the sciences and help shed more light on this amazing universe we live in.
You can pre-order The Magic Of Reality on Amazon for $19.75USD.