For many of us, the garage can be a rather daunting place. It's where we toss tools, gardening supplies, old lawn furniture, summertime toys—anything and everything that just doesn't seem to fit anywhere else in the house. In a word, it's where we stash a lot of junk. And it's the last place we'd ever want to turn when the time comes for a full-house spring cleaning.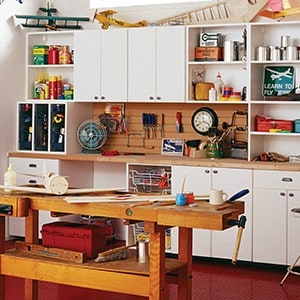 But the garage doesn't have to be scary, and the thought of organizing it doesn't have to fill you with dread. By taking a level-headed and strategic approach, you can actually do quite a bit to make your garage space more inviting, more utilitarian—in a word, more usable.
Start getting more out of your garage by investing your time in some storage strategies. Here are just a few that you might wish to try:
Start with your tools and workshop area. A vast majority of homeowners store tools in their garage, and close to half use the space for some kind of a workshop/work table area. The problem with tools is they can very quickly come to clutter the garage. Try straightening them up with slat walls or pegboards—hanging tools and getting them out of the way, but not out of sight. Cabinets and drawers—or even inexpensive plastic shelves—can be great for getting tools organized and off of the workbench.
Move on to the gardening tools. Tools of all shapes and sizes can be stored along the wall, either using a pegboard or individual hooks. You might also consider getting a large plastic garbage can to stash some of the long-handled tools.
What about your recycling bins? If you recycle, you probably have at least a couple of bins taking up space in your garage—but you can get them off the floor and out of the way by installing wall-mounted bin hangers. Here's a quick how-to!
And then there's the junk. Eventually you'll come to the items that are… well, maybe not junk, exactly, but certainly items you don't use as often. If you do bulk purchasing of cleaning supplies, you might stack extras near the door leading inside—an easy place to reach them. For paper records and files, you can put them in bins and perhaps put the bins on wall shelves. An overhead shelving unit, meanwhile, might be a great place for things like Christmas decorations—which of course you'll only need to pull down once a year.
With the right garage storage solutions—and just a little bit of elbow grease—you can turn your space into something perfectly inviting, well-organized, and easy to use. Start decluttering your garage today!