Polaris is known for making a slew of off-road recreational vehicles, motorcycles, neighborhood electric vehicles, and snowmobiles. Well, looks like they are now getting into the three-wheel market with the introduction of the Polaris Slingshot. Unlike the three-wheelers I've written about in the past, this one is more car-like although it is still classified as a motorcycle.
The Polaris Slingshot is powered by a GM sourced 2.4-liter four-cylinder Ecotec engine producing a 173 horsepower and 166 lb ft of torque and delivered to the rear wheel via a five-speed transmission. Weighing in at only 756kg (1,666 lbs), the vehicle should have no issues accelerating and getting out of those corners. No official details are yet available on the 0-60mph times. The vehicle will be available for sale later this year as a 2015 model and is available in two different trims.
The Base model will start at just under $20,000 and will feature 17-inch wheels up front and an 18-inch wheel in the back. The premium SL model will feature a backup camera, a media console with a 4.3-inch screen, Bluetooth connectivity, and ten spoke 18-inch wheels up front while the rear wheel is a 20-inch. The Polaris Slingshot SL will be priced at $23,999.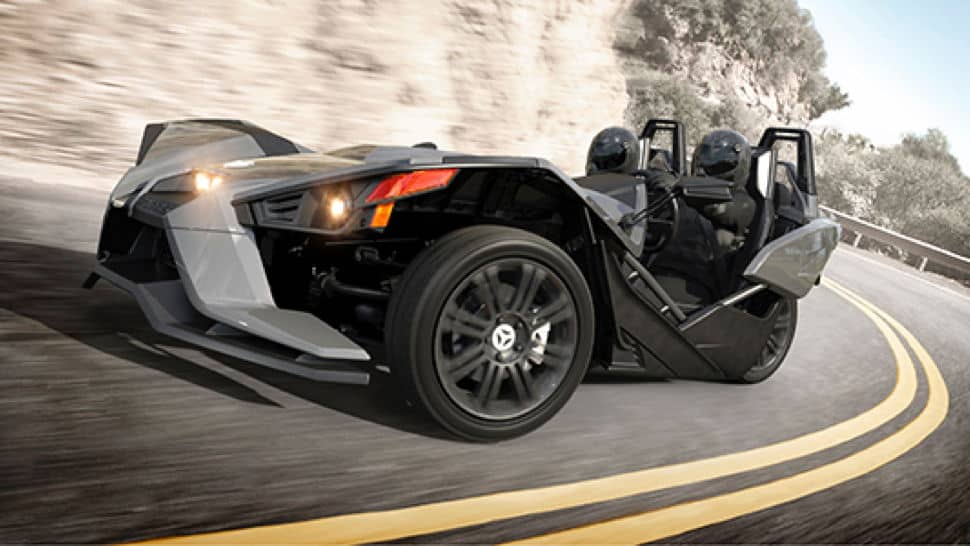 As you see, the Slingshot has no roof so everything on the inside of the vehicle is weather proof such as seats, dials, gauges, and basically just about the entire vehicle. There are also storage compartments behind both of the seats but unfortunately it won't fit your luggage but it can hold a full-size motorcycle helmet. The seats and steering wheel on the vehicle are also adjustable so the driver will always be comfortable and focused on the track/road.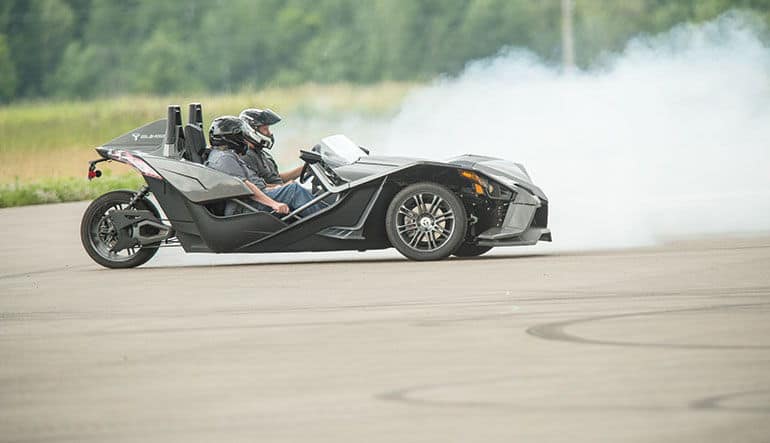 The forged aluminum roll bars are capable of holding five times the weight of the vehicle. The windscreen is said to be good enough to block out wind and noise that both the driver and passenger can have a conversation while wearing full helmets. The Polaris Slingshot is constructed out of high strength and low alloy tubular steel space frame which is very efficient and rigid.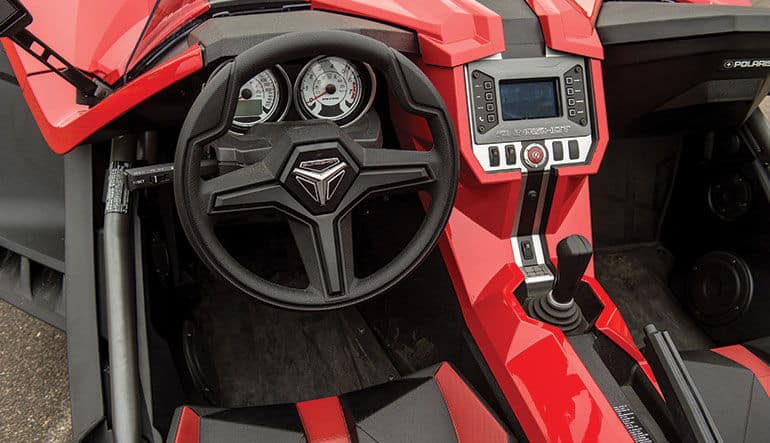 In terms of price, the Can-Am Spyder is the closest competition but the two vehicles are not comparable as the only thing they have in common is the three wheels. The next closest thing is the Campagna T-Rex but that's double the cost of the Slingshot.
More details will be released closer to the launch date but from the looks of it, the 2015 Polaris Slingshot will a crowd pleaser.
[Via: Polaris]