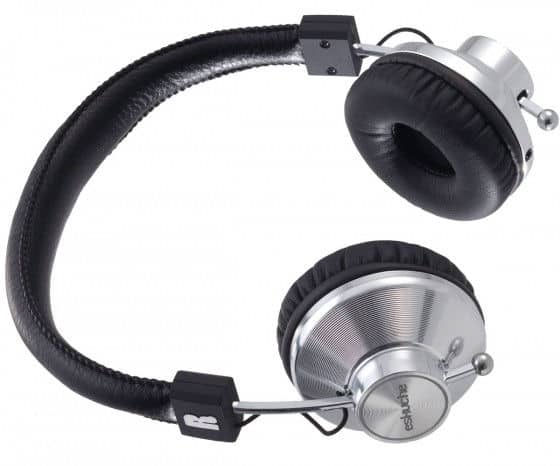 Choosing the right headphones can often be a tough and personal decision. Depending on the type of music you listen to, your personal listening preferences, comfort requirements, or the unique design of your own head and ears, you may like one pair better over another. Here at Unfinished Man, we recently got the opportunity to check out the new LR Soundsystems Eskuché 45 headphones ($149.99 Street). Having fairly eclectic tastes, I tried them on rock, pop, dance, esoteric, acoustic, R&B, and rap.
Pros
I dig LR's attention to visual detail on the 45s and vintage 70s (& 80s!) vibe. The earcup adjustments are smooth and reassuring. The components have a quality look and feel with a leather headset over metal adjustment band, firm but comfortable earcups, and aluminum, vinyl inspired metalwork. The inclusion of a removable cable system is nice. A cable is included for home stereo and another for mobile devices. The mobile device cable sports a uniquely designed button that on my iPhone allowed me to control pause, play, voice control, ff/rewind, and skip forward or back a track.
Oddly the headphone's maker, LR Soundsystems, did not include instructions on how to use their button anywhere on the box, packaging, or website.
Here is a detailed list of what I discovered:
Tap / Release – Pause / Play Track
Tap / Hold – Voice Control
Tap Twice / Release – Skip Track
Tap Twice / Hold – Fast Forward Current Track
Tap Thrice / Release – Skip Back 1 Track
Tap Thrice / Hold – Rewind Current Track
To round out the package, you also get a handsome black soft carrying case.

Cons
Oddly, despite all the attention to physical detail, LR Soundsystems did not afford the same concern to quality of sound. Or, alternatively, they are really going for a personal take on sound reproduction focusing on Bass & Vocals.
For me however, the sound reproduction of these headphones are a big fail. The Eskuché 45 have overdone the ass, I mean low end. A couple of their headphones had response curves, including the 45s. The graph confirmed what I was hearing to some extent, too much bass/low mids without the high end and air. They sound dark, a bit muffled, like your head has been put inside a tube, and it's awkward. Some of my favorite music was destroyed. They are just less open and who wants to look at, I mean, listen to a flabby bottom.
While the cabling button is unique, it seems to lack volume control which I think is a shame. Further, they should consider adding instructions for it's use in their packaging. Other headphones in this price range will offer user-serviceable earcups and parts. We cannot find anything in the product literature would make us believe this is possible with LR Soundsystems' products. The carrying case could be improved to add an internal compartment to store the cables and adapter while not in use. Our demo unit had some flaws or scratches in the aluminum work. I can't tell if this would be a common flaw related to their production.
In conclusion
I'd personally like to suggest LR Soundsystems take their product name "Eskuché", roughly translated to mean "To Listen" more to heart, and try some different tunings for their drivers that bring the audio qualities up to par with their apparent love for visually pleasing design tech.
Rich @ Lunchbox Audio