Even when adults suspect that they have some degree of hearing loss, they often put off diagnostic testing and obtaining hearing assistance. People have different reasons for the hesitation, but the high out-of-pocket cost of hearing aids is often a factor. According to a March 2021 article published on Healthline.com, the average cost of hearing aids ranges from $1,000 to $5,000 dollars.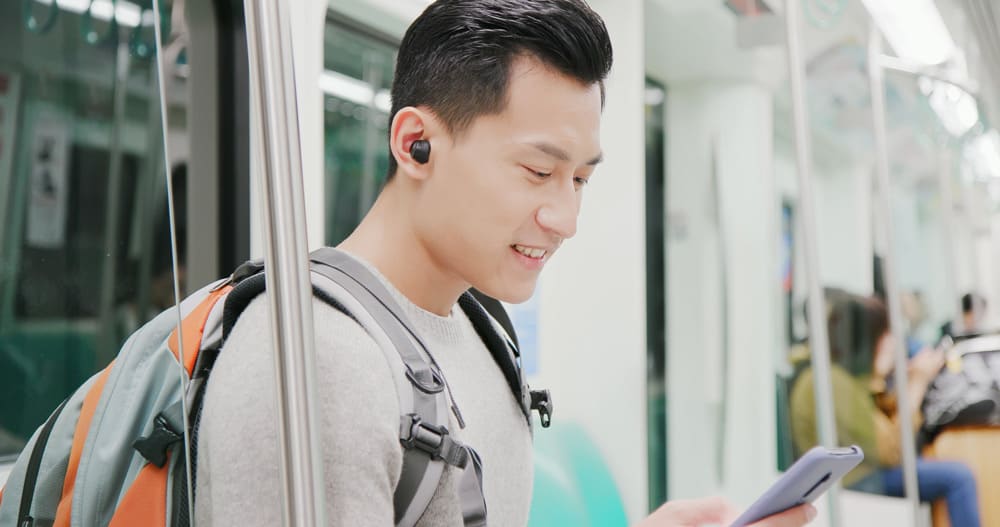 Taking time off work to visit an audiologist for hours of testing is not always practical for younger or older adults. Some put off scheduling an appointment indefinitely due to the hassle involved.
Yet another common reason for the hesitancy of adults to get their hearing checked is that they would prefer to deny that a problem exists. The younger people are when they first notice their hearing loss, the more likely it is they have concerns regarding the stigma of wearing hearing aids.
Understanding High Frequency Hearing Loss
The term high frequency hearing loss refers to difficulty hearing within the range of 2,000 to 8,000 Hertz. Adults who have high frequency hearing loss start to notice that they have difficulty hearing and understanding the voices of women and children. High-pitched sounds such as a doorbell ringing or the beeping of a microwave oven can also be problematic.
Children with high frequency hearing loss can struggle to understand speech, which in turn makes it challenging to learn. Consonants such as th, s, and f are typically difficult for children with this type of hearing loss to hear because people speak those sounds at a higher audible frequency than other sounds.
The most common causes of high frequency hearing loss for both adults and children are disease, hereditary, noise exposure, and taking certain types of medication. Age-related high frequency hearing loss is specific to adults.
The Advantages of Detecting Hearing Loss as Soon as Possible
Accepting the reality of a hearing loss can be challenging, but those who can push past that initial resistance benefit the most. Below are just some of the advantages of scheduling hearing testing and obtaining hearing assistance sooner rather than later.
Improved Cognition
Many people with hearing loss do not realize that humans hear with their brains and not their ears. When hearing loss is present, brain connections that normally respond to sound reorganize and do not function properly. Hearing aids provide restored sound stimulation for most people. The power of the hearing aids restores the brain's lost connections for processing sound.
Another thing people often do not realize is the extra cognitive workload that an untreated mild hearing loss places on the brain. The cognitive overload occurs because the brain cannot process sounds that it does not hear. The hearing deficit forces the brain to work harder to understand what it does hear and fill in the gaps for the things it missed.
Lowered risk of dementia
A recent study conducted by Johns Hopkins University reveals that seniors with non-treated hearing loss develop dementia at a faster rate than their peers who have normal hearing. The study attributes the likelihood of developing dementia among older adults with hearing loss to the increased challenge involved with thinking and remembering.
Reduced risk of depression
Johns Hopkins University has completed several studies on the link between depression and hearing loss. The university's study among older adults with untreated hearing loss showed a 57 percent increase in episodes of severe depression, stress, and anxiety. All adults face an increased risk of depression with hearing loss, but the mental health condition is most common in those aged 18 to 69.
Hearables Offer an Alternate Solution to Traditional Hearing Aids
Hearing aids have long been the solution for people suffering from mild to severe hearing loss. However, they are not right for everyone. Some people are not ready to invest in hearing aids yet because their hearing loss is still quite mild. Others avoid hearing aids because of the cost or because of the stigma of "looking old."
For these people, new devices know as "hearables" bridge the gap between high-end wireless earbuds and hearing aids. According to HearingTracker.com, "The cost is significantly less than the average hearing aid, with most hearables coming in at just a few hundred dollars a pair."
Between building awareness of the many benefits of addressing early-stage hearing loss, and the proliferation of new cost-efficient technology like hearables, perhaps more adults will soon be willing to facing their hearing challenges at an earlier age.