We recently wrote about the Survival Bike by Motoped – which the interwebs loved – and now the company is giving us something with a little more luxury and style: the Motoped Cruzer.
The Motoped Cruzer is inspired by early 1900's board-track racers, featuring classic design cues and materials found on motorcycles from days gone by. The Cruzer comes with wood fenders, a brushed stainless steel fuel tank, a spring seat wrapped in aged leather, and billet aluminum and brass accents. The bike can be customized with additional equipment like a cooler, a surfboard rack, and a saddle bag.
Anyone Have a Spare Motoped Cruzer for Sale?
As you can see, this is one fine looking ride, but does it actually deliver? Let's have a look at the specs.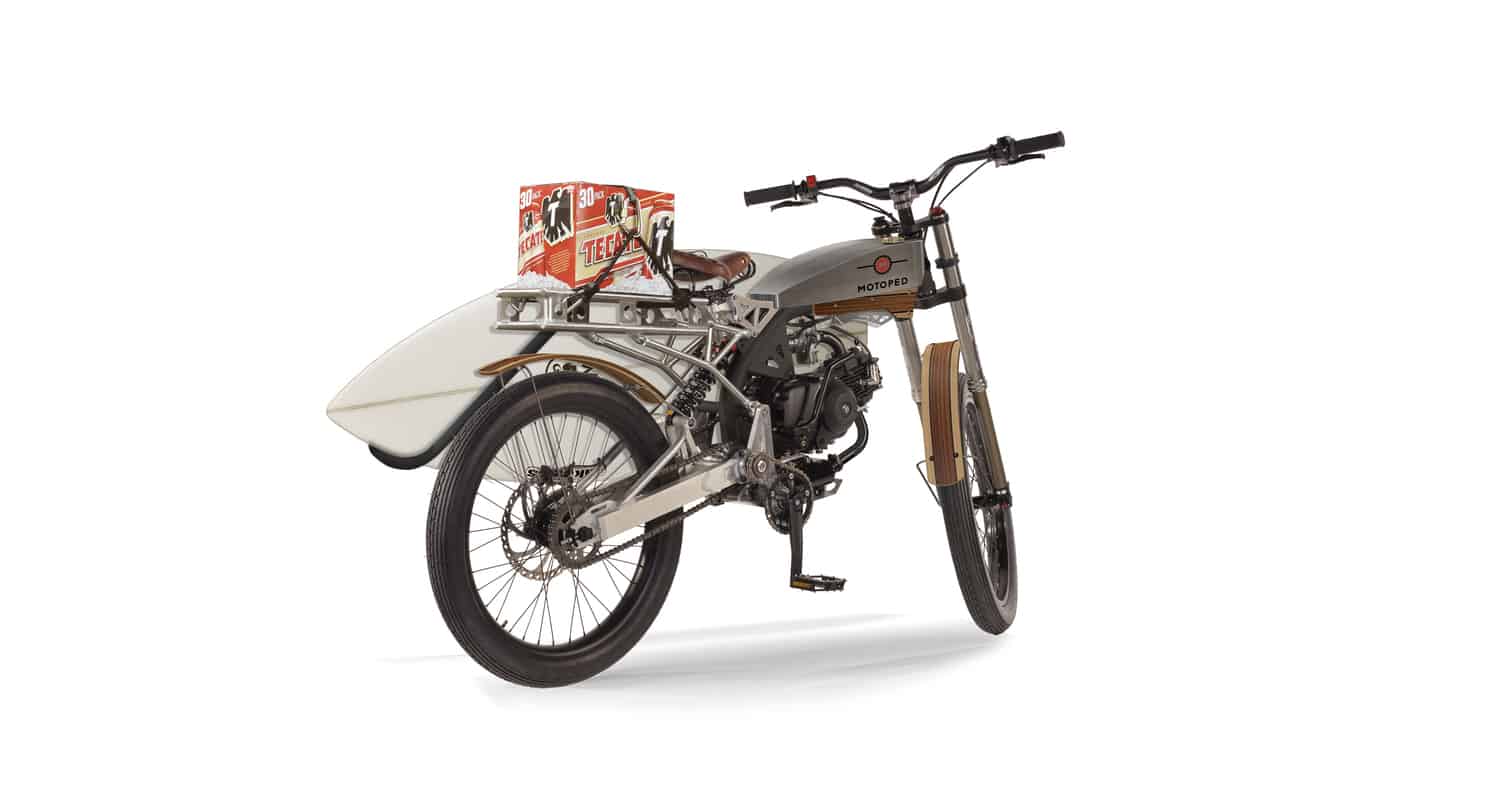 The Motoped Cruzer can be powered by human-power by using the pedals in combination with either a 49cc or 125cc engines. The smaller engine produces 1.7 horsepower at 7,000 rpm and 1.7 pound-feet of torque at 5,500 rpm, while the 125cc engine produces 7.78 HP at 7,000 rpm and 6 lb-ft of torque at 5,000 rpm. The bike is equipped with 3-way adjustable DNM front forks and 4-adjustable DNM rear shocks, and hydraulic forged 4-piston calipers.
The Motoped Cruzer can reach a top speed of 24 mph and can go between 100 and 150 miles on a gallon of gasoline. The bike weighs 128 pounds and has a starting price of $3,799. It's not exactly inexpensive, but when you consider what you're getting for the money, I think it's actually fairly reasonable.
Hopefully we can take this for a spin and put together a full Motoped Cruzer review down the road. Looks like this thing moves a heck of a lot faster than the Swagtron scooter we reviewed here a while back.