We've written about our fair share of Porsche vehicles over the years and each one is unique in some regards but I think it's safe to say that this particular modification is probably the most unique you'll see on a Porsche 911. Ohio based tuner, Trinity Motorsports, spent approximately 300 hours to convert the "Centro 911" from a left hand drive into a central steering vehicle which is inspired by the great McLaren F1, the last production car to have centralized configured seating.
The conversion took place over the course of a year and was revealed at the ALMS Petit LeMans race in Atlanta earlier this month. Although the modification is for those who have a few bucks to throw around, the end result is pretty damn nice. Besides the engineering aspect of it, one of the challenges was to retain the stock feel of the interior, which they have succeeded in.
The interior of the vehicle looks very factory like but shifted to the right. The navigation, air bags, and other gadgetry are still functional. Anything that was chopped away from the dashboard was replaced with carbon fiber.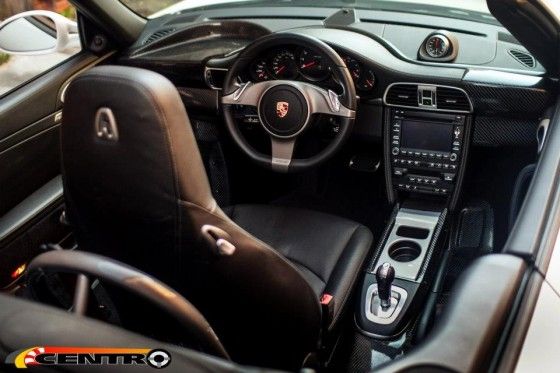 Because the Porsche 911 is a rear engine car, shifting the steering position to the center was more "simple" and they didn't have to worry as much about the tunneling for the transmission. The drivers seats slides to the left to allow for easy entry and exit of the vehicle. The two rear seats are still in place and I guess those passengers will now have plenty of leg room unlike stock Porsche 911.
The company is apparently working on a six-speed "Centro 911" as well but no details are available yet. We don't know the price of this modification but the 300 man hours that were required for this model should give you a clue…. a very expensive clue.