The man cave, that time honored place in which a man can be manly. In eras gone by, it was but a literal cave, but in today's world a collection of modern wonders. Today we pay homage to these dens of solitude, by showing you what it is that makes the man cave.
The first thing a mancave requires is sustainability. There's no point in retreating into your inner sanctum if you must leave for menial tasks. That's why I suggest every man cave come equipped with a mini-fridge at the least, and a wet bar at the best. "But Scott," you say "I don't drink!" Well we're building a man cave here Sally, not a little boys club. Take your straight edge crap and hit the bricks. So here's what you'll need for your wetbar.
Wet-bar Necessities
1) Classy as Hell liquor cabinet.  Liquor is to be stored at room temperature gentlemen. You aren't in a sorority, you wanna taste that whiskey. Chilling your alcohol causes the flavor to become weakened. Just ask fans of Bud Light. I suggest something nice, classic, and unobtrusive. Like this beautiful piece of work here:
2) Speaking of beers, a Kegerator is a must. There are many ways to go about this. You can re-purpose that old refrigerator in your garage, or you can buy a fully kitted out personal kegerator. Either way, you need beer, and you need it now. If you've got a significant other to convince, tell them how you save money by buying in bulk. If you don't think you can convince them, buy it anyways and beg forgiveness later.
Revelry and Fun!
Now that we have our fantabulous wet-bar out of the way, let's talk good ole fashioned revelry and fun. As there are many types of flowers in a field, so too are there many different types of men, and each of us has his own idea of fun. If you're like me, you might consider yourself a reading man and be tempted to stock your cave with many fine books. Stop It. Stop it right now! We're building a man cave. If you want to read go to a library, Nerd! The only acceptable use of books in a man cave is to cleverly conceal the entrance behind a bookcase! So, on to fun times.
1) In a previous article I discussed setting up a cheap htpc and projector combination for ditching cable. It's not a terribly complicated to do, and can add great entertainment value to your home. The one drawback, however, is living with the technologically inept. Whether they be your friends, roommates, significant other or parents, sometimes two remotes is one too many. Use this new personal space as a way to have y our cake and eat it too, and let everyone else live in their mono-remote worlds, unfulfilled and unhappy!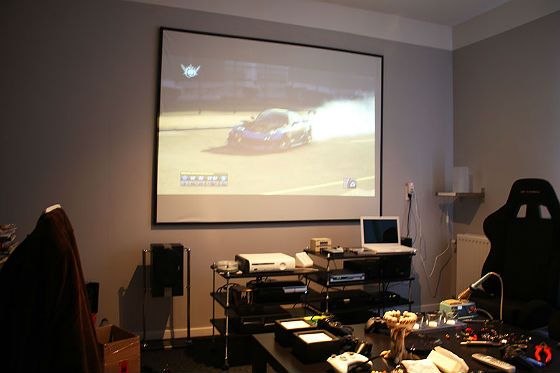 2) MAME arcade machines are a bit of an obsession of mine. You just can't be the iconic look, or the iconic games that were put out in the era of arcades. I'm talking your Metal Slugs, your Galaga, Pac Man, your Space Invaders. Get yourself a do it all cabinet and you've got nostalgia coming out of whichever orifice you prefer my friend. The best part is, you don't even need quarters.
So now you have your man cave, or at least a steady start towards one. Don't be afraid to theme it in the most juvenile manner you can imagine. It's yours damn it! And besides, you don't complain about the way the little lady decorates the kitchen.
(Photos by Albert Leung, Colin, Sara, and Joe King)