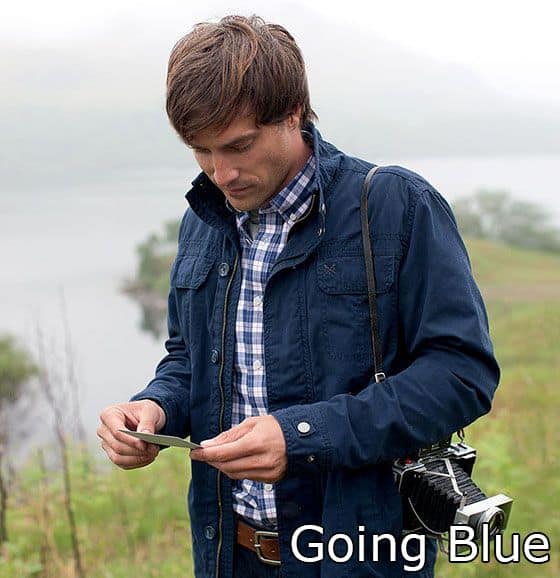 Subdued, moody, classic – these are the three words to describe men's fashion trends for autumn 2012. As anyone in attendance at the fashion week in Milan or Paris would tell, the overwhelming fashion trends in 2012 are a far departure from the colorful patterns and tribal influences of 2011. Instead, there are classic silhouettes in solid colors.
There is a definite movement towards more 'openness' in the way clothes are carried and styled, and today we would like to share a quick refresher on the key men's fashion trends in autumn 2012. 
Blue is the New Black
As an army of models decked in various hues of blue paraded down the ramp, it was clear that blue is the color of the season. Combined largely with black and grey, there was a decided movement away from the pastel shades and vibrant influences of last year's designs. The color palette for the season is largely dark, and this has impacted everything, from the silhouettes to the influences.
Focus on the Outerwear
This year saw designers focus exclusively on the outerwear, with the end result being a massive array of stylish jackets, pea coats and overcoats with an old world charm and classic sensibilities, but with a layer of modern chutzpah. Topcoats in tweed and wool are in, as are highly structured pea coats in shades of blue, tan and grey. There are overt military influences with broad, sharp lapels and epaulets. The lines are clean and neat with a military precision. Classic styled men's military jackets like the MA-1 Flight Jacket never go out of fashion.
The Leather Bomber Jacket is Back
A mainstay of male fashion, the leather bomber jacket is making a huge comeback this season. The leather bomber jacket, in olive, tan, grey and brown, was omnipresent in Milan, with several modern takes on its classic design. Lined with fur and tweed, with large lapel and protruding collars, the bomber jacket accentuates the shoulders and the chest and is the perfect addition to any male wardrobe.
Natural is the Texture of the Season
Pea coats with astrakhan fur, top coats with sheep's fleece draped across the shoulders, classic tweed suits – the textures of fall 2012 are all natural. In Milan, designers showed their penchant for natural textures as models decked in fur and fleece sauntered down the ramp, giving the season's fashion a warmth and weight only natural fabrics can provide.
Leather, Leather Everywhere
Like the bomber jacket, leather is making a huge comeback again this season as designers decked their models in everything from leather trousers and overcoats to classic suits with leather accents. Tweed coats with leather lapels, overcoats in leather – it is clear that the fashion world is willing to move away from the standard motorcycle/bomber jacket and put leather to more uses.
Sharp Cut Classic Suits
When we said 'classic' is the buzzword of the season, we were not engaging in hyperbole. As model after model walked down the ramp in classic suits in navy pinstripes and grey, it was clear that the classic suit – a staple of any male wardrobe – will not go out of style anytime soon.
The trends for this season are clear: go classic, go dark, but lots of leather. Designers experimented with shoes this season, adding steel-toes and metallic shades to the leather outer. They tailored their suits playfully with lean, clean silhouettes. Colorful, street-ready outerwear and denim were largely absent from the ramp, which is a good cue to re-organize your wardrobe around classic suits, leather, and dark outerwear.
(Photos by Crew Clothing, WW2 soldier, and Roger Braunstein)