Here at Unfinished Man, we love watches and have written on dozens of various timepieces whether it is the classic mechanical watch or something more modern like the Nissan Nismo Watch. If it tells you the time and goes on your wrist, we want it. Today, we have the Martian Voice Command Smartphone Watch, which does exactly as the name suggests, features voice command on your wrist. It may look like any other timepiece but the Martian watches have a few tricks up its sleeve that your grandpa's watch never did.
For starters, the Martian voice command smartphone watch features Bluetooth 4.0 which will either connect to an Android or iPhone, providing a slew of functions. The smart watch will vibrate and buzz for incoming phone calls and features a small LED screen at the base of the watch face which reveals the callers' identity. The LED screen is also capable of displaying incoming text and e-mails, according to the user-selected settings in the app interface on the phone. That's cool and all but probably a terrible way to read an email.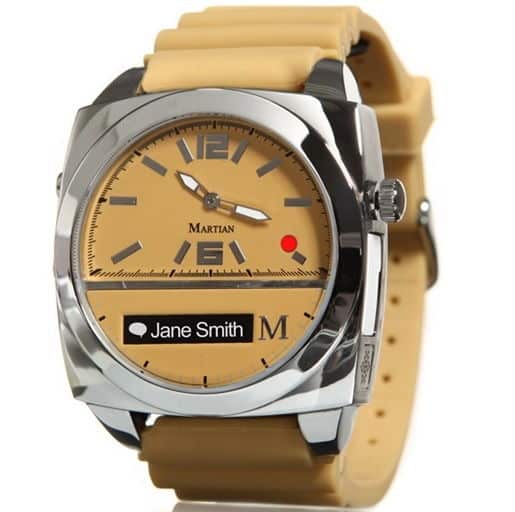 And if you are one of those people who always happen to misplace your phone, there is a "Leash" function which will alert you if the phone has been left behind. Another cool feature is that you are able to engage the shutter on the phone's camera for group photos. The Martian Watches website has three different models available and even more colors to choose from depending on what you like. The Martian Passport features a square case measuring in at 39 x 37 x 13.31mm and scratch-resistant crystal glass. The Passport model is available in a white or black and the bands come in black leather, white leather, or black silicone and is priced at $299.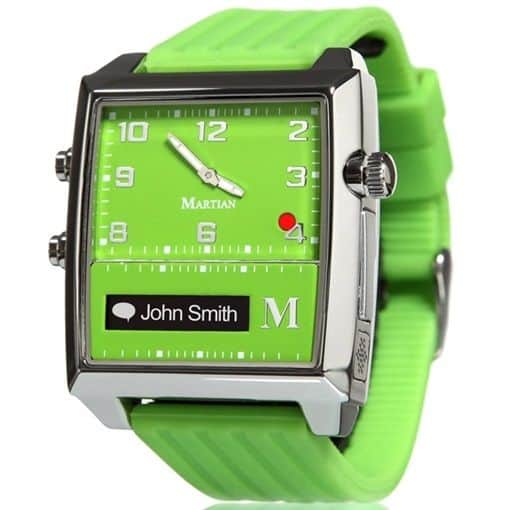 The Martian Victory model measures in at 41 x 41 x 14.8mm and features a scratch-resistant crystal glass as well. This model is priced at $299 and comes in black, white, or tan. The last model is the Martian G2G and it's the more colorful and vibrant range with colors such as Lime, Hot Pink, Turquoise, Red, and White. This particular model measures in at 39 x 37 x 13.34mm and is priced at $249.
All the Martian watch models feature a Japanese analog quartz movement and each watch has a Micro USB port for recharging and firmware updates.