Dubai, in the United Arab Emirates, is one of the best places to vacation and do business. Favorite attractions, including the Jumeirah Mosque, make Dubai a favorite and almost magical destination. Travel on the Abras, small boats used for passenger transportation, make getting around Dubai a fascinating and even awe-inspiring experience.
Fine dining, shopping centers, and Dubai's many fine hotels, offer every imaginable comfort. It's fine to pack light—everything you need is available in more than seventy upscale shopping areas. Here are a few incredible hotels to check out if you're lucky enough to visit Dubai:
Royal Suite, Burj Al Arab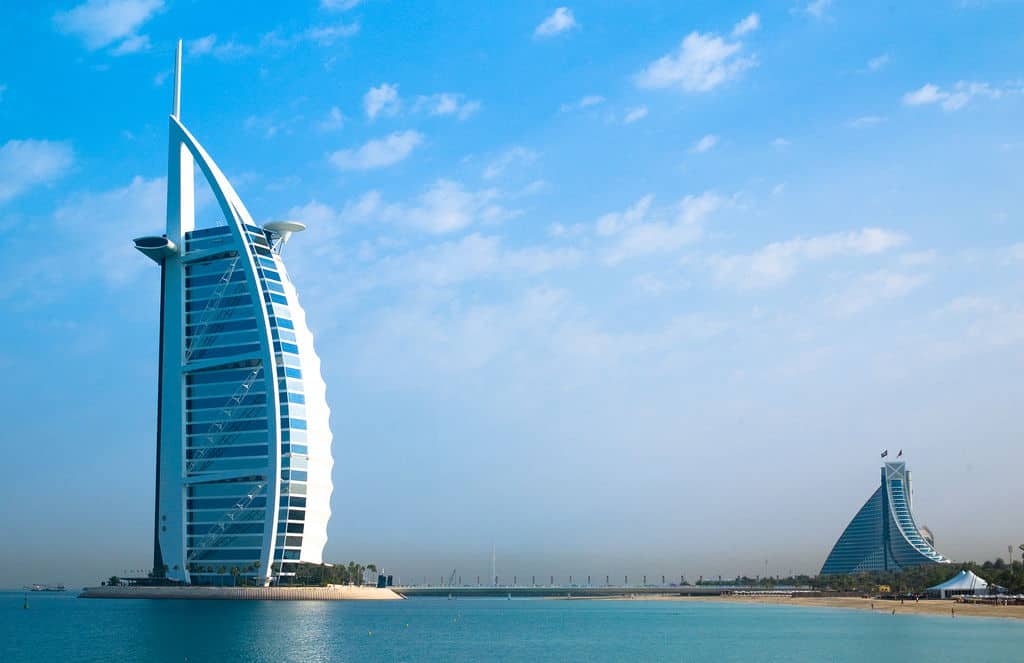 It's possible to stay in another suite at the Burj Al Arab (because there aren't any rooms here), one of Dubai's most prestigious hotels. But the Royal Suite is in a class all its own!
Burj Al Arab resort is shaped like a sail and, ever since opening in 1999, Dubai visitors tend to use "Burj Al Arab" and luxury interchangeably. The Royal Suite has two floors, fantastic antiques, whirlpool baths, and butlers to attend to guests' desires.
The enormous four-poster canopy bed revolves on a disc. The staircase joining the two floors is made of gold and marble. There's a chauffeured Rolls ready to take guests on the town. Of course, it's also possible to order in for the evening. The menu from Mahara includes salmon from Tasmania or Atlantic lobster.
Sometimes, it's said, "If you have to ask what it costs, you can't afford it…" We guess that most people stay at the Burj Al Arab on a very generous expense account or when money is no object at all. The Royal Suite costs about $19,000 a night – including butlers!
Qasr Al Sarab Desert Resort (by Anantara)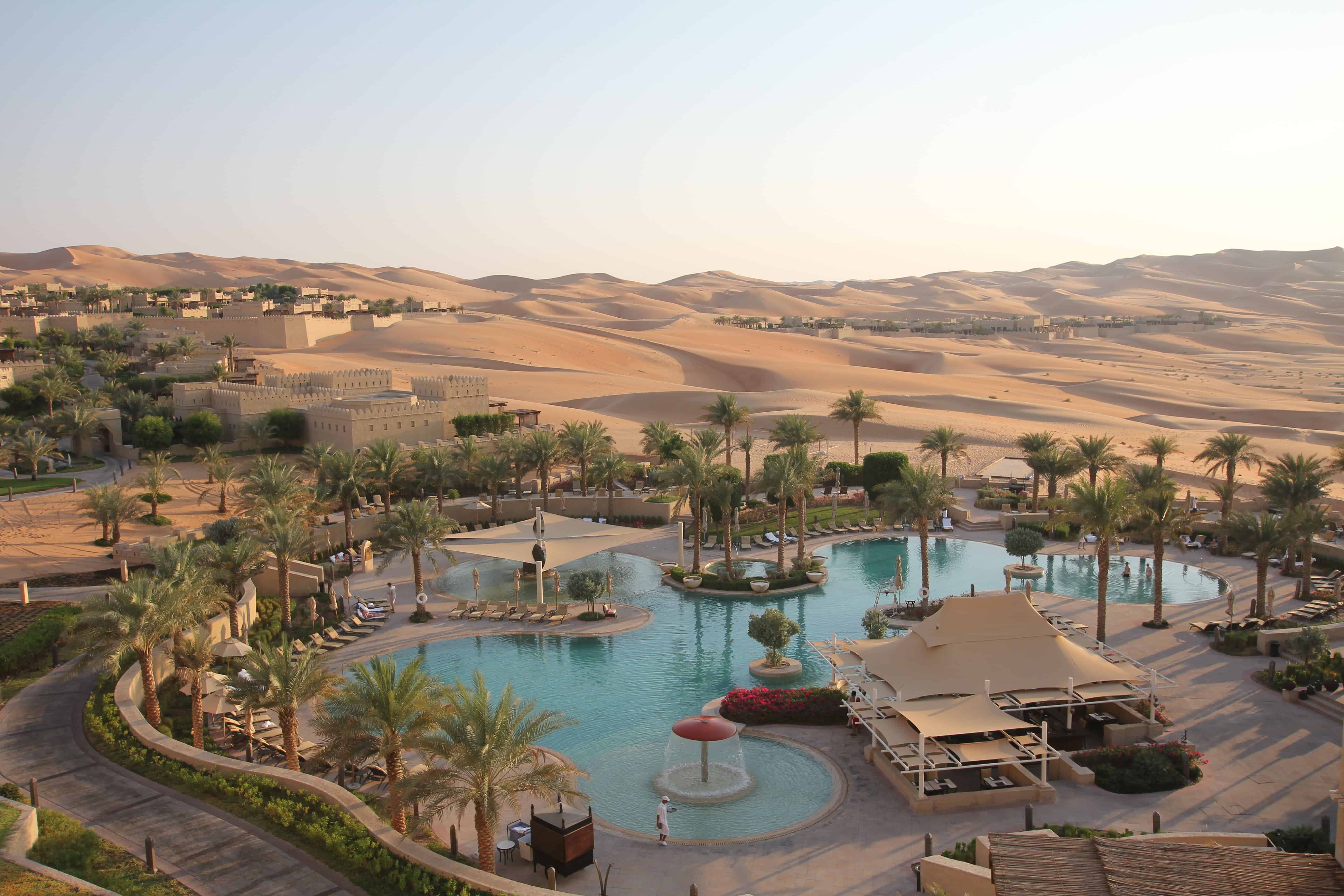 In comparison to the Burj Al Arab, the Qasr Al Sarab Desert Resort is almost like a budget hotel. But that's okay if you're visiting Dubai using your own money. This is a gorgeous hotel found in the Empty Quarter (not really empty!) of the Liwa Desert. Each room is designed with mosaics and jewel-like adornments. Every room looks out at the desert, but rooms in the Deluxe Terrace feature wide balconies that directly face the desert's dunes.  A variety of all-day buffets and on-the-spot cookeries ensure that guests are never hungry. A pool and spa (where you can get a foot bath with freshly crushed flowers or any number of bodily delights) makes this hotel a great choice.
The best rooms cost almost $1,000 a night but, if you're willing to accept an average room, it's possible to arrange a room at a few hundred dollars per night.
Al Qasr
Not to be confused with Qasr Al Sarab, this hotel–"The Palace"–reminds us of "Tales of the Arabian Nights." Classic Middle East architecture, complete with incredibly ornate details, feels like a visit to the Sheikh's third or fourth home. It's a member of the Madinat Jumeirah complex and has services of every kind. Al Qasr is also situated on a gorgeous part of Jumeirah's sandy beach. Each room has a private patio and some of the best have ocean views.  All guests can use the resort, which includes a 25m indoor pool, spa, and gym. Families traveling with children can also take advantage of Sinbad's Kid's Club and the water park at Wild Wadi.
Plan to spend at least a few hundred dollars per night. All told, Al Qasr seems like a great choice for families on a holiday.
If you've stayed at any of the above luxury hotels, or visited Dubai, please leave us a comment.
If a trip to Dubai is in your future, lucky you! Unmarried couples should look into how to check into a hotel in Dubai. We understand it's an "interesting" experience!