Back in my college days I used to skip many classes just so I can play foosball against my fellow students and be crowned the "King of Foosball".  I never got that title and miraculously graduated with a degree; now that I'm "all grown up" I still long for playing foosball but my taste has changed a bit.  Instead of playing on beat up foosball tables found at universities, game rooms, and bars, I now prefer foosball tables with a bit of a luxury touch and that's where Teckell come in.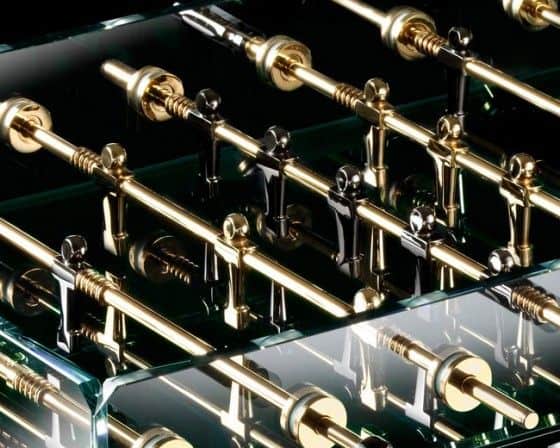 Teckell is an Italian company specializing in creating some of the most luxurious and beautiful foosball tables I've ever seen.  These foosball tables are crafted out of some of the finest materials with great attention to details.
The main playing area of each of Teckell foosball tables is made out of low iron crystal glass, giving them a diamond look.  The players on the table and the table legs are made out of wood, gold, or aluminum depending on the model.  Teckell currently offers four models: Angolo, Contropiede, Cristallino, and Intervallo.
Every man cave needs at least a powerful entertainment system, a pool table, a fridge, and one of these luxurious Teckell foosball tables.  For more information and pricing, click here.
Teckell Foosball Tables for the Man Cave