Gambling is one of America's favorite pastimes. In fact, it's extremely popular throughout most of the world. Different regions and countries have their own favorite games and gambling outlets, but the simple fact remains that gambling, as a whole, is one of the most popular pastimes throughout the world. Gambling has a rich and fascinating history – but you don't care about that! Let's get to the fun stuff, with a list of your options should you choose to gamble!
Physical Betting Venues
Whether it's a casino, horse track, or card room, gambling at a physical venue is a lot of fun. The energy surrounding you is intoxicating (and so is the alcohol!) There are pros and cons to gambling at these types of places. On the plus side, you get to see the action up close and personal, and at many casinos, you can get free or very cheap drinks! On the other hand, you have to abide by the venue's rules and hours of operation – plus, those free drinks? Those are meant to lubricate your wallet, allowing your money to fly out without resistance.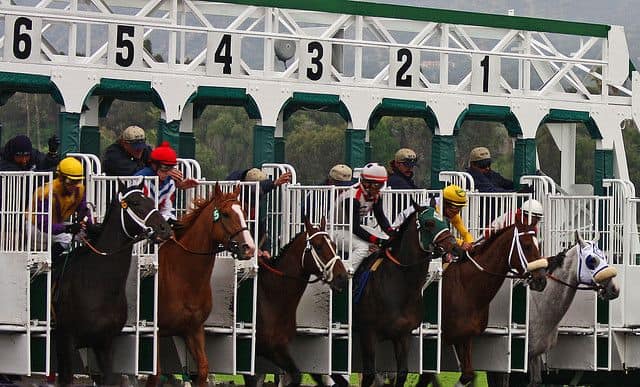 Depending on the venue you choose, there may or may not be people who are commonly referred to as "sharks" – people that are experienced and skilled at gambling, and tend to pick on newcomers. This, obviously, is more of an issue in competitive games like poker. To counter these sharks, it's wise to stick to low-stakes tables, where you will likely be surrounded by individuals at or around your skill level. Lastly, when visiting a casino or another type of gambling venue, it is wise to only bring the money you are comfortable losing. Nobody likes losing money, but set a limit of the maximum amount you are prepared to lose, and ONLY bring that money. You'll thank me later!
Online Gambling
Online gambling has been exploding in popularity over the past 10 years. In the late 1990's and early 2000's, people didn't trust the Internet enough to use their credit cards online. Today, the Internet is a much more secure place, and because of this, online gambling has been gaining popularity at an alarming rate. Today, there are countless online casinos, card rooms, and sports betting sites; the internet is absolutely riddled with them.
The best part about online gambling is that you can participate in it at absolutely any time, and any place so long as you have internet access. 3 A.M. and can't sleep? Why not play a game of Texas Hold'em in your underwear? Waiting for a delayed flight? Why not try your luck at some online slots to help pass the time? It's also great because there is a massive selection of betting options. If poker is your game, you'll be pleased to learn that you can find a table to join at almost any time of the day or night, and you'll also be able to choose precisely the game and stakes you want to play. With physical casinos, each table has to have its own dealer, and there has to be enough players to make the game worthwhile. Since online casinos are automated, there is no harm in having a great selection of tables to choose from.
Online gambling exists in a "grey area" as far as the law is concerned. Technically, it is illegal to gamble online in the United States. Most states allow residents to gamble online using "skill based" games, but not "chance" games (which include slots, poker, etc.) To make things more complicated, each state has their own opinion of what qualifies as a skill based game. However, there are tons of online casinos and gambling operations that accept US citizens. These companies are primarily based overseas, where regulations are more lax. Prosecutions are very rare, and almost always targeted towards the casinos themselves, and not the actual players. However, technically if you win big at an online gambling venue as a United States citizen, you could potentially be fined and lose your winnings.
Gambling at Home
Perhaps the most fun way to gamble is to get a group of friends together to play. Poker groups are a very regular occurrence here in the United States, so it shouldn't be hard to find a group to join. You can also talk to your friends about setting up your own group. Try to make a regular thing out of it, and soon you will all get in the habit of meeting regularly. The main advantage of gambling at home is that you will be among friends, so it will always be a good time, whether you win or lose. For more information, see our article on the subject of setting up a weekly poker game at home.