I've been to Las Vegas once before a couple of years back and it was a tamed but good time. And now, my friend of 15 years is getting married in January and the the bachelor party is taking place in the heart of sin city. With all these stories we hear about from our friends and the movies like The Hangover and Last Vegas, it's pretty hard not to get excited about a Vegas trip. So, we're going to go over a few tips and tricks for those of you who have never been to Las Vegas.
For starters, you need to know that the weekdays are cheaper than the weekends for both flights and hotel reservations. There are so many companies offering deals, that you can go to Vegas on a budget and still manage to have a good time. There are many options to book your hotels and shows with, so research and compare. Do your homework!
First-Timers Guide to Las Vegas
Comfortable Shoes
If you're a first-timer to Las Vegas, I would recommend booking your hotel along the "strip". You can find cheaper hotels outside of the strip but you're a newbie and chances are that you will mainly stick with the main stream areas for your visit to the city. Most of the action happens along the strip anyway so I recommend this and it will save you a lot of taxi fares and walking. And when I say save you walking, don't get too excited because you will be doing PLENTY of walking. I made the mistake of not having the proper shoes and I ended up with blisters on the bottom of both feet.
Chances are, you will probably walk more in Vegas in one single day than any other day unless you're running/walking some marathon. Everything in Vegas is big including the wide sidewalks, wide roads, and casinos that span a few normal city blocks. If you plan on meeting somebody at a specific location, just make sure you give yourself some extra time as the sidewalks are always busy and there will be lots of zig zagging through the crowd.
Hydration
Remember that Las Vegas is literally in the middle of a desert. As you visit the attractions, you will notice that some of the grass is actually turf and not all of the plants are real. This high desert heat will dehydrate you so you need to make sure that you always carry a water bottle with you. Of course the time of year you visit will also make a difference but generally speaking, the place is hot. My trip a few years back was in early September and I made the mistake of wearing jeans. Man was that a terrible experience!
Entertainment
There are so many shows in Vegas, you'll have to make multiple trips just to view them all. My first trip did not include any shows but I hope I can squeeze one show in during the bachelor party (not likely though). You have fantastic options such as O Cirque Du Soleil at the Bellagio, Blue Man Group at the Monte Carlo, and Terry Fator as a few examples of any options.
Gambling Action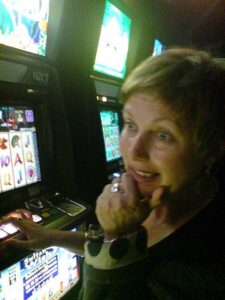 A trip to Vegas wouldn't be complete without sampling a little bit of the table games or the slot machines. It's important that you set a small budget and stick to it when it comes to gambling. Don't get caught up in the action and end up spending a lot more than you had initially planned as it is very easy to do so. Treat it as entertainment with the possibility of getting some money back, but with no guarantees.
Even if you don't spend much, you can get lots of free booze while you sit in front of the slot machine and spend a few cents per minute. The waitresses will come around and bring you complimentary beverages (alcoholic & non-alcoholic) for playing the games… just make sure you tip the nice ladies.
Questions? Suggestions? Any tips of your own? Leave them for us in the comments below!
(Photos by Bell & Jeff, Tom Raftery, ClintJCL, and Simon Ladesna)